Maine Chess Academy Chessnotes
02.05.14 Maine Chess Academy's Ben Monaghan updates us on the work of the Academy in the January 2014 edition of his newsletter Chessnotes.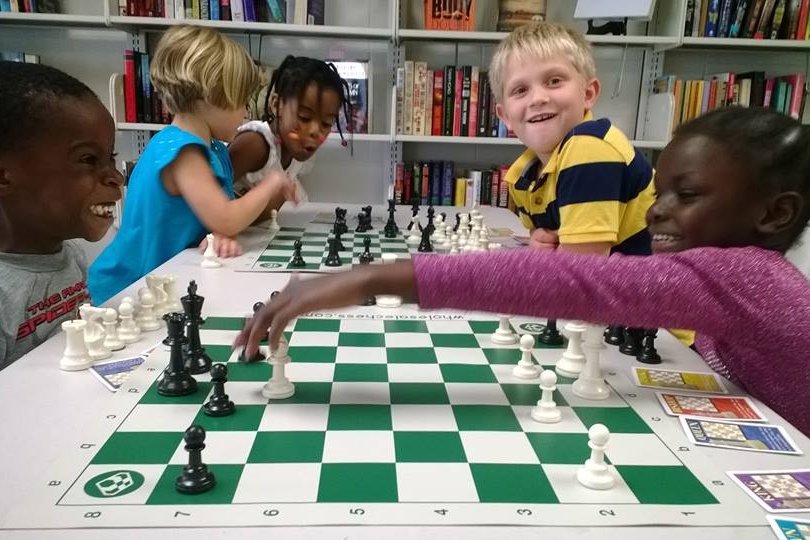 This looks like too much fun!
Chessnotes
January, 2014

Volume 1, Number 1
In This Issue
· Adding Hours
· Chess and Attendance
· Non-profit Partners
· City Hall
· Upcoming Events
Who We Are:
The Maine Chess Academy is a network of volunteers and educators dedicated to promoting, building and supporting sustainable chess programs through partnerships with schools, municipal recreational programs, summer camps and other both private and public institutions.
Board Members: Ben Monaghan, Frank Smith, Jon Malev, Fred Fowler, Jeanette Schram, Stephanie Doyle
Contact Us: bmonagha@maine.rr.com
More Students
More Hours
By Ben Monaghan
Thank you all for your patience. It's been awhile since I have updated, so I apologize for the length.
The Maine Chess Academy is getting closer to something a little more official. Fred Fowler, Frank Smith and Jon Malev continue to man the trenches as we battle on.... I have upped my "teaching" hours to 15 beginning in February. We are all over the city and teaching a hundred plus children per week (I lost count after 80).
Portland Rec continues to be a great supporter of what we're doing. We're now in their afternoon programs three days a week working with their great staff to get kids playing chess! The kids are having a blast and word is getting back to the parents. I think we have upped the sales of chess boards in the greater Portland area. Can't tell you how many kids told me they got chessboards for Christmas!
Meanwhile, the guys at Page One Web Solutions on Commercial St. continue to work with us to develop our web strategy. We're going to throw up something simple in the meantime, but can't be more excited about what we are planning. The future site will feature online play, tutorials, and various apps to promote mentoring opportunities; something we believe is a big part of what we are doing. But in the meantime, look for Mainechessacademy.org in the next few weeks.
City Hall Supports Chess!
City Counselor Ed Suslovik, who was an early believer in what Frank and Jon were doing at Nathan Clifford a few years back, has been a great help. Ed has a passion for education and he is keeping us focused on the big picture, which is building this program K - 12 and sending our students to nationals.
We recently met with Portland Schools Superintendent, Manny Caulk, who boasted his own chess prowess back in the day. It was a productive meeting attended by Frank, Fred and Ed. Superintendent Caulk has offered us his full support.
We again ran into Superintendent Caulk at Reiche School's "Math Night." We were there along with Reiche's chess team as families moved from activity to activity. It was fun watching the kids and their parents play. No doubt more parents will be motivated to brush up on their chess playing chops as the kids seemed to be commanding the boards!
We are finding a lot of talent around the city. The level of play and chess knowledge has been impressive. And can I say: the girls hold their own! Great to see the level of respect that our children show one another.
Chess and School Attendance
I was fortunate to represent the Academy at the Attendance Summit hosted by UNUM earlier this month. I was invited to attend by organizer Susan Lieberman of Spurwink Services.
Didn't know what to expect going in, but had a great day. The keynote speaker, Hedy Chang, founder and Director of Attendance Works, was as billed. Very engaging and inspiring. I will definitely never fall for the stomach ache trick again.... But it was interesting. As a baseball guy who loves stats, her comments backed by reams of data were nothing but sensible. She was basically saying, "Collect data! Analyze data. Act! Don't let kids fall through the cracks!" They had upwards of 180 educators there from all over Maine... so it was good to see.
We had a front row seat and later got to share with attendees how chess has been shown in studies to promote better attendance - not to mention a host of other things. Our own experience confirms what these studies show. We have been told by several parents that the morning we are at the school doing chess, the kid is hurrying mom out the door and not vice versa!
Maine Chess Academy Discusses Partnership with Portland Education Foundation
I will be meeting again with Mary Bennett of the Portland Education Foundation to discuss potentially partnering with them. We have been communicating off and on since October. Portland Education Foundation is a 501 c 3 non-profit that, among other things, provides financial expertise, grant writing and fundraising prowess to promote "excellence in education and support for our students and teachers."
Every year PEF write several grants directly to teachers to help pay for educational initiatives. This partnership benefits us for several reasons. We currently don't have the 501 c 3 IRS tax exempt status corporations are going to want before they contribute money. Under this agreement, we would be an under-the-umbrella organization and could thereby offer tax exemption to our donors. The Portland Education Foundation would also provide us with third party financial management and consultation, as well as assistance in grant writing and fundraising. The idea is to partner for 12 months and then revisit.
Upcoming Events
Excitement is building for our second annual elementary school invitational tournament to be hosted by East End Elementary, last year's winners of the Frank Smith Trophy! To prepare, we are now discussing "scrimmages." These will be small informal gatherings where we can get kids playing other kids from other schools. So far Ocean Ave Elementary, Portland Rec, Reiche, East End and Lyseth and Falmouth elementary have active chess clubs.
Tuesday Evening Family Night
Our Tuesday family night program continues to build! Every week we are seeing more moms and dads and their children showing up to play chess, hang out and have fun! This evening starts at 6 PM and generally runs to about 8 PM. It is hosted by East End Community School. Please spread the word!
Why Chess?
Nothing sharpens the mind or breaks down social barriers quite like chess. Chess combines logical, analytical, creative, tactical and strategic thinking while simultaneously promoting conscientious social behavior. Hundreds of studies dating back to the 19th century attest to its benefits. Taken as a whole, these studies demonstrate the uniqueness of chess to positively influence the mental and social spheres like few activities can.
· Chess brings together children of different ages, races and genders.
· Chess leads to increased learning motivation, improved behavior, better self-image, and improved attendance.
· A study of 4,000 Venezuelan students showed that after just 4 months of chess instruction boys and girls significantly raised their IQ scores.
· Chess players utilize right brain functions more often when solving problems. Right brain functions are related to creativity, fostering growth in "outside the box" thinking.
· Chess promotes better memory and better organizational skills.
· In a controlled study done in Germany, a random grouping of first graders given chess instruction for one year out performed the non-chess group by 21.46%.
· The reading performance of 53 elementary school students who participated in a chess program outpaced their peers "significantly."
· Numerous studies of students in the U.S., Russia, China, and elsewhere have proven that young people's ability to focus is sharpened with chess.
· Chess promotes prefrontal cortex development, which translates to better decisions making in all areas of life.
· Chess is inexpensive to implement and children love it!
---