8th Annual Joe Brown Memorial Tournament Report
01.26.14 On Saturday January 25th, twenty-six young chess players took part in the 8th Annual Joe Brown Memorial Chess Tournament honoring a former Deer Isle-Stonington chess player. In this non-rated tournament, each player completed four rounds except players in the 7th-8th grade division who played in a three-round quad. The time control was Game/15. Here's the illustrated tournament report.
Chess and food were plentiful at the 8th Annual Joe Brown Memorial Tournament held at Deer Isle-Stonington Elementary School on Saturday, January 25th, 2014.
Thanks to Dick Powell for contributing to this report.
In the K-2 group, second grader Gavin C. Eaton was perfect for the day with a 4-0 record to take first place. Gavin upset fellow second grader, Brayden Martin, in the very first round and Martin, with two wins and a draw in the next three rounds, took second. Maya Brown and Owen Stapes tied for third, but Brown took the trophy on tie-breaks.
In the 3-4 section, Maya's sister Macey took first followed by Henry Penfold and Gavin L. Eaton.
The 5-6 division had the most contestants of any section with nine and had some of the closest matches. Oliver Brown, a 5th grader from Lamoine who was second last year, was a perfect 4-0 to insure a first place finish. He didn't even have to play last year's number one Rylee Eaton since she was upset in the third round by Andrew Pappianne. Pappianne gave it his best shot against Brown but was defeated and settled for third place. Sixth grader Benjamin Penfold was second losing only to Brown.
In the 7-8 division, Brendan Penfold was undefeated to take first. SooZin Cha was second and Orly Vaughn third.
With the power house chess family Ciomeis gone the Penfolds are taking over. They took home a first place trophy and two second place trophies.
As usual, the DIS Chess Boosters had provided more food than these growing young people could consume (just barely) and the tournament couldn't have taken place without the direction of Dan DeLuca who came all the way from Aurora on a less-than-perfect travel day for the fifth consecutive year! Our heartfelt thanks Dan!

Students milling around waiting for the word to start play.

Dick Powell reads off the pairings and...

The games begin!

Players in the 7-8 division (clockwise from left: Orly Vaughn, Tyson Rice, Brendan Penfold and SooZin Cha) look like they are enjoying themselves during the first round.

Action in the combined 3rd-4th and 5th-6th grade division.

Here's a pretty mate from a game in the 5th-6th grade group.

Andy Vaughn watches the games in the 7th-8th grade group.

Taking a break from tournament chess with a three-way skittles game.

A common mating pattern during this tournament.

And again!

Oliver Brown won the 5th-6th grade division with a perfect 4.0 points in four games.

Chelsea Brown with the K-2 group...

the 3rd-4th grade group...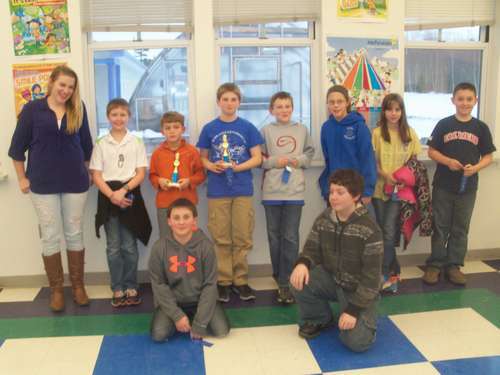 the 5th and 6th graders...

and the 7th-8th grade group.

Thanks to all players for participating!

Thanks to the Deer Isle-Stonington Chess Boosters for hosting and providing the treats.

Hope to see you at next year's tournament!
---