Fall Chess@ UMA 2013 Tournament Report
12.10.13 Forty players met over the board at the Fall Chess@ UMaine Augusta Tournament played on the campus of the University of Maine in Augusta on November 16th, 2013. The tournament was contested in nine sections with ratings ranging from USCF 1977 to 347. Here's the illustrated tournament report with crosstables.
The tournament room at the Fall Chess@ UMS Tournament.
Thanks to Barry Magda, Brian Roderick, Charles Rotmil and Ted Elliot for contributing to this report.
With 40 participants, this was the largest UMA chess event yet! There was a great pre-registration turnout, and lots of morning-of-the-event signups. The organizers would like to extend a hearty thank you to all of the players, innocent bystanders, coaches, parents and helpers, Especially to Rose Pellitier who not only provided the wonderful space at University of Maine for us, but also provided snacks, coffee and tea! We would also like to thank MECA Director Phil Lowell who single-handedly wrestled to defeat and brought the conquered proof--a box of donuts--to the event.
We'd also like to thank folks forother door prize contributions, school supplies and medals provided by Barry Magda and the Royal Court of Maine as the sponsoring USCF affiliate. Brian Roderick and Barry Magda served as tournament organizers and directors. To get on the mailing list for future events in Augusta area, please email bajmagda@juno.com with 'chess' in the subject line.

Medomak coach Jim Dubois zooms past the TD station, giving a Vulcan hand wave as he passes! We understand Medomak received a chess grant this year, congrats!

Leo Davis (right) meets Lee Doucette in round 2 Quad 4 action: White invades Black's territory!

Milo Sanokklis plots a move against eventual scholastic quad winner Joseph Powell!

"Chester" - 'You can call me Chess' aka known as Steve Young, files his winnings from Quad 1 for a rainy day, while TD Brian Roderick checks it out on the TD computer. Donut wrassler Phil Lowell reads on in the background.

Curt Brock (left), a bit fuzzy because of the Jolt cola, plays William Burtt in the round that all Quad 2 players drew.

Jon Buxton, playing white and Rob Shore studiously notate enroute to a draw in the last round of Quad 2 action, while downtable a ways, Mark McPheters battles Matthew Spear, and scholastic players take a break in the background.

Thomas Allen (left), who went on to win the six-person Swiss section with 2 wins and a draw plays black against Charles Rotmil

Max and Danielle Sannoklis. who work with a elementary school in Portland area, are looking for chess connections in the area. (Contact Barry if you know of any!)

Perrenial Person About Chess Norm Dostie discusses some of the finer points of the French with able kibitzer Dave Lawrence.

Lee Doucette (left) and Bruce Sherwood battle in round 3 Quad 4 with quadmates Brian Hurst and Leo Davis, who eventually tied for 1st-2nd, in the background.

Intense Quad 5 action has a crowd watching.

Super volunteer and chess parent Danielle Sanokklis arranges the scholastic prize bonanza.

The "Boys from Bangor" show off the money.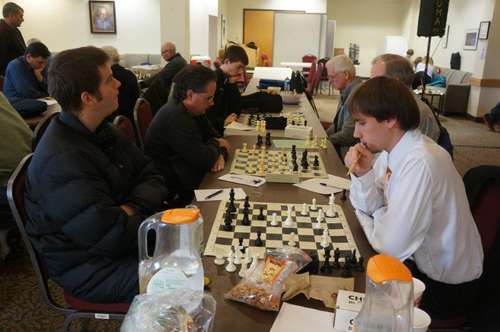 Will Ravn (left) considers whether the sky is really falling, as the dapper chess pro Arron Spencer considers white's alternatives.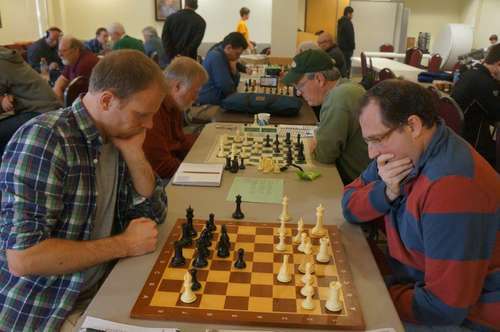 Quad 2 players in intense thinking mode.

Scholastic players fight tough battle.

Sometimes it's hard to know what to do!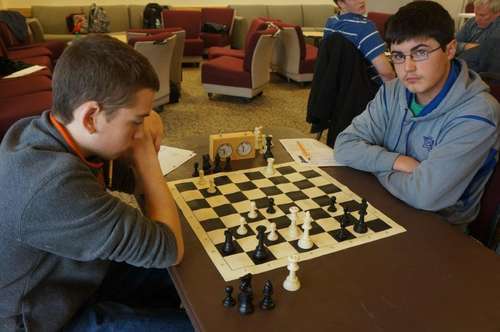 This one could be a puzzle position.

Newcomer Leo Davis (right) presents veteran Lee Doucette with a dilemma.

Glenn Synder (right) presses against Yuri Riabkov.

All teched up, Brian Hurst playing black, battles Bruce Sherwood but garners his only loss enroute to a tie for first in Quad 4.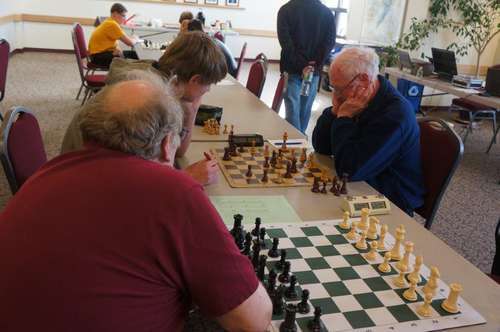 Near the end of a round, the somewhat depleted snack table presents a background to hard fought games.

MECA Past President, current board member Phil Lowell defends with Black, under the "Flag of Honor" Round 1 Quad 1.

A busy scene midway into Round 1 action at the UMA Fall Quads! Thanks to all who participated!
---