SPGI St. Louis Day 6
07.27.12 As it so often goes with these events, the Susan Polgar Girls' Invitational was not decided until the final round. Michelle Chen, with 5.0 points, was paired with the tournament's highest rated player, Alice Dong, who had 4.5 points. Chen, playing the black pieces, equalized out of the opening and was slightly better in the middlegame. Dong, who needed a win to secure first place, pressed. With less than three minutes remaining on her clock, Chen offered her hand in resignation. After a 3 hour 20 minute last round game, Maine player Haley DeLuca Lowell, who was seeded 31st in the field, accepted her opponent's draw offer to finish tied for 13th place with 3.5 points.
Friends on and off the board. Alice Dong (left) and Michelle Chen.
The Susan Polgar Girls' Invitational chess tournament concluded today on the campus of Webster University in St. Louis. Final results are here. In an unexpected move Dr. Julian Z. Schuster, the provost and senior vice president of Webster University, offered an additional $50,000 scholarship to the third place finisher on tie breaks. He praised the participants as leaders and as part of the very history of the development of chess throughout the world.
In addition to the top three finishers: Alice Dong of New Jersey, Michelle Chen of Massachusetts and Annastasia Wyzywany of Louisiana, Katherine Davis of New York and Carissa Yip of Massachusetts won laptop computers for finishing first in the under 14 and under 10 year old categories.
Trophies for the blitz and bughouse tournaments were also awarded.
ChessMaine.net would like to thank the Susan Polgar Foundation and Webster University for the opportunity to participate in this great event.
Results from the blitz, bughouse and open tournaments will be posted as they become available.
Click here for results and pairings as they become available on the tournament director's website (www.idahochessassociation.org).
Click here for an updated album of photos taken at the SPGI.

Tournament Schedule
Sunday, July 22 Blitz, Bughouse and Puzzle Championships
Monday, July 23 Training Day, Visit to City Museum
Tuesday, July 24 Opening Ceremony (1:30 p.m.), Round 1 (2:30 p.m.)
Wednesday, July 25 Round 2 (9:30 a.m.), Round 3 (3:00 p.m.)
Thursday, July 26 Round 4 (9:30 a.m.), Round 5 (3:00 p.m.)
Friday, July 27 Round 6 (9:30 a.m.), Closing Ceremony (2:30 p.m.)

Camera crews set up cameras that broadcast the moves from board one around the globe on the Internet.

But do these players look the least bit nervous?

Helen Lou of Indiana

Mina Takahashi of Iowa

Gisele Delgado of Texas

Board one as seen in person.

And as broadcast on the Internet.

GM Susan Polgar taking a look at the games.

Calculating, calculating, calculating albeit on separate boards. Haley DeLuca Lowell (middle left) and Hannah Farell (right).

Vanita Young of Pennsylvania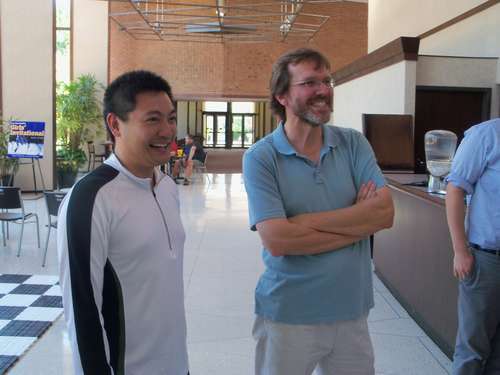 Parents having a good time watching...

and commenting on the position on board one.

FM Jake Banawa (left), IM Vitaly Neimer and GM Manuel Hoyas (right) speak with a reporter outside the tournament hall.

As the excitement heats up on board one, a crowd gathers to check out the action.

Haley DeLuca Lowell and Shayna Provine (right) are one of the three remaining boards in the last round. They called it a draw after playing for 3 hours and 20 minutes.

After their game, Michelle Chen (left) and Alice Dong have post-mortem with FM Paul Truong (standing) and Mexican Champion GM Manuel Hoyos.

A SPGI tradition, Haley DeLuca Lowell signs a board for a player.

Diamond Abdus-Shakoor (left) and Haley DeLuca Lowell

Let's have some fun! FM Jake Banawa (left) and GM Manuel Hoyos join up with SPGI players for some lightning (one-minute) bughouse.
Congratulation to all the young women and a sincere thank you again to the Susan Polgar Foundation, Webster University, parents and players!
---