SPGI St. Louis Day 5
07.26.12 Rounds four and five are in the books at the 2012 Polgar Girls' Invitational here in St. Louis. Michelle Chen, from Massachusetts, is the only player who has won all of her games scoring a perfect 5.0 points. Tomorrow she will be paired with the tournament's highest rated player, Alice Dong, from New Jersey, who has 4.5 points. Maine's player scored two wins today and is now tied for 10th place with 3.0 points.
This bronze statue is located just outside the Loretto-Hilton building, the site of the main tournament hall. The carefree young woman on the swing portrays an apropos image for this event which invites the best and brightest female scholastic chess players in the nation for a six round competition.
Results from the blitz, bughouse and open tournaments will be posted as they become available.
Click here for results and pairings as they become available on the tournament director's website (www.idahochessassociation.org).
Click here for an updated album of photos taken at the SPGI.

Tournament Schedule
Sunday, July 22 Blitz, Bughouse and Puzzle Championships
Monday, July 23 Training Day, Visit to City Museum
Tuesday, July 24 Opening Ceremony (1:30 p.m.), Round 1 (2:30 p.m.)
Wednesday, July 25 Round 2 (9:30 a.m.), Round 3 (3:00 p.m.)
Thursday, July 26 Round 4 (9:30 a.m.), Round 5 (3:00 p.m.)
Friday, July 27 Round 6 (9:30 a.m.), Closing Ceremony (2:30 p.m.)

Some players warmed up before round four with a few skittles games.

Others looked for improvements and surprises to spring on their opponents.

Abdul Abdus-Shakoor checks the fourth round pairings.

Players make their way to the appropriate board.

Tournament Director Frank Niro makes a few last minute announcements.

Some small talk and chit chat takes place.

The pieces are adjusted just so.

Michelle Chen puts the Caro-Kann Defense (1.e4 c6 2.d4 d5) on the board and the round begins!

Rachel Ulrich (Wisconsin)

Annastasia Wyzywany (Louisiana)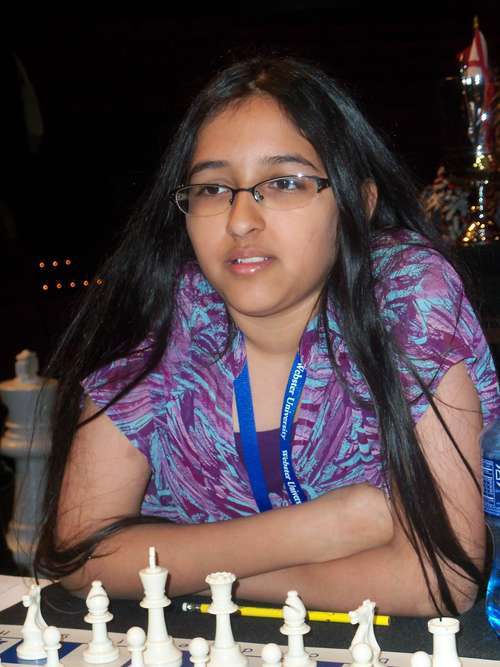 Zoe Lemon (Missouri)

Carissa Yip (Massachusetts)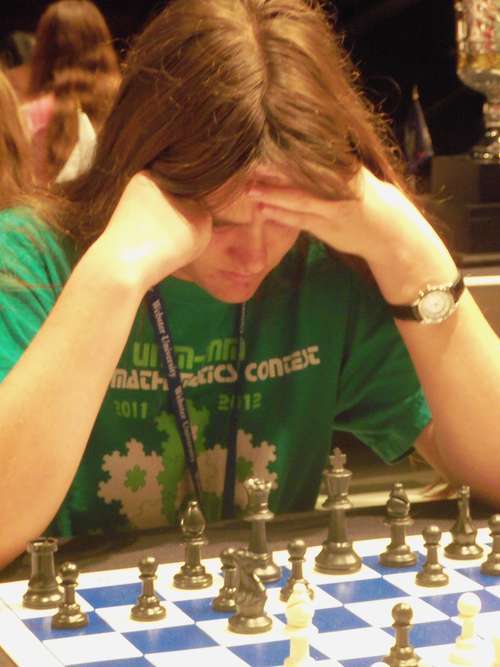 Rebecca DeLand (New Mexico)

Taylor McCreary (California)

Alice Dong (New Jersey)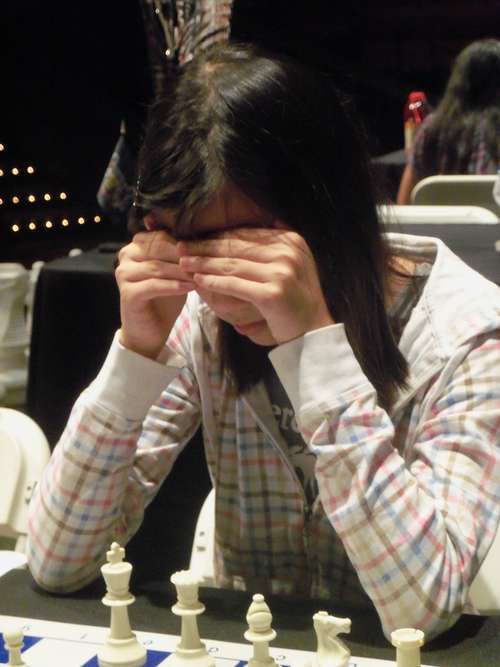 Margaret Hua (Missouri)

Anupama Rajendra (Wisconsin)

Haley DeLuca Lowell (Maine)

Michaela Abernathy (Idaho)

Ananya Murali (Wisconsin)

Anjana Murali (Wisconsin)

Representing the Kansas City Chess Club: Mallory Fee (Missouri)

Round five match up: Maine (left) vs Ohio

Hannah Farell (Oklahoma) and her mom

Abbey Gillett (Ohio)

The Idaho Potato Man

Alice Dong (standing) takes a look at the game Vanita Young (left) (Pennsylvania) vs Carissa Yip (Massachusetts)

Eleven-time Maine State Champion Stanley Elowitch was fond of saying before an important game, "Only three things can happen. Then we'll go and have a nice dinner." And so it is.
The final round will be played on Friday, July 26th.
---