SPGI St. Louis Day 4
07.25.12 Round three has concluded at the Polgar Girls' Invitational. Of the forty-eight participants only four have perfect scores of 3.0: Michelle Chen (MA), Annastasia Wyzywany (LA), Rachel Ulrich (WI) and Zoe Lemon (MO). Tomorrow's games may whittle that number down to a sole leader. The crosstable after three rounds is here. Maine's representative has one point and is tied for 26th place.
The flags of Maine and Louisiana are set for round two at the Polgar Girls' Invitational. Notice the Maine blueberry jam at the bottom right. A tradition at this tournament has been exchanging gifts with one's opponent before each game. The gift from Maine is homemade wild blueberry jam.
Results from the blitz, bughouse and open tournaments will be posted as they become available.
Click here for results and pairings as they become available on the tournament director's website (www.idahochessassociation.org).
Click here for an updated album of photos taken at the SPGI.

Tournament Schedule
Sunday, July 22 Blitz, Bughouse and Puzzle Championships
Monday, July 23 Training Day, Visit to City Museum
Tuesday, July 24 Opening Ceremony (1:30 p.m.), Round 1 (2:30 p.m.)
Wednesday, July 25 Round 2 (9:30 a.m.), Round 3 (3:00 p.m.)
Thursday, July 26 Round 4 (9:30 a.m.), Round 5 (3:00 p.m.)
Friday, July 27 Round 6 (9:30 a.m.), Closing Ceremony (2:30 p.m.)
SPGI Round 1
Katherine Davis (MA) 1718 - Haley DeLuca Lowell (ME) 1155 1-0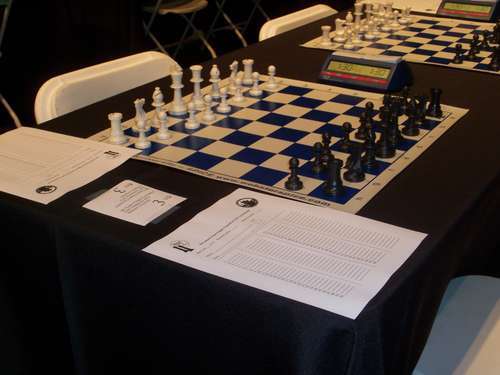 Boards, pieces, clocks, scoresheets--we're ready for round 2!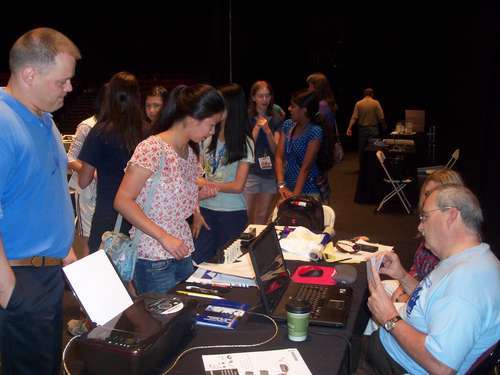 Players are required to turn in their scoresheets to the tournament director after each game. The scoresheets are then copied and returned to the players before the next round.

Maine's representative, Haley DeLuca Lowell, is all smiles before round two.

Cassie Parent (Illinois)

Carmen Pemsler (Idaho)

Jiaying (Lucy) Cai (Massachusetts)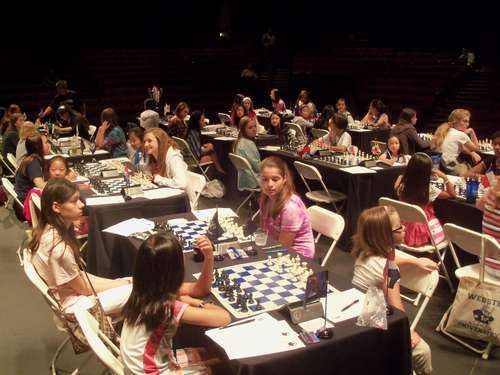 Ready, set...

and we're underway with round two!

Susan Polgar's son, Tommy (left), himself a USCF rated expert, plays a skittles game in the lobby outside the tournament room.

Alice Dong (left) and Anupama Rajendra begin their round three game which ended in a draw.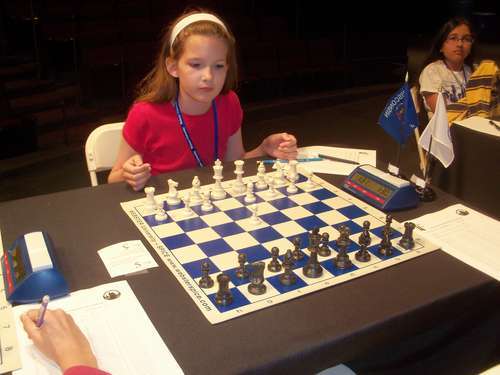 Rachel Ulrich plays 1.e4 and waits for her opponent to arrive.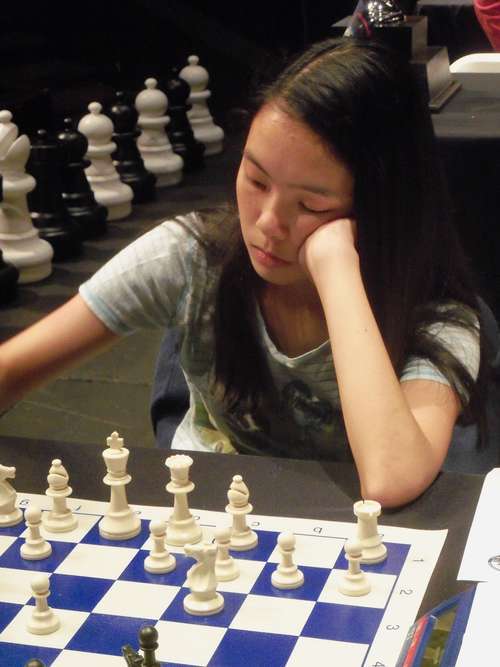 Michelle Chen (Massachusetts)

Katherine Davis (New York)

Collette Wright (Kansas)

Hannah "Tori" Whately (South Carolina)

Diamond Abdus-Shakoor (Ohio)

Austen Janna Borg (Vermont)

Skylar Hsu (Maryland) and her dad.

After the first few opening moves are made players often get up, stretch their legs and check out other games.

Grandmaster-in-Residence at the Chess Club and Scholastic Center of St. Louis Ben Finegold honored the girls with a visit. Here he kibitzes a game in the skittles room.

The tournament hall stage as seen reflected in a glass panel.
Rounds four and five will take place Thursday, June 26th.
---