SPGI St. Louis Day 3
07.24.12 The first round of the Susan Polgar Foundation Ninth Annual Girls' Invitational chess tournament kicked off today with a very beautiful and touching opening ceremony. Webster University president Dr. Elizabeth Stroble welcomed the young women to campus and heaped congratulations on them for their intelligence, their accomplishments and their leadership.
The mayor of Webster Groves, Missouri, Gerry Welch, proclaimed July 24th, 2012 as Susan Polgar Girls' Invitational Day and read a letter of welcoming and congratulations from the Governor of Missouri Jay Nixon. GM Polgar also addressed the players urging them to share their excitement and passion with female chess players in their home states.
St. Louis radio station KTRS interviews Missouri representative Margaret Hua before the start of round one.
Results from the blitz, bughouse and open tournaments will be posted as they become available.
Click here for results and pairings as they become available on the tournament director's website (www.idahochessassociation.org).
Click here for an updated album of photos taken at the SPGI.

Tournament Schedule
Sunday, July 22 Blitz, Bughouse and Puzzle Championships
Monday, July 23 Training Day, Visit to City Museum
Tuesday, July 24 Opening Ceremony (1:30 p.m.), Round 1 (2:30 p.m.)
Wednesday, July 25 Round 2 (9:30 a.m.), Round 3 (3:00 p.m.)
Thursday, July 26 Round 4 (9:30 a.m.), Round 5 (3:00 p.m.)
Friday, July 27 Round 6 (9:30 a.m.), Closing Ceremony (2:30 p.m.)

After breakfast, day three began with with a campus tour.

Our host, Jonathan, led an interesting an informative walk around Webster University's campus.

In addition to its main campus in St.Louis, Webster maintains campuses in Austria, China, the Netherlands, Switzerland, Thailand and the United Kingdom.

Thompson Hall is home to Webster University's music program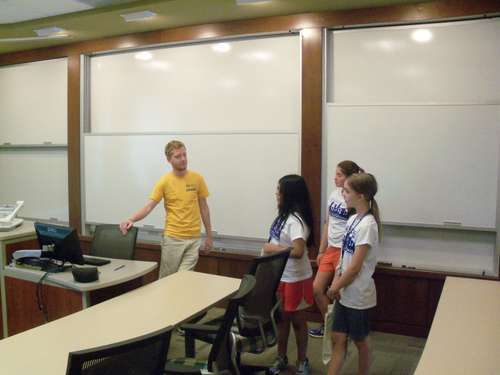 The average classroom size is twelve students which is also Webster's student to faculty ratio (12:1).

Webster's mascot, the Gorlock, has the paws of a cheetah, horns of a buffalo, and face of a Saint Bernard. The Gorlok "embodies the highest standards of speed, agility, and stamina in an atmosphere of fairness and good conduct."

Thanks to the generosity of the Susan Polgar Foundation and Webster University, campus resources such as the pool, campus center...

and library are available to players and their chaperones.

Webster University president Dr. Elizabeth Stroble began the opening ceremony with a gracious welcome.

The mayor of Webster Groves, Gerry Welch, also addressed the group and...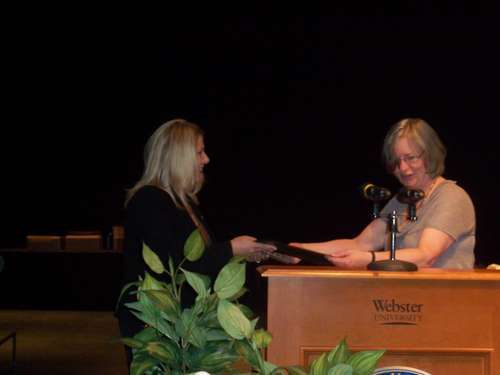 presented GM Polgar with the formal Girls' Invitational Day proclamation.

The Grandmaster offered her welcome, thanks and best wishes and challenged players to return to their home states as leaders and advocates for girls chess.

Tournament director Frank Niro explained the technical details and rules of the tournament.

Each girl received a participation medal signed by Susan Polgar and a photo op with the four-time Women's World Champion.

A quick break after the opening ceremony and before the first round begins.

The press swarmed for interviews and photos with players...

and organizers.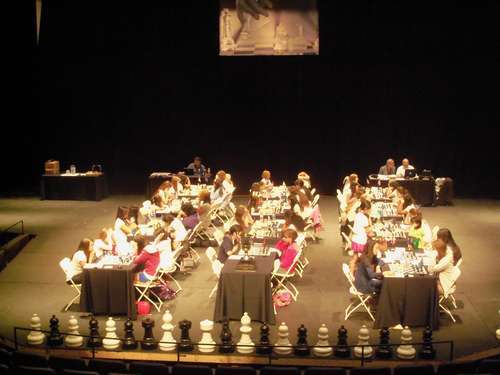 Soon players were back on stage ready for the beginning of their games.

Along with the press who were ready for a few more shots.

And a few more...

Haley DeLuca Lowell (right) of Maine and Katherine Davis of New York prepare for their first round encounter.

Players are competing for the SPGI Cup, two full scholarships to Webster University and laptop computers.

Margaret Hua of St. Louis, Missouri playing the black pieces on board two.

Hannah Farell of Oklahoma during her game on board three with one of the Massachusetts representatives Michelle Chen.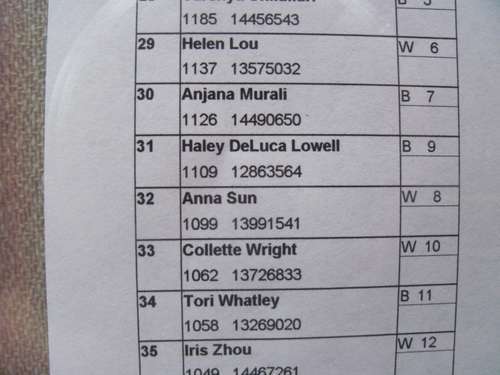 Maine's rep. is seeded thirty-first out of forty-eight players.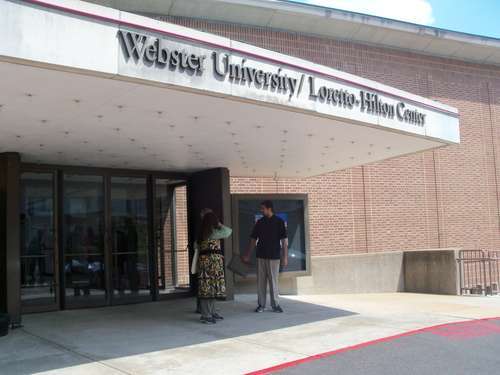 Outside the Loretto-Hilton Center playing hall

As the games progress Susan Polgar and Paul Truong take a seat to watch the proceedings.

Abdul Abdus-Shakoor, father of the Ohio chess prodigy Diamond Abdus-Shakoor, checks out the latest posts on ChessMaine.net.

After the round we were treated to another fine dining experience!

Why the crowd? Free tickets to Six Flags? No, round two pairings are up!

A little bughouse to close out the day.
Rounds two and three will take place on Wednesday, July 25th.
---