Anand Retains World Championship Title!
06.01.12 After twelve games with classical time control ended in a 6-6 tie between World Champion Viswanathan Anand and challenger Boris Gelfand the match moved on to the tiebreak phase and four games played at the rapid time control of just 25 minutes for each player and a 10 second increment added after each move. Game 2, the only decisive game of the tiebreak, was won by Anand playing the white pieces. With that win and the following two draws Anand was able to hold onto the title by the slimmest of margins. Such is world championship level chess these days--top players are separated by nearly imperceptible differences.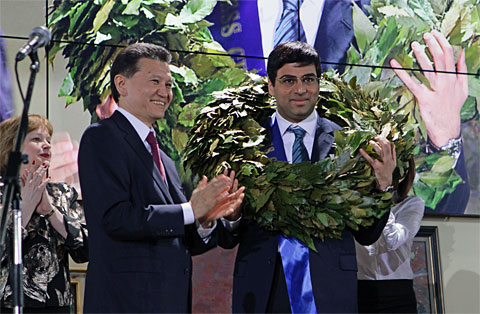 Viswanathan Anand receives the winner's laurel wreath from FIDE President Kirsan Ilyumzhinov at the FIDE World Championship match in The State Tretyakov Art Gallery in Moscow, Russia.
Official website of the World Championship match
---