Deer Isle-Stonington Chess at the Junior High School Nationals
05.27.12 The Deer Isle-Stonington Mariners Chess Team participated in the Junior High School National Tournament in San Diego, California on April 27-29, 2012 and came home with a 6th place finish in the U1000 section and a 9th place finish in the U750 section. Strong individual performances were turned in my many players. Here are photos and details.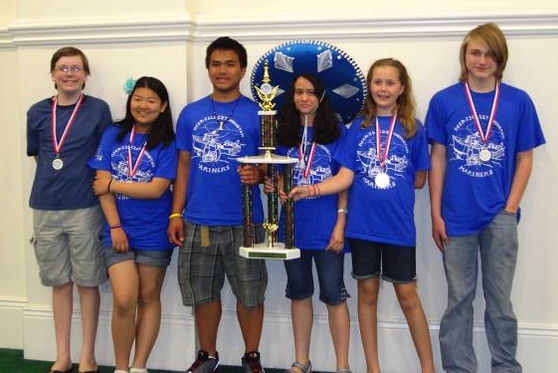 The Deer Isle-Stonington Mariners U1000 team (left to right): Isaac Vaughn, SooZin Cha, Krisford Melanio, Bethany Humphrey, Orly Vaughn and Cameron Wendell
Thanks to Dick Powell and Amy Vaughn for contributing to this report.
San Diego, California
Submitted by Coach Dick Powell
Nine years ago with a team led by the Ciomeis (Bryan and Collin) and the Eatons (Jon and Shane) the Deer Isle - Stonington Mariners went to Orlando, Florida and came home with a 5th place National finish. This year's Mariner Jr. High Chess team almost matched that historical high, coming away with a 6th place national finish - without an Eaton or a Ciomei! This year's team was led by girls - three of them. Bethany Humphrey, an eighth grader, had 5 wins and a draw in 7 matches to lead the Mariners. Individually, Humphrey was tied for 6th and received the 8th place trophy on tie-breaks. Next for DIS was 6th grader Orly Vaughn who had 4 wins and a draw; Krisford Melanio - 4 wins, and Isaac Vaughn and SooZin Cha each with 3 wins. The 17 points was ½ a point shy of tying the Orlando team's record.
In the under 750 division Deer Isle-Stonington got a second top ten finish (the first time they have ever had 2 top ten finishes in the same year) with a ninth place ranking when all was said and done. Three more girls got it done for the Mariners. Eighth grader Alyssa Chesney led the way with 4 wins followed by 5th grader Avery Reynolds with 3 wins, and Philomena Mattes and Ennis Marshall with 2 wins and a draw each. Mattes is in 8th grade while Marshall is only a 6th grader. Also competing for DIS were: Tyson Rice, Cole Stewart, and Colby Haskell each with 2 wins, Cameron Stewart with a win and a draw, and brother Ross who had a win in his first National Event.
Playing as an individual Cameron Wendell, an 8th grader, got 4 wins playing in the 1250 division because of his high rating. In fact, Wendell acted as a mentor to players on both DIS teams besides his actual tournament play. Two of Cameron's losses were to players who finished 8th and 9th in the division's final ranking!
The players and coaches would like to thank all the Island for its great support again this year, especially those of you who contributed to the fundraising effort to help send the teams to San Diego. Bravo!

The U750 team (left to right): front row: Cole Stewart, Cameron Stewart, Colby Haskell, Ross Stewart
back row: Philomena Mattes, Tyson Rice, Ennis Marshall, Alyssa Chesney, Coach Dick Powell
not pictured: Avery Reynolds

Cameron Wendell with coach Dick Powell
---