Berube Wins John Bapst G/35
05.22.12 On March 30th six players competed in a three-round tournament at the University of Maine in Orono to raise funds for the John Bapst Memorial High School Chess Team. The event was won by UMO student Max Berube with a perfect score of 3.0 points. Yuri Riabkov and Dan DeLuca tied for second with 2.0 points apiece.
University of Maine student Max Berube won the John Bapst G/35 Tournament with an unbeaten and untied score of 3.0 points
Thanks to Andy Bryan for contributing to this report.
Six players met at Barrows Hall, the home of the Engineering Deptment at the University of Maine, for three rounds of action chess. Max Berube continued his climb up the ratings ladder in March. He defeated Andy Bryan, Yuri Riabkov, and Dan DeLuca to raise his rating to 1752 and winning streak to ten games. The current UMaine sophomore has been on a hot streak of late with a leap of almost 300 points over the past year.
Dan DeLuca and Yuri Riabkov both finished with two wins to tie for second. Haley Deluca Lowell, a John Bapst freshman, scored a victory over her teammate Matt Spear, and then defeated her former coach and teacher, Andy Bryan, in a Quick rated match. The six players enjoyed a very comfortable setting in a very impressive building thanks to former Bapst parent Scott Collins. The evening event helped raise money for the John Bapst chess club.

Yuri Riabkov tied for second place in the event with...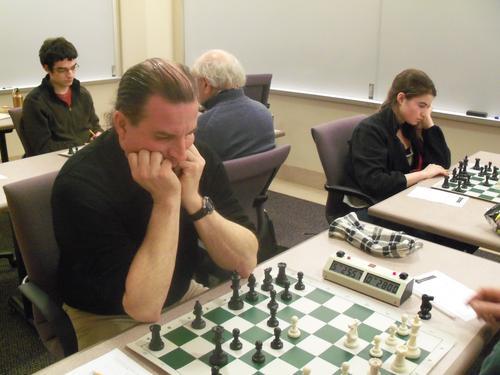 Dan DeLuca.

John Bapst freshman Haley DeLuca Lowell took sole fourth place with her victory over Tournament Director Andy Bryan.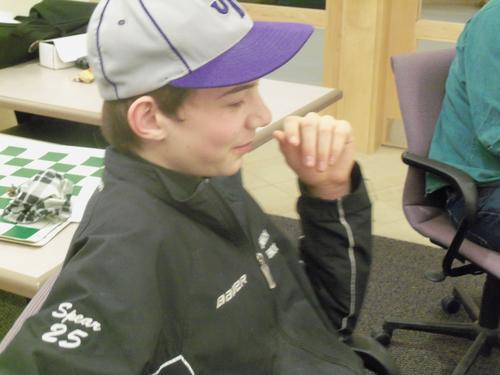 Matt Spear and...

Andy Bryan went scoreless after three rounds.

Clash of Titans: The tournament's two highest rated players Max Berube and Yuri Riabkov face each other in round two.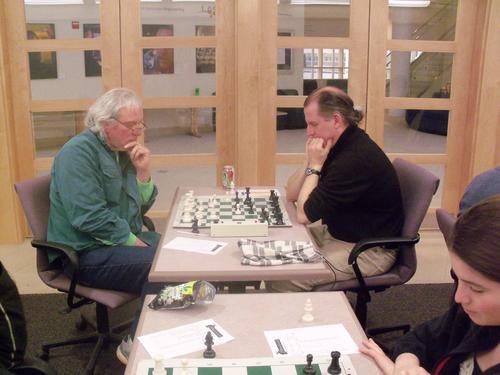 Maine Chess Association President Andy Bryan (left) plays Maine Chess Association Vice President Dan DeLuca.

Haley DeLuca Lowell seems to find something amusing in her position vs. Matt Spear.

The conditions were excellent with exceptional lighting and quiet.

John Bapst students (from left to right) Haley DeLuca Lowell, Matt Spear and Anna Bryan get in some homework in between rounds.

Tournament Director Andy Bryan at the helm.
Thanks to all who participated in this event and to former John Baspt parent Scott Collins for making arrangement to secure the tournament room.
---