St. Valentine's Day Massacre Quads
02.27.12 Twelve players participated in the St. Valentine's Day Massacre Quads held at the University of Maine in Orono on February 12, 2012. This resulted in a neat grouping of three sets of four: Quad 1 (USCF 2005-1602) won by Todd Snyder, Quad 2 (USCF 1632-1024) won by Max Berube, and Quad 3 (USCF 906-591) won by Patrick Coyne.
Quad 1 winner Todd Snyder went unbeaten to score 2.5 points in a strong field.
Yuri Riabkov was the only player in Quad 1 who could match Todd Snyder in their individual game--the two players agreed to a draw in round two. Tournament Director and Quad 1 player Tom Sandford put up 2.0 points, his only loss being to Snyder in round one. Roger Morin, the Quad's highest-rated player, finished in third with 1.0 point.
Max Berube was perfect in Quad 2 with 3.0 points. He was followed by Collin Calhoun and Haley DeLuca Lowell each scoring 1.0 point. Dan DeLuca went scoreless in the first two rounds.
Patrick Coyne nicely padded his rating with three wins in three games in Quad 3. He was followed by Peter Johansson and his sister Aiden Coyne with 1.5 points. Lois Morin finished fourth.
This event was organized and directed by Tom Sandford.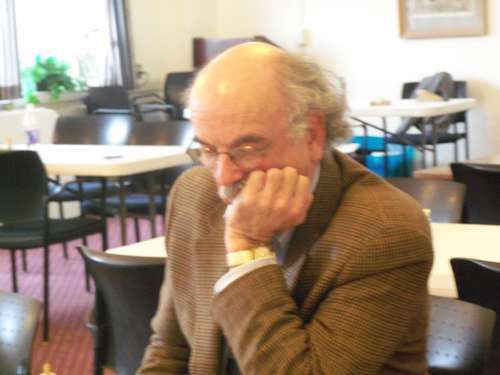 Tom Sandford scored two nice wins in Quad 1, his only loss being to Quad winner Todd Snyder.

Roger Morin scored 1.0 point in Quad 1 to take third place.

Yuri Riabkov went head-to-head with the winner of Quad 1 and held him to a draw in round two.

Quad 2 winner Max Berube (left) plays Dan DeLuca in the second round.

Colin Calhoun and...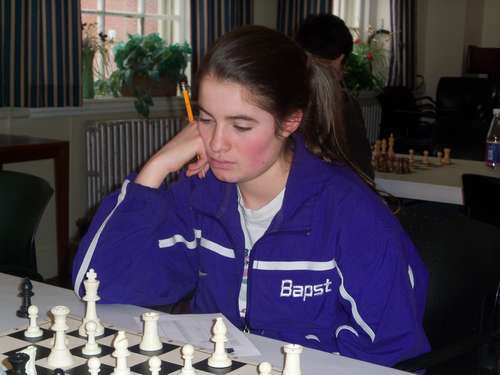 Haley DeLuca Lowell each scored 1.0 point in Quad 2.

Patrick Coyne shows the concentration he used to win Quad 3 with a perfect 3.0 points in three games.

Peter Johansson...

and Aiden Coyne tied for second place in Quad 3 with 1.5 points apiece.

Lois Morin
---