Orono Championship Tournament Report
12.05.11 Former John Bapst Memorial High School Student and current University of Maine sophomore Aaron Spencer posted a perfect 4.0 points in four games to take first place in the open section of the Orono Champiosnhip on Saturday, December 3rd, 2011 at Orono High School. Spencer plowed through Jaiwei Zou (1374), William Bonney (1575), Kellen McDonald (1409) and Roger Morin (2000) on his way to the top spot. Orono High School sophomore Zach Hamilton won the U1200 section with a clean sweep of the field as well. Here are images, crosstables and a selected game.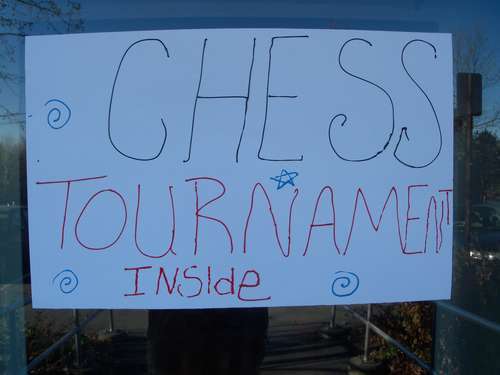 The Orono Chess Championship took place at Orono High School on Saturday, December 3rd, 2011.
This event was organized and directed as a fundraiser for the Orono High School Chess Team by Steve Abrahams. Thanks to Roger Morin for submitting a game for publishing.
Forty-one players turned out on a brisk, sunny December day for the Orono Chess Championship. The two-section, four-round event was played at the rapid time control of game in forty-five minutes. Four players, each scoring 3.0 points, lined up behind the winner of the open section Aaron Spencer--who didn't look back after his first-round win--they were: Roger Morin, Yuri Riabkov, Kellen McDonnell and Colin Calhoun. Five players knotted up in the center of the pack with 2.0 points including: Max Berube, William Bonney, William Gallagher, Jaiwei Zou and Ryan Vienneau.
In the U1200 section, Zach Hamilton was unbeaten and untied with 4.0 points. He was trailed by Bethany Humphrey, Andrew Vaughn, Canmeron Wendell, Josh Burleigh and Isaac Vaughn each scoring 3.0 points.
Here's the game that clinched Aaron Spencer's win in the open secton:

Open section winner Aaron Spencer

The last-round encounter between Aaron Spencer (left) and Roger Morin

Maine Chess Player of the Year for 2011 Roger Morin scored 3.0 points as did...

Kellen McDonnell

Yuri Riabkov

and Collin Calhoun.

Max Berube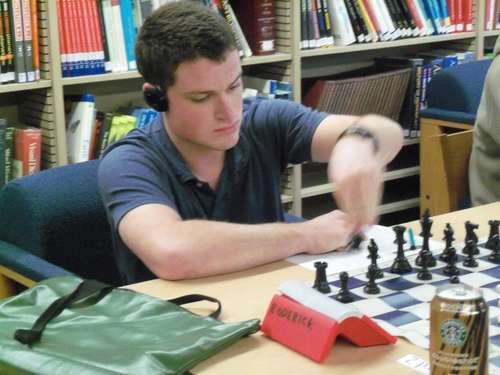 William Bonney

Bill Gallagher takes a one-day hiatus from competitive poker to push some wood.

Orono High School senior Jaiwei Zou

Playing in his first USCF-rated tournament: Randall Fitzpatrick

Stephen Kaluzynski

Maine Chess Association President Andy Bryan (right) has a chat with open section competitor Dick Powell.

Perfect in the U1200 section: Zach Hamilton

Bethany Humphrey

Andy Vaughn

Cameron Wendell

Isaac Vaughn

Lois Morin chalked up 2.5 points in the U1200 section.

Orly Vaughn

Tournament Director Steve Abrahams checks out games in the U1200 section.

Brendan Penfold

Ross Stewart

Thanks to Orono High School for hosting this event.
---