New Hampshire Defeats Maine in Border Battle
10.07.11 Maine took on New Hampshire in 2nd Annual Border Battle on September 10, 2011 at the Portsmouth Public Library in Portsmouth, New Hampshire. It was a tough match for the Mainers as they were out-rated on eight of ten boards. Great credit goes to David Oshana on first board for his second round victory over International Master Joseph Fang. Adam Schaff also had a nice win over Robert Cousins rated 2185. The final score was Maine 6, New Hampshire 14.
Maine chess player David Oshana (left) plays International Master Joe Fang at the 2011 Maine-New Hampshire Border Battle.
Thanks to Steve Abrahams and Dan Fishbein for contributing to this report.

Steve Abrahams (right) selects a pawn-in-hand to get the Border Battle started.

Andrey Savov (left) plays Gerald Potorski.

A view of the tournament hall...

...and another.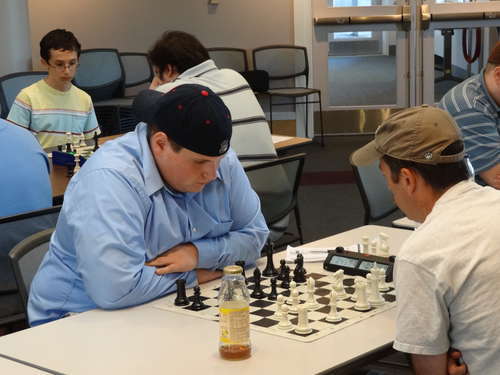 Steve Abrahams (left) played New Hampshire's Kerry McDermott to two draws.

Phil Lowell from Maine (left) vs Matthew Goddard

John Phythyon (left) takes on John Gaspar.

Team Maine

Team New Hampshire

Thanks to the Portsmouth Public Library for hosting the Maine-New Hampshire Border Battle.
---