Portsmouth Open Tournament Report
01.27.11 Thirteen Maine chess players competed in the thirty-eight player five round Portsmouth Open on January 15-16, 2011. The open section of the event was won by GM Alexander Ivanov with 4.5 points. Matthew Fishbein was the highest scoring Maine player with 3.5 points. His performance rating of 2221 added forty-five points to his quickly-rising USCF Class A rating. We bring you images, games and results.
Tournament winner Massachusetts GM Alexander Ivanov
Thanks to Dan Fishbein and Charles Rotmil for contributing to this report.
Thirteen Mainers competed in the Portsmouth Open including three scholastic players from Cape Elizabeth--Matthew Fishbein, Ethan DiNinno and Benjamin Hansel.
Fishbein continued to impress with a master-plus performance rating of 2221 including a win over master Dale Sharp and a near miss against second place finisher Massachusetts master Max Enkin. The game, in Fishbein's opinion his best of the tournament, developed into a very strong position for Fishbein in which Enkin offered a draw. Fishbein opted to play on and Enkin ultimately found a great continuation to win the game with 24 seconds left on his clock in the G110/10sec game.



Ethan DiNnino scored 2.5 points, including a win over a master, and his rating soared to 1675, making him the highest rated high school player in Maine.
Ben Hansel turned in a fine performance in the U1750 section scoring 2.5 points in a very competitive field.
Here's a rundown of the performances of the Maine players:
Matthew Fishbein (3.5) Open Section equal 4th
John Gaspar (3.0) Open Section equal 6th
Alan Schalk (2.5) Open Section equal 8th
Ethan DiNinno (2.5) Open Section equal 8th
John Phythyon (2.0) Open Section equal 12th
John Brady (2.0) Open Section equal 12th
Nicholas Parsons (1.5) Open Section 17th
Robert Shore (0.0) Open Section 20th
Mark Seedner (3.0) U1750 Section equal 4th
Alex Wallach (2.5) U1750 Section equal 8th
Benjamin Hansel (2.5) U1750 Section equal 8th
Daniel Fishbein (1.0) U1750 Section equal 15th
Charles Rotmil (1.0) U1750 Section equal 15th
Ian Hovde (1.0) U1750 Section equal 15th

Wunderkind Matthew Fishbein

John Brady

Ben Hansel

Dale Sharp

John Phythyon

Mark Seedner

Alan Schalk (left) plays William Kelleher in round 2.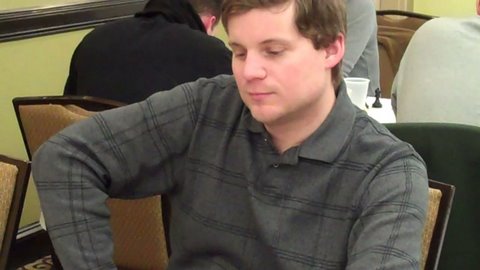 Nick Parsons

Anatoly Levin (foreground) and Max Enkin

Behind every great scholastic player is a great dad: Dan Fishbein

---