K-8 Chess Afternoon at Ellsworth Middle School
01.15.11 Over one hundred scholastic chess players gathered at Ellsworth Middle School on Thursday, January 13th for nearly two hours of all-play-all open chess at the K-8 Open Chess Afternoon organized and directed by Deer Isle-Stonington chess coach Dick Powell. This is the second of three such gatherings (the next being on February 28th) that provide an opportunity for players to sharpen their games in preparation for the scholastic state championship tournaments held at the University of Maine in Orono in March.
The playing room at Ellsworth Middle School was filled to capacity with chess players, coaches and parents for one of three annual K-8 Chess Afternoons held on January 13th.
Less formal than your average scholastic USCF-rated chess tournament this non-rated event was open to all players in grades K-8 to come and play chess with a variety of opponents, make new friends and have lots of fun in the meantime.
This annual triad of events have become very popular with players and coaches as it offers preparation and a "run-up" to the scholastic state championships held in March. Schools from eight communities participated in the event including: Airline Community School, Bar Harbor, Bucksport, Deer Isle-Stonington, Ellsworth, Lamoine, Stillwater Montessori and Tremont.
Thanks to all who participated and helped organize this event especially Dick Powell.

Players grab a nametag and sign in.

Dakota Curtis (left) and Richard Lugdon of Bucksport Middle School show off their team t-shirts.

And the chess begins!

Adrianna Keefe of Airline Community School (left) plays Cameron Wendell of Deer Isle-Stonington.

Bucksport Middle School's Alex Taylor-Lash

Cody Eaton of Deer Isle-Stonington casts a thoughtful eye over his position.

Chess coaches were on-hand to help with impromptu lessons. Here Mark Woida gives a few pointers...

...as does Paul Wlodkowski.

Former K-3 State Champion Anna Bryan

Famous Russian Grandmaster? No, that's future American Grandmaster Oliver Sheehan of the Airline Community School.

As with any event hosted by Deer Isle-Stonington there was plenty of food to go around.

White in the process of delivering checkmate with queen and king under the watchful eye of Lamoine chess coach Peter Goebel.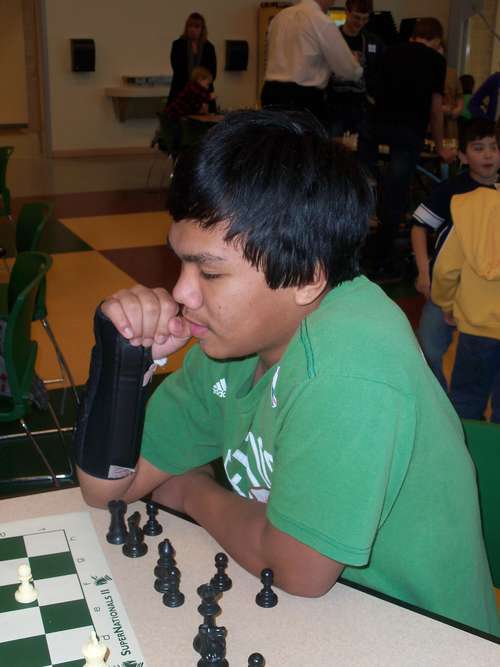 Veteran of national chess cometitions: Krisford Melanio

Philomena Mattes

Dhari Al-Shamari of the Stillwater Montessori School in Old Town.

Airline Community School's Ruby DeLuca Lowell

Maine Chess Association President Andy Bryan (left) with Dick Powell who is wearing the now cult classic ChessMaine.net t-shirt.

We hope to see you at the next K-8 Chess Afternoon on February 28th at Ellsworth Middle School. This event will feature a simultaneous chess exhibition by one of Maine's top players Steve Abrahams. For more information on this event please see the ChessMaine.net events page.
---