Orono High School Scholastic and Friends Open
11.07.10 The Orono High School Scholastic and Friends Open was played on November 6th, 2010 and attracted fifteen players who competed in three round robin sections. Winners were Roger Morin in Section 1, Jiawei Zou in Section 2 and Langdon Holly in Section 3. Here's the illustrated tournament report with USCF crosstable and a selected game.
The Orono High School Scholastic and Friends Open attracted fifteen players in three round robin sections.
In Section 1 Roger Morin scored 2.5 points in three games. His only draw came in round 2 with Yuri Riabkov. Riabkov took second with 1.5 points and Aaron Spencer and Kathy Richards tied for third with 1.0 point apiece.
Orono High School student Jiawei Zou took first place in Section 2 scoring 2.5 points. Zou was trailed by Dan DeLuca and Deanna Power each scoring 1.5 points and Lois Morin who scored 0.5 points.
In the six-player Section 3 Langdon Holly took first with a perfect 4.0 points in four games. Jason Chubbuck was close behind with 3.0 points. Brandon Crocker and Bridger Holly tied for third place with 2.0 points and tying for fifth place with 0.5 points each were Joshua and Isaac Bell.
This tournament was a fundraiser for the Orono High School Chess Team. Thanks to organizer and director Steve Abrahams and to all who participated.
Roger Morin (1936) - Aaron Spencer (1743) 1-0
Orono High School Scholastic and Friends Open
November 6, 2010
Quad 1
Round 3
Replay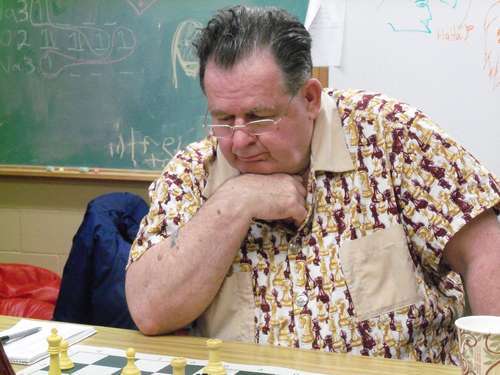 First place in Section 1: Roger Morin

Yuri Riabkov scored 1.5 points to finish second in Section 1.

Aaron Spencer scored 1.0 points to tie for third in Section 1 with...

Kathy Richards

Jiawei Zou took first in Section 2 with 2.5 points.

Tied for second place in Section 2 were Dan DeLuca (playing Lois Morin in Round 1) and...

Deanna Power

Lois Morin rounded out Section 2 with 0.5 points earned by drawing with section winner Jiawei Zou in the second round.

Langdon Holly was perfect in four games to take first in Section 3 with 4.0 points.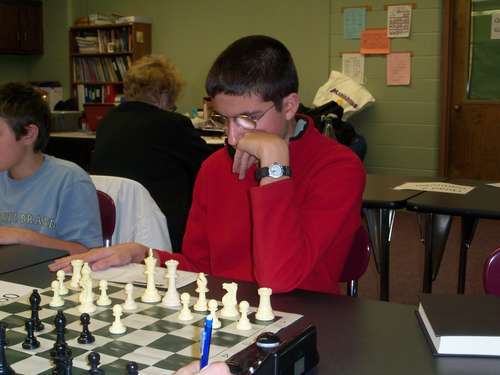 Second in Section 3 went to Jacob Chubbuck with 3.0 points.

Brandon Crocker tied for third in Section 3 with...

Bridger Holly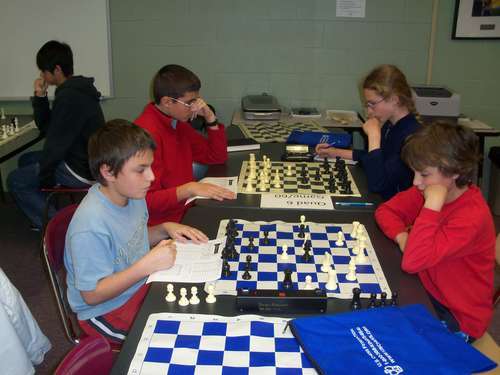 Joshua Bell (left) and Isaac Bell (during play in Round 2) tied for fifth with 0.5 points.

A closer shot of Issac Bell...

and one of Joshua Bell.

Tournament Director Steve Abrahams (right) reviews a game with one of his students Jiawei Zou.

Another of these tournaments may be planned for the spring. Stay tuned to ChessMaine.net for details.

---