Matthew Fishbein Wins Eastern Maine Open
10.04.10 Twelve-year-old Matthew Fishbein scored a perfect 4.0 points in a strong field of players to win the open section of the Eastern Maine Open played at the University of Maine Orono on Saturday, October 2, 2010. Following Fishbein with 3.0 points were New Yorker David Jefferies, Roger Morin and Roger Peterson. Ben Hansel won the U1400 section with 3.5 points.
Fall was in full bloom outside the Memorial Union at the University of Maine Orono, site of the 2010 Eastern Maine Open.
With a before-tournament rating of USCF 1842 Matthew Fishbein held 53rd place in the national rankings for twelve-year-olds in the United States. This tournament win will boost his rating to 1879 and inch him close to 41st place on the USCF's December Top Age 12 list. No small accomplishment and we send our congratulations to Matthew Evan not only for his tournament win but also for his hard work and dedication to the game that has squarely established him as one of the best players in the country for his age group.
Entering the final round both Fishbein and Roger Peterson had perfect scores of 3.0 points and were paired together. An amazingly interesting and complex game insued (which we will bring to you here as soon as possible) where, in the middlegame, all Peterson's pieces remained hunkered down on the back rank in a style reminiscent of the great Aron Nimsowich. As the game continued Fishbein was able to penetrate Peterson's rock-solid defenses and score the full point. Peterson finished with 3.0 points and took home the class B prize for his efforts.
Also scoring 3.0 points were Roger Morin (class A prize winner) and David Jeffries. Jeffries (USCF 2025), a New Yorker who came out of a twenty-year chess hiatus to play in the Eastern Maine Open, took the expert class prize suffering his only loss to Peterson in round two.
Steve Abrahans and Brett Parker (class C winner) scored 2.5 points.
Tied at 2.0 points were Aaron Spencer, Curt Brock, Roger Hardison, *, Max Berube and Stephen Kaluzynski. Kaluzynski shared the class D prize with Collin Calhoun who competed in the U1400 section.
Matthew Reale-Hatem and Dan DeLuca scored 1.5 points and Wesley Parker, Jose Lugo and Matthew Willett-Jefferies (a Colby College student playing in his first USCF-rated tournament) finished with 1.0 point.
Ben Hansel won first place in the U1400 section scoring 3.5 points. Hansel's only draw came in round two with UMaine student, second-place finisher and class E winner Daniel Hayes. Hayes went undefeated in this tournament with two wins and two draws.
Craig Fornier and class F winner Brian Roderick tied for 3rd-4th place with 2.5 points.
Haley DeLuca Lowell, Collin Calhoun and Bradley Workman each scored 2.0 points.
Dan Fishbein scored 1.5 points and Lois Morin rounded out the crosstable with 1.0 point.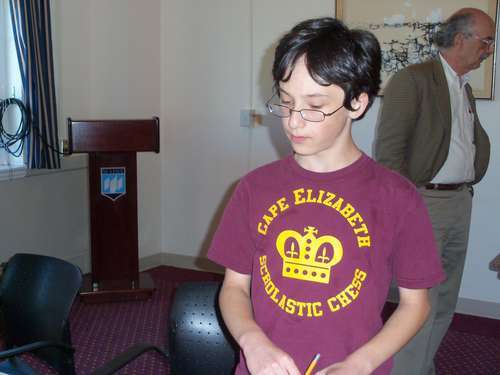 2010 Eastern Maine Open Champion Matthew Fishbein

Fishbein on the move in his final round game vs Roger Peterson.

Expert player David Jeffries finished in the second tier with 3.0 points.

A fierce competitor: Roger Morin

Roger Peterson was welcomed back to the Maine chess scene after a recent illness.

Steve Abrahams scored 2.5 points to tie with...

Class C winner Brett Parker

Maine representative to the Denker Tournament of High School Champions: Aaron Spencer

Curt Brock

Roger Hardison

* put up a nice effort in his game vs Roger Morin in the final round.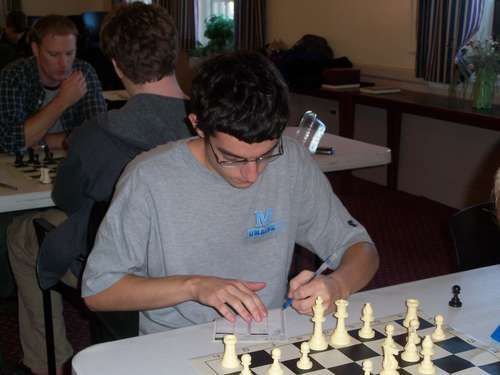 UMaine first year student Max Berube

You've heard of anti-computer strategy. Steve Kaluzynski leads an anti-computer life. So if you run into Steve hand him a hard copy of this report!

Matthew Reale-Haten (right) comtemplates his position in his game with Cape Elizabeth teammate Brett Parker. 0-1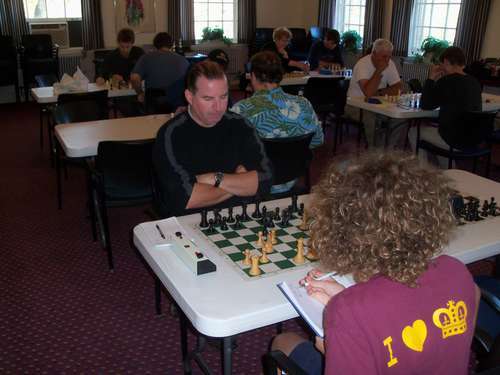 On the other side of the camera: Dan DeLuca eeks out a draw with Matthew Raele Hatem.

Wesley Parker

Jose Lugo

Matthew Willett-Jeffries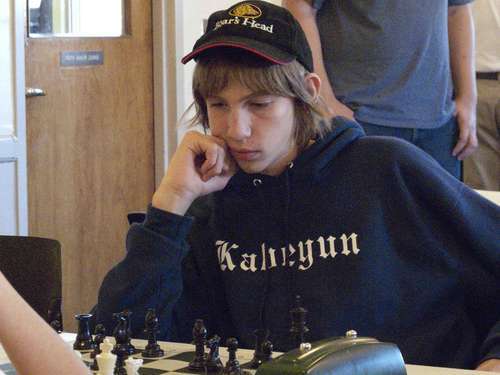 U1400 winner: Ben Hansel

UMaine chess team member Daniel Hayes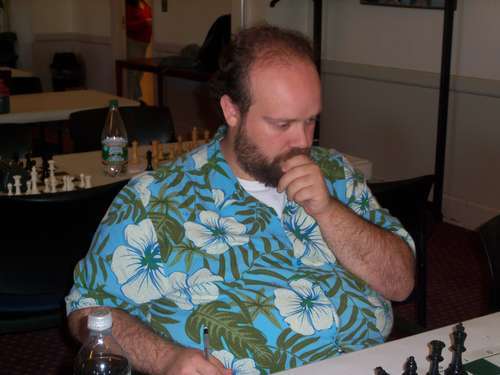 Craig Fournier

Brian Roderick

Haley DeLuca Lowell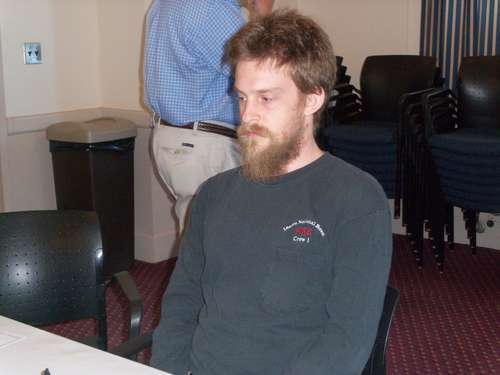 Collin Calhoun

Bradley Workman

Dan Fishbein

Lois Morin

The brothers Parker: Brett (left) and Wesley face off in round one. 1-0

Curt Brock (left) and Matthew Fishbein take a look at their first round game in the skittles room.

Daniel Hayes (left) thinks with clock ticking in his game vs Craig Fournier. 1/2-1/2

Collin Calhoun and Lois Morin play in the final round. 1-0

Ben Hansel (left) won this game vs Haley DeLuca Lowell to clinch fist in the U1400 section.

Steve Kaluzynski (right) vs Jose Lugo 1-0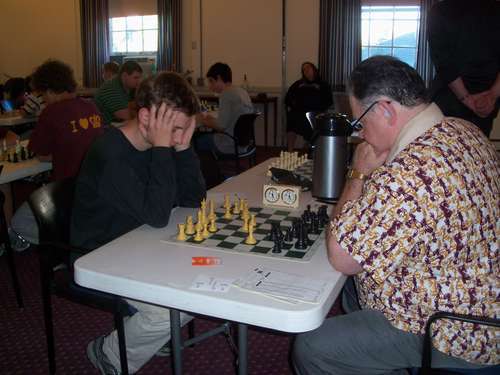 Ethan Dinnino doing his best to ward off Roger Morin. 0-1

Brian Roderick catches some ZZZs between rounds.

Charlie the Squirrel enjoying the fall and collecting nuts before winter sets in.

This tournament was organized and directed by Tom Sandford. Kudos and thanks to Tom for a well-run tournament.
---