NH chess players top Maine in 'Border Battle Cup'
09.21.10 Twenty chess players from Maine and New Hampshire faced off in a two-game match played at the Portsmouth (NH) Public Library on September 18, 2010. An article covering the match written by Joshua Clark appreared in Seacoastonline.com. We've added a selected game, the USCF crosstable and additional images.
The New Hampshire and Maine Chess Associations each assembled ten strong players from New Hampshire and Maine to compete in the first New Hampshire vs Maine chess match since 1977. The match took place in the Levenson Community Room in the Portsmouth Public Library Saturday afternoon. Ioanna Raptis photo
Thanks to Steve Abrahams for contributing to this report.
By JOSHUA CLARK
jclark@seacoastonline.com
September 19, 2010 2:00 AM PORTSMOUTH -- For the first time in more than 30 years, premier chess players from Maine and New Hampshire faced off in the "Border Battle Cup" with the Granite State team securing bragging rights for at least the next year.
The Granite Staters took the cup with an 11 to 9 victory.
Sponsored by the Maine Chess and New Hampshire Chess associations, the event showcased 20 of the area's strongest chess players, with each state represented by a team of 10. Saturday's event at the city library marked the first interstate chess match since 1977, when New Hampshire also claimed victory, bouncing back from defeat the year before.
"We're happy that the event did well," said N.H. team captain John Elmore, 37, of Stratham. "We're all friends," he said of the friendly nature of the competition. "We see these people at all the same tournaments over and over again. Having said that ... it's going to feel good for the next year."
Henry "Hal" Terrie, 60, of Manchester, captained the N.H. team to its 1977 victory and again found himself representing the state as one of its 10 best players.
"When it started back then it was an interesting idea and we did it for a couple of years," he said, "but we just couldn't keep it going. It's always fun to do this and I hope they can keep this momentum going and make it an annual event."
Alan Schalk, 51, of Berwick, Maine, also participated in the 1977 match, but as a member of the New Hampshire team as a senior at Somersworth High School. While he said it was a bit strange to play for the former opponent, he was happy to see the match revived and hopes it may spark greater interest in the game itself.
"I certainly think a match like this with that built-in rivalry component will help to do that," Schalk said. He even suggested expanding the number of players and boards by including other New England states to make it more of a regional event.
"We're happy everybody seems to have had a good time," Elmore said, "and this is something we most certainly hope to continue on an annual basis."
Maine - New Hampshire Border Battle
September 18, 2010
Portsmouth Public Library
Portsmouth, NH
Steve Abrahams (1968) - John Elmore (1970) 1-0
Replay

Top boards for each team: David Plotkin, MECA (left) and Hal Terrie, NHCA begin their first-round game.

Plotkin (left) was able to win both games vs Terrie who was captain of the NH team in 1977(!)--the last time a Maine-NH team competition took place. Ioanna Raptis photo

Second board for Maine: Alan Schalk

Maine's third board: Ruben Babayan

Steve Abrahams, playing fourth board for Maine, co-organized the match with John Elmore.

John Phythyon played board five for Maine.

Former MECA President Philip Lowell scored one win and one loss vs New Hampshire's Matthew Goddard.

Seventh board for Maine: Andrew Savov

John Gaspar takes in a little nourishment during his game.

Barry Magda played Maine's board nine.

Ronald Burris played to two draws with his opponent Ruben Babayan.

Nathan Smith took 1.5 points from his two games with John Phythyon.

The last game of the match on board 10 between Gerald Potorski (left) and Rob Shore resulted in a win for Shore who scored 1.5 points for Maine. Ioanna Raptis photo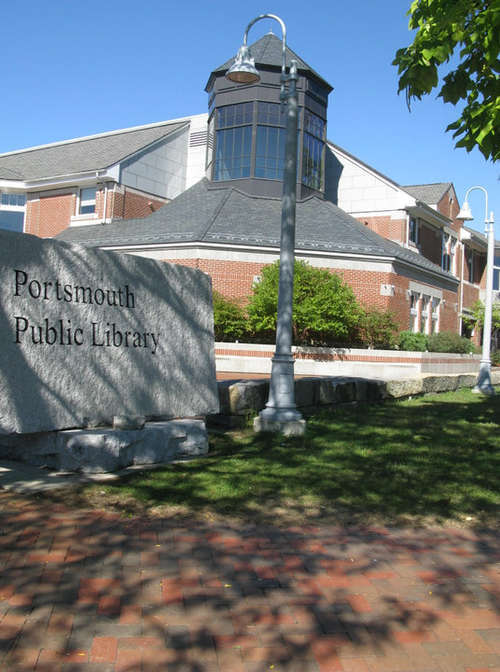 The Portsmouth Public Library provided a fine venue for the first match in the (hopefully) resurgent Maine-New Hampshire Border Battle.
---