IM Ken Regan Visits Cape Elizabeth
08.21.10 International Master Ken Regan recently visited friends in Cape Elizabeth from his home in Buffalo, NY. While in town on July 24th, he graciously agreed to meet some of the kids from the Cape Elizabeth chess program at The Local Buzz, a new coffee shop in town.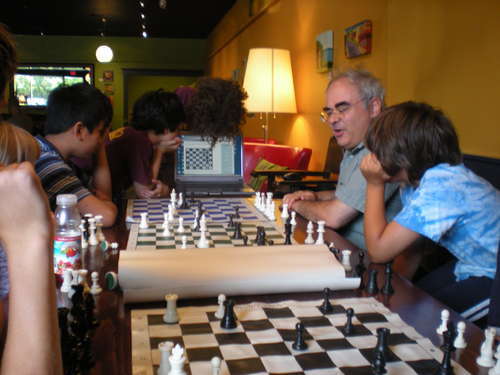 Players gather around IM Regan as he gives a lesson after the simul.
Thanks to Dan Fishbein for contributing to this report.
Regan is a chess celebrity, having attained the title of Master by age 12. During the Fisher-Spaasky matches, at the age of 12, he was a guest commentator on PBS's coverage of the event. At 15, he played a widely-advertised 50-person simul at Macy's in New York. The result was 48 wins and 2 draws. With a rating of 2423, Ken is one of the top 100 chess players in the US. Ken largely retired from competitive chess when he went off to college at Princeton, opting to focus on his studies, and later on his family and career. He is currently a professor of Complexity Theory in the Mathematics Department at the University of Buffalo.

Recently, Ken has begun returning to chess, playing in an occasional tournament (he just won the Mayors' Cup in Buffalo), and blogging for his friend Susan Polgar and on other chess sites. He also has managed to combine his mathematics and chess worlds recently by doing landmark work on chess cheating. He has built sophisticated computer models that can determine if a player is making more moves from each of the common chess engines than would be expected from his rating and other factors. Ultimately this work may be used to prove, or in Ken's view, more importantly disprove, accusations of cheating. While doing this work he has become involved in some of the recent best known alleged cheating incidents, including the Topolov-Kramnik controversy.

While at the Local Buzz, Regan organized a simul against five of Cape's players, plus his son Alex. After over an hour of spirited play, Regan emerged with 5 wins, and a draw against son Alex. Regan then followed the simul with a lesson for the dozen kids and parents who had gathered on a warm Saturday morning for the rare opportunity to see an IM in Maine.

Many thanks to Ken Regan (and his family) for sharing his talents with local scholastic players while on vacation! Thanks also to The Local Buzz for hosting.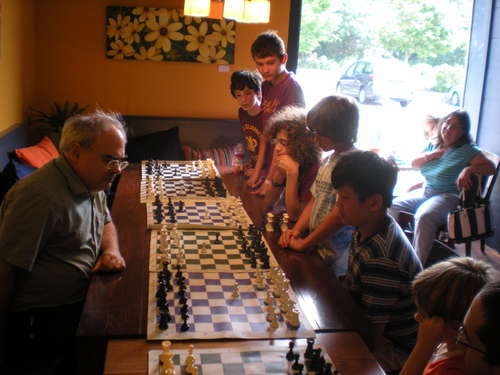 IM Ken Regan takes on (L-R) Matthew Fishbein, son Alex, Matthew Reale-Hatem, Wesley Parker, John Xiang and Isaac Dinnerstein.

IM Regan makes a move during his simultaneous exhibition.

Isaac Dinnerstein makes a move (foreground) as Regan contemplates his next move against Matthew Fishbein.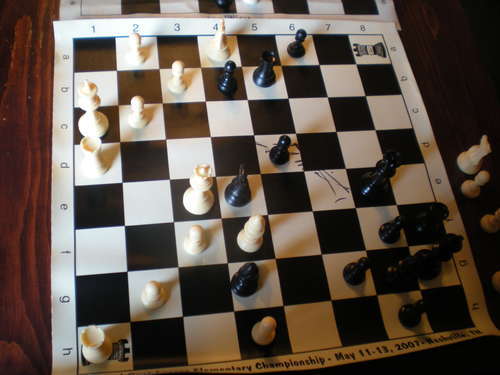 A position from Matthew Fishbein (white) vs Ken Regan.

A position in Isaac Dinnerstein's game vs Ken Regan. (Isaac and his dad Dr. Eric Dinnerstein played the black pieces.)



A position in John Xiang's game. (John played the white pieces.)

Chess is taken seriously in Cape Elizabeth!
---