Three Tie at ChessMaine.net Championship
07.12.10 Ruben Babayan, Steve Abrahams and Fritz Eyerer each scored 3.5 points to tie for first place at the ChessMaine.net Championship played on the campus of Colby College in Waterville on July 10, 2010. Here's the illustrated tournament report with USCF crosstable and selected games.
The sun sets midway through the last round of the 2010 ChessMaine.net Championship played at Colby College on July 10th.
Twenty-six players competed in the fourth annual ChessMaine.net Championship. After three rounds there was a five-way tie for first between Steve Abrahams, Todd Snyder, Tom Sandford, Ruben Babayan and Fritz Eyerer. The last round paired Snyder with Babayan, Abrahams with Sandford and Eyerer with Matthew Fishbein (who had 2.0 points going into the last round) to set the stage for a dramatic finish.
In a very close endgame, Babayan, with seconds remaining on his clock, managed to queen a pawn and blitz out the remaining moves to checkmate Snyder's king. Abrahams defeated Sandford and the Eyerer-Fishbein game came down to the wire with Eyerer queening and quickly mating thereafter.
The Class B prize was shared by Aaron Spencer and Tom Sandford who each scored 2.5 points. Also posting 2.5 points and sharing the Class C prize were Keji Xu and Curt Brock. John Ellison and Jiawei Zou shared the Class D prize with 2.0 points apiece. John Xiang, just over USCF 1000, was the sole winner of the Class E prize scoring 2.0 points. Three players battled it out for the U1000 prize with Eli Daiute taking the prize money with 1.0 point.
Climate controlled with excellent lighting and quiet playing rooms the Diamond Building on Colby's campus was a very comfortable location for chess. Players were treated to free coffee, fruit and pastries to start the day and pizza and soda for lunch. Prizes were raffled off including a ChessMaine.net t-shirt, travel coffee mug and book The Art of the Middle Game by Paul Keres and Alexander Kotov. The tournament was organized and directed by Dan DeLuca with assistance from Andy Bryan. Thanks to all who participated. Hope to see you again next year!
Matthew Fishbein (1822) - Rob Shore (1629) 0-1
ChessMaine.net Championship
Waterville, Maine
07.10.10
Round 2
Replay
Chuck Cannone (1630) - Fritz Eyerer (1835) 1/2
ChessMaine.net Championship
Waterville, Maine
07.10.10
Round 2
Replay
Rob Shore (1629) - Steve Abrahams (1929) 0-1
ChessMaine.net Championship
Waterville, Maine
07.10.10
Round 3
Replay

Ruben Babayan hoisted his rating over 2000 with a fine undefeated performance.

Steve Abrahams has become a force to be reckoned with in Maine chess.

Swathmore College physics major and former John Bapst High School chess team member Fritz Eyerer.

Todd Snyder, who came ever so close to defeating Babayan in the final round, had to settle for equal fourth with 2.5 points.

Also scoring 2.5 points were Tom Sandford...

Aaron Spencer

Keji Xu

Barry Magda

Curt Brock and...

Phil Lowell.

Matthew Fishbein was one of six players in the 2.0 point category. The others were...

Jiawei Zou

Rob Shore

John Xiang

Maggie Bryan and...

John Ellison, who has mastered the hypnotizing gaze of a player you might recognize:

Former World Champion Mikhail Tal.

Always dangerous: Chuck Cannone

MECA Secretary Lee Doucette

Waterville Chess Club's own Glenn Snyder

Another Waterville Chess Club regular: John Engle

From Romania via the Portland Chess Club: Gheorghe Teodorescu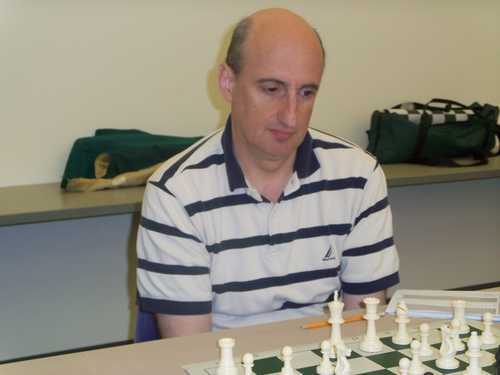 Dan Fishbein (aka Matthew's Dad)

President of the Waterville Chess Club Mark McPheters

Eli Daiute

MECA Policy Board member Brain Roderick

Langdon Holly

Glenn Snyder (left) and John Engle take a look at a game in the skittles area.

Barry Magda kibbitzes with Ruben Babayan (left) and Keji Xu after their first round game.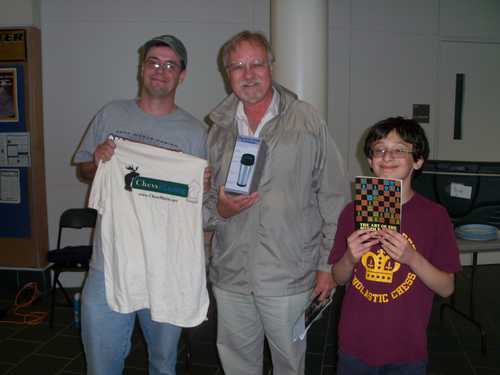 Raffle winners (left to right) Brian Roderick, Rob Shore and Matthew Fishbein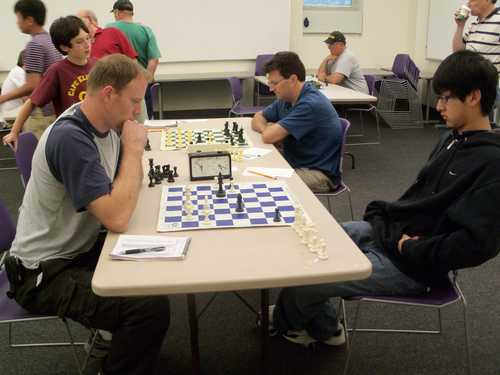 Curt Brock (left) and Jiawei Zou played an interesting game in round three.

With Brock's time ticking away the players engaged in a pawn foot race with both side queening.

Here's the final position in which Zou resigned as white has a mate in (at most) two.

Critical last round encounters: Babayan (left) vs T. Snyder

Abrahams (left) vs Sandford and...

Eyerer (left) vs M. Fishbein.

Thanks to Colby College, Jacques Moore and the Office of Special Services for their support of this event.
---