ChessMaine Visits The House of Staunton
06.03.10 Housed in a nondescript office park in rural Alabama, The House of Staunton and USCF Sales steadfastly go about providing chess enthusiasts around the world with the very best quality chess equipment, books and accessories. We paid a visit and House of Staunton employee Jennifer McClure was kind enough to show us around.
On the floor in the House of Staunton Warehouse in Madison, Alabama.
The House of Staunton manufactures and distributes arguably the finest chess equipment available anywhere. Their website offers a stunning array of heirloom pieces and boards as well as clocks, boxes and tournament supplies.
Click here to visit The House of Staunton online.

Handcrafted in Russia and custom made for a House of Staunton customer, this set is crafted from 40,000 year-old Mammoth Ivory. The white pieces are naturally colored; the black pieces are stained jet black.

Chess books galore!

A chess reader's nirvana! Thousands of titles are stocked and ready to ship.

The House of Staunton set the standard for including an extra pair of queens in their chess sets. These six-inch ebony and boxwood queens are awaiting packaging and shipment.

In addition to their line of heirloom-quality sets, the House of Staunton also offers many handsome tournament sets for everyday use.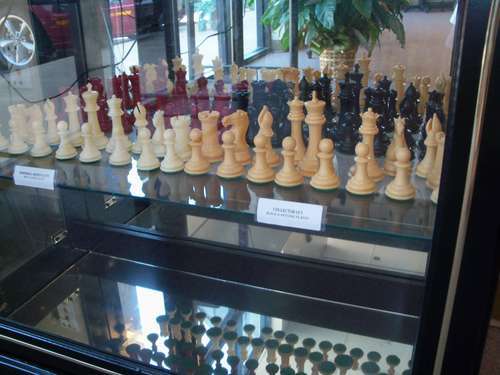 One of the many display cases in the showroom.

Hand-carved knights from an exquisite set

Our host for the tour: Jennifer McClure

Antique books on display in the showroom

House of Staunton President and CEO Shawn Sullivan (left) receives a coveted ChessMaine.net t-shirt from ChessMaine.net web editor Dan DeLuca.

Unless you were looking for it the House of Staunton Headquarters would be difficult to stumble over.

A street view of the House of Staunton/USCF Sales facility

---