GM Ivanov Wins Eastern Maine Championship
05.21.10 Massachusetts GM Alexander Ivanov didn't need to play the last round of the Eastern Maine Championship held at Hollywood Slots Casino in Bangor, May 15-16, 2010. Ivanov scored 4.0 points in the first four rounds and that was enough to put him out of reach of the rest of the field.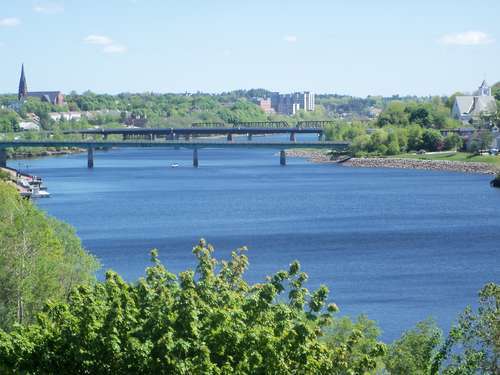 The Penobscot River in Bangor, Maine--the host city for the 2010 Eastern Maine Championship.
A new addition to the Maine tournament calendar at a new venue for Maine chess, The Eastern Maine Open attracted 43 players in five sections: Championship, U1800, U1200, One Day U1300 and One Day U900.
GM Ivanov dominated the Championship section winning the tournament going away with 4.0 points in as many rounds. Taking a last-round bye and the first place check for $500, Ivanov (USCF 2606) was able to cut out early. Trailing Ivanov with 3.5 poinst were Steve Abrahams and John Gaspar who was the only player in the Championship field to finish the tournament without a loss or bye. Matthew Fishbein was the sole occupant of the fourth place position scoring 3.0 points with wins over Roger Morin, Aaron Spencer and Gregory Shields. Fishbein received a prize as the top U2000 player in the Championship section.
Jim DuBois topped the U1800 section with an undefeated 4.0 points in five rounds. Just off the leader's pace was John Brady who, also undefeated, scored 3.5 points. George Zimbas was the top U1500 player in the U1800 section scoring 3.0 points.
Unrated New Brunswick player Alexandre Robichaud won the U1200 section with 4.0 points. Benjamin Hansel and Brian Roderick tied for both second in the U1200 section and top U900 players in that section.
In addition to the three sections in the two-day event, there were also two one-day events.
In the One Day U1300, Ethan Bergeron took a draw in the last round to finish in first with 3.5 points in four games. Cheverus High School chess coach Dan Lavallee finished in second place with 3.0 points. Tied for top U1100 in the U1300 section were Bryan Lu and Elias Daiute with 2.5 points.
Vincent DeMarco and Deanna Power had almost identical performances in the U900 section finishing with 3.5 points including a third round draw with each other.

Tournament winner GM Alexander Ivanov

Ivanov was a King Kong of sorts!

Steve Abrahams tied for second in the Championship section with...

John Gaspar

Top U2000 player in the Championship section Matthew Fishbein

U1800 section winner Jim DuBois

One of Maine's most difficult chess players to photograph! John Brady took second in the U1800 section.

George Zimbas scored 3.0 points and received the top U1500 prize.

First in the U1200 section Alexandre Robichaud

Benjamin Hansel tied for second place in the U1200 section with Brian Roderick.

Graham Cooper

Darrell Salisbury

Ray Haines

New Jersey player Ansel Schiffer

Willing the pieces to move! Aaron Spencer

Roger Morin

S. Warren Lohr

Rob Shore

Jeffery Bean

Nicholas Robichaud

Andrea Robichaud

Joel Knight

Dan Fishbein

Lois Morin

Jasper Hansel

The tournament room during Round 4.

Tournament Director Ken Ballou

Hollywood Slots provided a pleasant venue for the Eastern Maine Championship.

---