Nielsen and DeLuca Lowell Win Girls State Championship
03.03.10 Miriam Nielsen, a senior at Cheverus High School in Portland and Haley DeLuca Lowell, a seventh grader at Airline Community School in Aurora are the 2010 Girls Scholastic Chess State Co-Champions. Both scored 3.0 points in four games at the Girls State Championship Tournament played on February 27, 2010 at the University of Maine in Orono. Meagan Weeks of Piscatiquis High School in Guilford finished first in the Under 600 section of the tournament.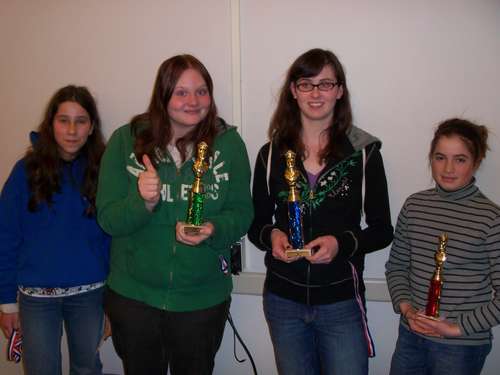 Winners of the Girls Scholastic Chess State Championship from left to right are: Olympia Serban (tied for third), Deanna Power (tied for third), Miriam Nielsen (tied for first) and Haley DeLuca Lowell (tied for first).
After two first round losses it did not seem likely that either Miriam Nielsen or Haley DeLuca Lowell would rise to the top of the crosstable at the 2010 Girls State Championship Tournament. Showing grim determination however, both girls went on to win their remaining three games to finish with 3.0 points and share the championship title.
After three rounds, four girls were in striking distance of first place. The scores after three rounds were: Olympia Serban 2.5, Deanna Power 2.5, Miriam Nielsen 2.0 and Haley DeLuca Lowell 2.0. The last round paired Serban with Neilsen and DeLuca Lowell with Power. DeLuca Lowell defeated Power earning her 3.0 points and leaving one game remaining and three possible tournament outcomes: If Serban won she would be sole champion, a draw for Serban would result in her tieing with DeLuca Lowell for first, if Serban lost the result would be a tie between Neilsen and DeLuca Lowell. The last scenario came to pass with a pretty tactic by Neilsen in a rook and pawn endgame. With the tournament result in the balance, the Cheverus senior found a pawn capture that placed her opponent's king an rook on the same rank. This was followed up by a skewer check on that rank winning Serban's rook. A very well-played game by both girls.
Following the two tournament winners, Serban and Power were Bethany Humphrey, Goldie Garcia, Helen Zhang and Natlie Smith all with 2.0 points. The crosstable was rounded out by Julia Shaffer with 1.0 point.
In the Under 600 section, Meagan Weeks of Piscataquis High School in Guilford defeated her sister Kristen in the last round to finish in first. Meagan was trailed by Soozin Cha and Claudia Serban with 3.0 points, Kristen Weeks with 2.0 points, Catherine Rudnicki and Karen Neilsen with 1.5 points, Louise Neilsen with 1.0 point and Sahara Aldrich playing in her first USCF-rated tournament who went scoreless.
This tournament was organized and directed by Dan DeLuca with assistance from Ron Lewis, Kathy Richards, Tom Sandford, Andy Bryan, Dick Powell, and Members of the Maine Chess Coaches Association including Ryan Tripp and Steve Abrahams.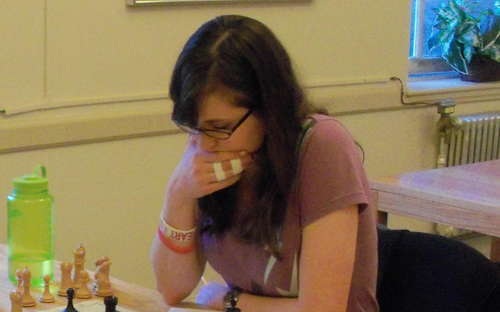 2010 Girls State Co-Champion: Miriam Neilsen

2010 Girls State Co-Champion: Haley DeLuca Lowell

This, the last game of the last round, between Miriam Neilsen (left) and Olympia Serban decided the results of the tournament.

Boards two and three in the final round of the championship section: Deanna Power (foreground left) vs. Haley DeLuca Lowell and Helen Zhang (background left) vs. Goldie Garcia

Ron Lewis and Kathy Richards of the Maine Chess Coaches Association take an interest in the last-round games in the championship section.

Olympia Serban

Deanna Power

Bethany Humphrey

Goldie Garcia

Helen Zhang

Natalie Smith (161) received a trophy for the tournament's greatest upset for her win over Julia Shaffer (611).

Julia Shaffer

Bethany Humphrey (left) plays Olympia Serban in round two.

Natalie Smith (left) vs. Julia Shaffer

Meagan Weeks went unbeaten and untied in the U600 section scoring 4.0 points.

Soozin Cha tied for second in the U600 section with...

...Claudia Seban.

Kristen Weeks

Catherine Rudnicki

Karen Neilsen

Louise Neilsen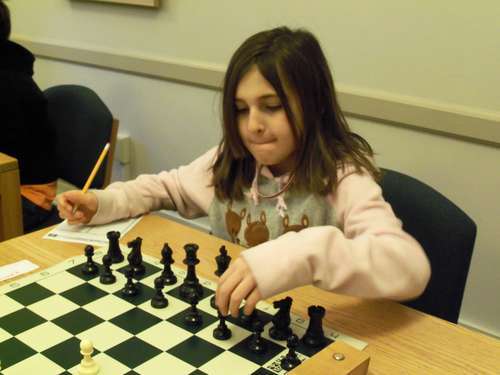 Playing in her first USCF-rated tournament: Sahara Aldrich

Louise Neilsen gets the name of her opponent from the pairing sheet.

Claudia Serban (right) plays Soozin Cha in round one.

Burt Humphrey and Kathy Richards check the standings during the tournament.

Ron Lewis and son Nathan take an opportunity to get a game in.

The last round game in the U600 section paired sisters Meagan and Kristen Weeks and attracted a crowd of onlookers.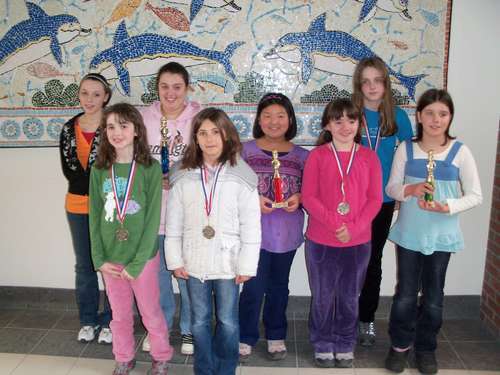 Participants in the U600 section (left to right): Kristen Weeks, Karen Neilsen, Meagan Weeks, Sahara Aldrich, Soozin Cha, Catherine Rudnicki, Louise Neilsen and Claudia Serban. In addition to trophies for top players all players received special commemorative medals.

Four rounds of tournament chess can be exhausting for players...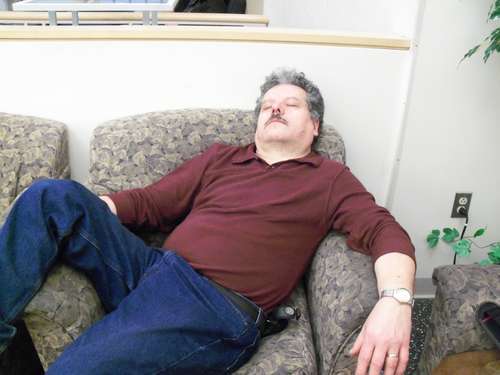 ...and parents alike!

Thanks to all players, parents and coaches for their support in helping make this--the 5th Annual Girls Scholastic Championship--a great success.
---