All Saints Winter Warm-Up Tournament Report
03.17.10 On February 20, 2010 twenty-seven chess players competed in the three section, All Saints Winter Warm-Up tournament in Bangor. Winners were Steve Abrahans (Open), Ezra Briggs (K-8) and John Kenneway (K-6).
Winner in the Open section, Steve Abrahams (left), plays John Ellison in round two of the All Saints Winter Warm-Up tournament.
Thanks to Roger Morin for contributing to this report.
Steve Abrahams won three in a row then agreed to a draw with Roger Morin in the last round to clinch the top spot in the Open section at the All Saints Winter Warm-Up tournament. Morin, who tied for second with Todd Snyder and Paul Rudnicki, was nicked for another draw in his first-round game by Deer Isle Stonington's Ian Pelletier. Rob Shore, Ryan Tripp, Ian Pelletier and Alba Briggs all finished with 2.0 points, followed by John Ellison with 1.5 points and Dick Powell and Lois Morin who rounded out the crosstable with 1.0 point each.
In the K-8 section, Lubec's Ezra Briggs played a fine tournament finishing with an undefeated 3.5 points and padding his rating with ninety points. Following Briggs were previously unrated Joson Chubbuck and Bethany Humphrey with 3.0 points, Jesse Amar and Langdon Holly with 2.0 points, Andrew Turner with 1.5 points, and Alec Eaton with 1.0 point.
John Kenneway cruised through the five-round K-6 section with an unbeaten, untied 5.0 points. On his heels, five players (George Payne, Bridger Holly, Michael Hayden, Sean Adams and Eamon Laskey) were locked up in a tie for second place scoring 3.0 points. Trailing this group with 2.0 points were Ryan McCauley and Liam Tuohy and Devon Sheaves finished with 1.0 point.
This tournament was organized and directed by Steve Wong and Ed Rudnicki. Thanks to all who participated and supported this annual event on the Maine chess calendar.

Steve Abrahams at work over the board.

Players in the Open section (foreground to background): Todd Snyder (left) vs Ryan Tripp, Rob Shore (left) vs Ian Pelletier and Dick Powell (left) vs Paul Rudnicki.

Action in the K-8 section (foreground to background): K-8 section winner Ezra Briggs (left) vs Jacob Chubbuck, Jesse Amar (left) vs Alec Eaton and Andy Turner (left) vs Bethany Humphrey.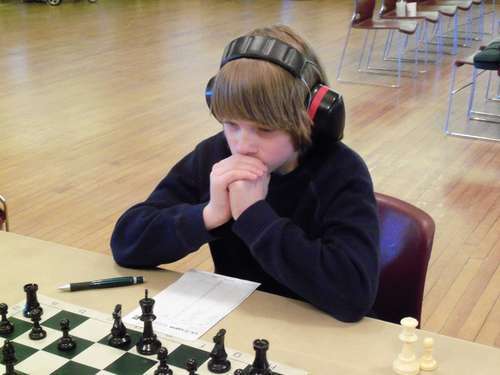 Winner in the K-6 section with a perfect 5.0 points in five games: John Kenneway.

All in the family: Roger Morin (right) plays his better half in round two.

---