The Seventeenth Annual Deer Isle-Stonington Lacy Greenlaw Chess-a-thon
11.16.09 It was chess, chess and more chess at the Seventeenth Annual Deer Isle-Stonington Lacy Greenlaw Chess-a-thon held at DIS Elementary School from 6:00 p.m. Friday, November 13 to 6:00 a.m. Saturday, November 14, 2009. The goals of this event, which was organized and directed by long-time DIS teacher and chess coach Dick Powell, were to have fun, play a lot of chess, stay up all night, raise money for a possible trip to the elementary nationals and honor and remember former DIS chessplayer Lacy Greenlaw who passed away at the age of twenty-one after a long battle with cancer.
Excitement ran high as Brandon Aponte, a fourth-grader from Brooklin, holds the banner to begin the Seventeenth Annual Deer-Isle Stonington Chess-a-thon held at Deer Isle-Stonington Elementary School on Friday evening November 13, 2009.
The Seventeenth Annual Deer Isle-Stonington Lacy Greenlaw Chess-a-thon Official Schedule
November 13-14, 2009
6:00 p.m. Official Start and Ribbon Cutting
6:00 - 7:00 p.m. Open Chess--Play as Many Games as Possible!
7:00 - 9:00 p.m. Simul-Play the "Masters"
9:00 - 9:30 p.m. Snack
9:30 - 10:30 Real Life Chess Match with Human Chess Pieces
10:30 - Midnight Speed Chess Tournament
Midnight - 12:30 a.m. Snack and Gym Break
12:30 a.m. - 2:00 a.m. Bughouse and Basketball Chess
2:00 - 2:30 a.m. Snack and Gym Break
2:30 - 4:00 a.m. Pairs Tournament
4:30 - 5:00 a.m. Last Gym Break
5:00 a.m. Breakfast!
5:30 - 6:00 a.m. Last Chess of the Night

Lacy Greenlaw's mom, Debbie Greenlaw, cuts the ribbon to officially start the chess-a-thon.

Let the chess begin!

Players of all ages came out to support the chess-a-thon.

That's 6:29 p.m. Only 11 1/2 hours to go!

The first few games of the evening served to warm up and get the rust off.

Nick Ciomei takes on four boards at once in the Play the "Masters" simul.

Nick's brother Bryant does the same.

As does another Ciomei brother, Collin.

Abigail Grindle (left) and Janelle Ciomei share some tunes during a break in the chess action.

Next, the players moved on to a live chess match with human pieces.

Mark Woida is all business as he commands the white pieces, as Andy Bryan looks on, vs...

...Nick Ciomei with black.

White's (very cute) h-pawn has moved to the h3 square.

White's king (Hayden Ciomei) looks happy and comfortable in his castled position on g1.

White's queen (Kylie Attwood) harrasses the black king.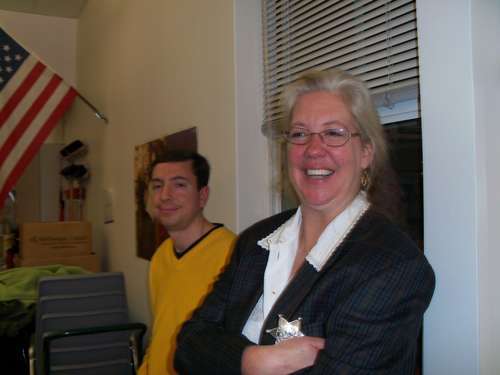 The lovely and talented (Sheriff?) Peg Zembrusky

White's Reti Opening eventually crashed through and scored the point.

Reid Bartlett plays blitz chess under the watchful eye of Collin Ciomei.

Avery Reynolds hangs tough as the hours wear on.

A quick gym break was key to wake players up a bit.

During the break, the kitchen crew cleaned up and set up boards for more chess.

Deer Isle-Stonington K-8 Basketball Coach Will Morey explains the rules of Basketball Chess: one point for each basket and one point for each chess game won.

After midnight, sugar was helpful to keep the brain active for some...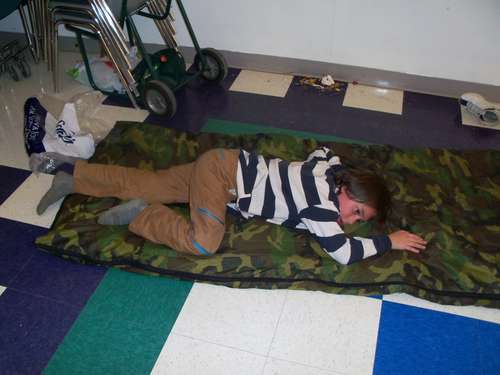 ...but not all.

Probably the only person who has attended all seventeen consecutive chess-a-thons: coach, player, teacher and organizer Dick Powell.

A few of the countless state and national chess awards earned by Deer Isle-Stonington chess over the years.

Pushing the sanity envelope: blitz bughouse at 1:00 a.m.!

Mark Woida pumping up the crowd.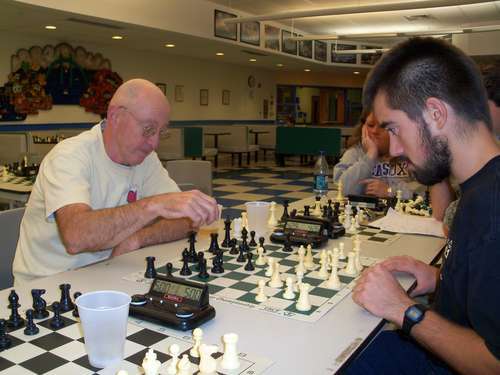 Ian Pellitier (right) shows lazer-sharp concentration during a game with Dick Powell in the blitz finals.

The chess continues!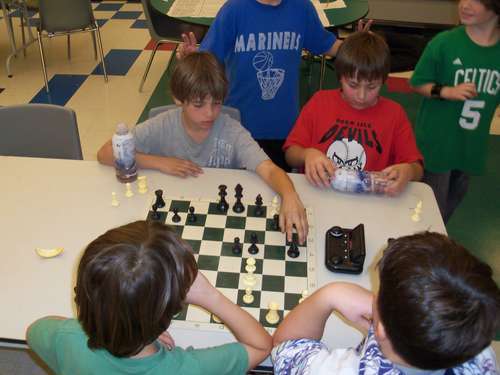 Team chess in which players on the same team alternate moves without speaking to each other: frustrating, exasperating and fun!

This sums up the attitude of the team chess competition.

Mark Woida shows off one of his many talents: dolly balancing!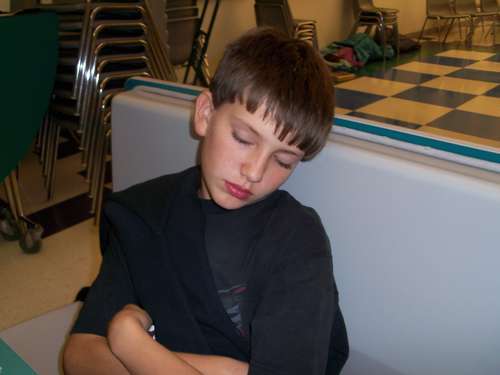 Hang in there, the bacon and eggs are cooking.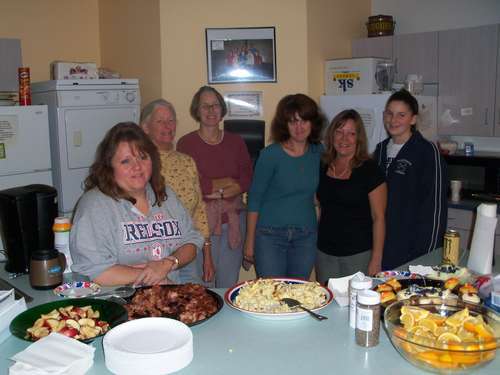 Many thanks to the kitchen crew volunteers (left to right): April Robshaw, Debi Marshall, Cathy Marshall, Kelly Bartlett, Suzette Grindle and Janelle Ciomei.

Breakfast is served!

Bacon or no bacon, she's in the Land of Oz.

That's 5:47 a.m. just 13 minutes to go!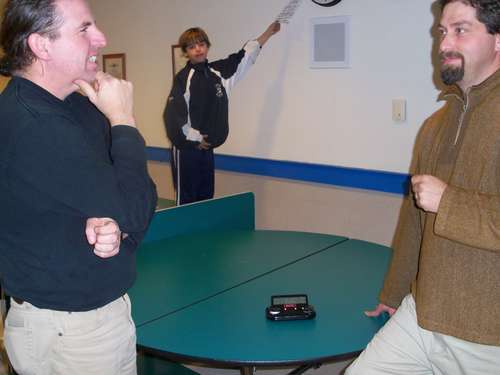 Just enough time for a blitz blindfold game between Dan DeLuca (left) and Mark Woida before packing up.

Thanks to all for making the Seventeenth Annual Deer Isle-Stonington Lacy Greenlaw Chess-a-thon a huge success!
---