Interviews with the 2009 Scholastic State Chess Champions
10.04.09 There are three fields of study in which one can find child prodigies: music, mathematics and chess. We've asked our own prodigies--Maine's scholastic chess champions--how they have achieved success in chess, including the title of state champion, so early in their careers.
Trophies are displayed at the University of Maine Orono, the site of the 2009 Scholastic State Championships.
Maine's 2009 Scholastic State Chess Champions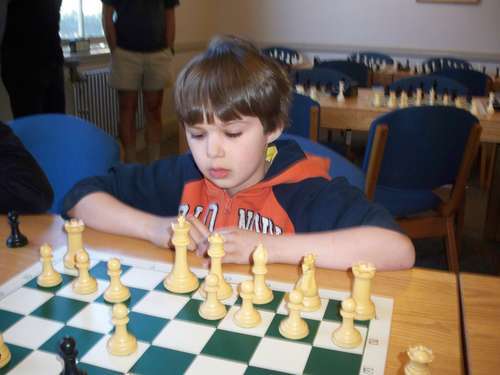 K-3 Co-Champion Kinsey Bartlett

K-3 Co-Champion Max DeLuca Lowell

K-6 Champion Matthew Reale-Hatem

K-8 Champion Matthew Fishbein

High School Champion Gabe Borland

Girls Champion Margaret Bryan

ChessMaine: Congratulations on winning a Maine State Scholastic Chess Champion title for 2009! How long have you been playing chess and when did you start?
Kinsey Bartlett: Thank you. I started in kidergarten, I've been playing for four years.
Max DeLuca Lowell: I've been playing for five-and-a-half years, I started playing when I was three-and-a-half.
Matthew Reale-Hatem: Thank you. I started in the first grade and started playing competitively in the fourth grade about three years ago.
Matthew Fishbein: Thank you. I have been playing chess seriously since second grade. I started playing in Kindergarten after my mom and I took a 6 session Community Services class with you (Dan DeLuca)!
Gabe Borland: I started playing chess when I was in elementary school and have been playing ever since.
Margaret Bryan: Thank you.
CM: Who has been most influential to you in learning the game and getting to be a stronger player?
KB: My brother Blake taught me before I went to school and still plays with me.
M DL: My dad because he taught me how to play.
M R-H: My dad and Chessmaster (the software program) as well as the local club (Coastal Maine Scholastic Chess Club).
MF: Three people have been very influential to me. You (Mr. DeLuca) taught me to play and taught me to love the game! Philip Lowell influenced me by teaching me to attack, attack, attack. Jason Spector taught me how to visualize the board in my head and see through calculations. All together, these three people were a HUGE influence.
GB: My very first teacher ever was my elementary teacher Al Duplisis, next in middle school we had a great coach for our team named Joe St. Pierre, and finally I had a coach from California named Larry Evans.
MB: My parents, my sister, and my friends (who, other than refusing to actually join the chess team, have been extremely supportive).
CM: Why do you play chess? What do you like about it?
KB: It's fun, I like to play. I learn by playing.
M DL: I play chess because chess makes me think hard and it's fun.
M R-H: I play because it is fun to continually try to improve and play better.
MF: I play chess because it is so much FUN! I love the game because it is challenging and makes me think and because it is something I can play with other people.
GB: I play chess mostly for the fun of it, but I love how it can be a great social tool as well. I love the fact that I have made a considerable number of friends just from playing chess.
MB: I play chess for three reasons: 1) I've been playing since elementary school, and it would seem foolish to quit now, 2) I am a highly competitive person, and I enjoy winning, and 3) I actually really enjoy the tactical and strategic aspects of the game; it is an excellent exercise for the mind and is something that I can do for the rest of my life.
CM: How would you encourage someone to learn how to play chess who does not know now?
KB: Show them and explain how the pieces move.
M D-L: I would teach them how to play.
M R-H: I would ask someone to teach you.
MF: I would tell that person that the game will challenge his mind and be fun and exciting to play. I'd suggest taking a class and then joining a chess club, if possible.
GB: I would point out to the person that it is not just a game but a tool social tool that you can use throughout your life. It is also a quite competitive game with an endless number of ways to win. I would also add that if you get really good you could win A LOT of cash.
MB: The most important thing about learning chess is keeping it fun. I don't mind reading chess books now, but, when I was younger, I would have found it an incredibly tedious task. Play with your friends, experiment with strategies, and only when you have established a genuine enjoyment of the game start studying.
CM: You are a state champion; that is quite an accomplishment. How have you reached this goal?
KB: Practicing and improving my skills by watching older kids play.
M DL: By practicing and playing a lot of people.
M R-H: Practice, practice, practice...and lots of playing!
MF: I achieved that goal through hard work, trying my best, developing new strategies, and the help of many people including coaches and classmates and the encouragement of my parents.
GB: I've had the opportunity to be instructed in a variety of ways including experience, coaches, and peers. Through all of these combined I was able to polish my play and sharpen my drive to succeed.
MB: I have been playing chess since I was five. Over the years, playing in numerous tournaments has apparently given me the experience that I need to win a state championship.
CM: Is there any advice you would give to aspiring players on how to improve? Of these tips which would you say is the most important?
KB: Practice and focus on the game. Paying attention to the game is most important.
M DL: I would say work hard and set a goal for yourself. And play harder people than you.
M R-H: Play as often as you can. Compete in a tournament, no matter how you play.
MF: I highly recommend Chessmaster 10th edition. I also recommend that you join a chess club, if possible, and play in as many tournaments as you can. A chess club is probably the most important if one is available because it keeps you interested in the game and trying new things. When you get to be a much better player, playing in as many tournaments as possible becomes very important.
GB: For all of the up and coming chess players out there the best thing I can think of is to practice, read, and research the history of the game itself. Both reading and practicing will get you far very quickly.
MB: Practice, practice, practice (at least more than Maggie Bryan does). More importantly, don't worry about ratings or other chess statistics (I have to be reminded of this fact all the time). Losing one game means nothing, and thinking that it does will just hurt you performance even more (do as I say, not as I do).
CM: Are there particular books or software that have helped you improve your game or that you would recommend?
KB: No
M DL: Yes, Chess Tactics for Beginners software, Chessmaster and www.gameknot.com have helped me improve.
M R-H: I would recommend Chessmaster.
MF: I really recommend Chessmaster 10th edition. It has chess puzzles and video lessons by Josh Waitzkin and Larry Christiansen. It also has computer opponents and a rating system to help you improve. I also liked a book - Chess Openings for Black, Explained by GM Lev Alburt, GM Roman Dzindzichashvili, and GM Eugene Perelshteyn.

GB: I'm one of those players who has got to learn from actually playing so I would highly recommend Fritz. Fritz is a great computer software program that is perfect for days where nobody is available to play with you.
MB: Yes
CM: Who is your favorite chess player?
KB: Sam Grindle
M DL: Max Euwe, I was named after him.
M R-H: Today, Anatoly Karpov, but I keep changing my mind!
MF: Paul Morphy
GB: Personally my favorite player would have to be Alexander Alekhine. I just love his attacking style of play.
MB: Not sure. Whoever it is, I want to be better than him/her.
CM: Do you think you will continue playing chess as you become an adult?
KB: Possibly
M DL: Probably not but I might.
M R-H: Yes, how could I ever stop?!
MF: Definitely
GB: Yes, I will definitely keep playing chess. I still play on-line to this day, and look for tournaments on a frequent basis.
MB: I hope so. The great thing about chess, as opposed to other activities, is that you can play it your entire life.
CM: Do you think schools should have chess clubs? If so, why?
KB: Yes, so players can get help and improve.
M DL: Yes, so kids can play chess.
M R-H: Definitely, that is a great learning tool, that should be used more.
MF: Yes, I think they should. There are many sports, but almost all of them are physical. Most schools have only math club and no other mental sports. I feel chess club is even more mentally challenging than math club. Chess teaches you how to visualize and memorize. Those are skills that will help you in every subject at school and later in life.
GB: Yes, I do believe chess clubs should be available to students all over the world. I say this because chess also helps with mind development that is crucial to kids of all ages.
MB: Yes, I think it very important that schools should have chess clubs, especially elementary and middle schools. Chess is one of the best ways to teach the art of focus to a young mind, and will improve a student's performance in both the academic and athletic arena.
CM: Besides chess what are some of your favorite activities?
KB: Soccer, baseball and basketball
M DL: Snowboarding and skateboarding
M R-H: Science, skiing and tennis
MF: 4-square, math and videogames
GB: In high school I also loved to swim and to play tennis.
MB: Running, writing, Wiffle ball, shopping at Gap outlets, and eating potato chips.
CM: What do you want to be when you "grow up"?
KB: A millionaire
M DL: Pro skateboarder
M R-H: I would like to be a computer scientist.
MF: I'm not sure yet, but maybe something like an accountant; something to do with math.
GB: In beginning my first semester of college I think I want to focus on environmental science, so maybe an environmental biologist.
MB: I have two sets of aspirations- the (hopefully) realistic and the unrealistic. Unrealistically, I would like to be a world-famous author and Olympic Gold Medalist in the 800 meters. Accepting that this will probably not happen, on a more realistic level I would like to be a college professor or a psychologist and get a novel or two published. Oh, and I would also love to be vice president of the MECA, but this a more immediate goal and I'm just incorporating it into this interview as part of my campaign strategy.
CM: Anything else you would like to add? Thanks for the interview!
M R-H: Yes, giving out chess books at tournaments as prizes is a great idea and should be used more.
MF: Many kids play E5 after E4. I recommend a more tactical approach. If you play C5, it opens up more possibilities for both sides and makes for a more exciting game!
GB: Just remember chess can be useful for more than a cheap entertainment, and always to remember to aim high in chess and in anything that you do.

---