Record Numbers at Third Annual ChessMaine.net Championship
07.02.09 Adam Schaff, Roger Morin and Phil Lowell scored 3.5 points to top a field of fifty-four players at the third annual ChessMaine.net Championship played at Colby College on June 27, 2009. We had to go back a few years to find a non-scholastic tournament in Maine that had attracted more players than this one--twelve years in fact. Not since the Downeast Open in 1997 have we seen more than fifty-four players at an open tournament in Maine.
Colby College in Waterville, Maine again proved to be an outstanding site for the tournament.
Thanks to Colby College and Jacques Moore, Director of Special Services for hosting this event, to the assistant tournament directors Laddy DeLuca Lowell and Akagi Kayashima and to all the players, parents and supporters who attended the tournament. This event was organized and directed by Dan DeLuca.
The Class A prize was combined with the championship prize and divided amongst the top three players: Adam Schaff, Roger Morin and Phil Lowell. However, Schaff, who received free entry fee based on his 2000+ USCF rating, graciously donated his winnings back to the prize fund.
Sharing the Class B prize with 3.0 points were: Tom Sandford, Nathaniel Bryans, Kevin Townsend and Jon Buxton.
The Class C prize was won by Matthew Fishbein with 2.5 points.
Class D honors (and cash) went to * whose USCF 1241 rating looked out of place amongst the Expert, Class A and Class B ratings in his scoring bracket.
Brett Parker took the Class E prize with 2.5 points and the Under 1000 prize was won by Daniel Honeycutt with 1.5 points.
In addition to great chess in an outstanding venue, players were treated to a free continental breakfast, Papa John's Pizza for lunch (as well as access to Colby's Dana Hall Dining Room), a book giveaway and a collection of Chess Life magazines dating back to 1958. We look forward to hosting more events at Colby in the future.
ChessMaine.net Championship Tournament Crosstable
Read Colin Hickey's story on the ChessMaine.net Championship that appeared in the Morning Sentinel newspaper here.

Adam Schaff, playing in his first tournament in over seven months, tied for first with former Maine State Champion...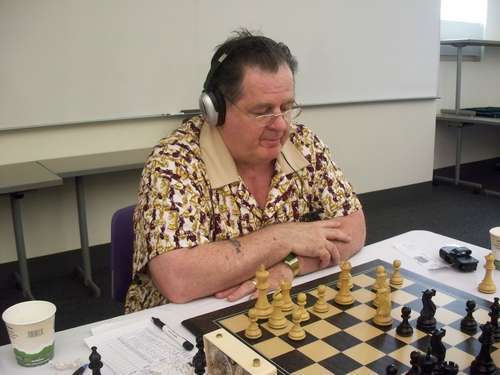 Roger Morin and...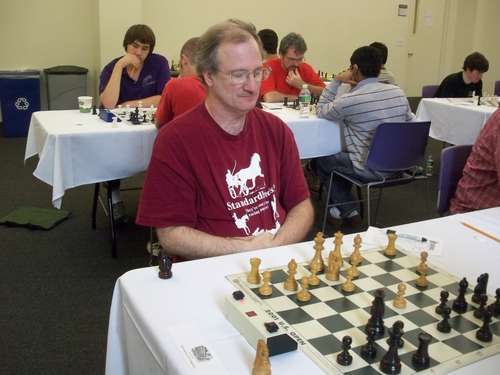 Maine Chess Association President Phil Lowell.

The tense, last round games on boards 1 and 2 featured Phil Lowell (foreground left), Adam Schaff (forground right), Roger Morin (background left) and Ruben Babayan (away from the board).

Ruben Babayan, here on the move vs Roger Morin in the last round, lost this game to drop into a ten-way tie for 4th place in the overall standings with 3.0 points.

Swarthmore sophomore Fritz Eyerer was in contention for 1st place until the last move of his final game in which Cape Elizabeth upstart Ethan DiNinno held him to a draw.

The last round match-up between Fritz Eyerer (left) and *

Richard Judy was one of 10 players finishing with 3.0 points. He also won the book giveaway prize by correctly identifying the image on the official ChessMaine.net Championship game board numbers as one from Through the Looking Glass, the famous children's book by Lewis Carroll. The list of players scoring 3.0 points included:

Tom Sandford (tied for Class B prize)

Kevin Townsend of Purdue University (tied for Class B prize)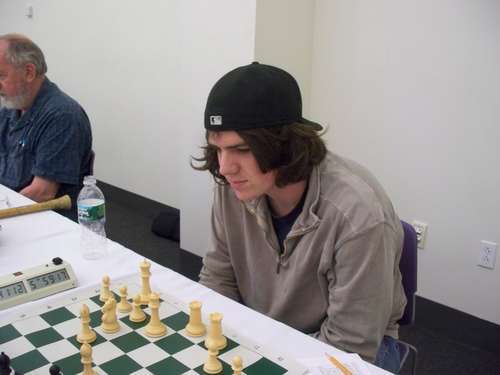 Lucas McCain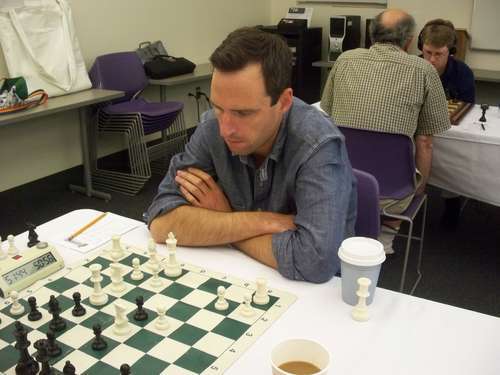 Nathaniel Bryans (tied for Class B prize)

Todd Snyder

Ruben Babayan

* (Class D prize winner) and...

Jon Buxton (tied for Class B prize)

John Bapst High School student Aaron Spencer topped the tie break list of 2.5 point getters followed by...

Brett Parker (class E prize winner)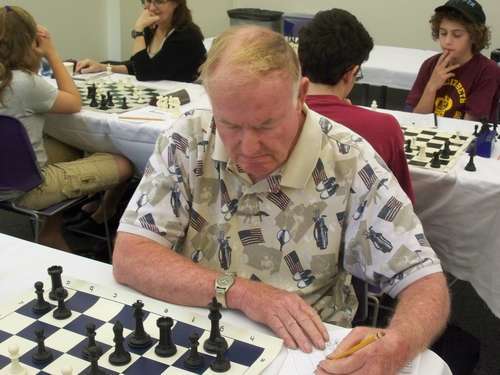 Glen Snyder

Kurt Eyerer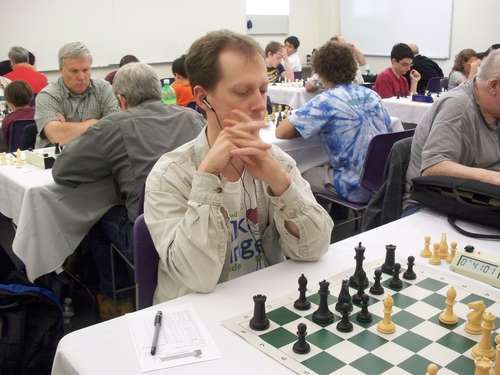 John Gaspar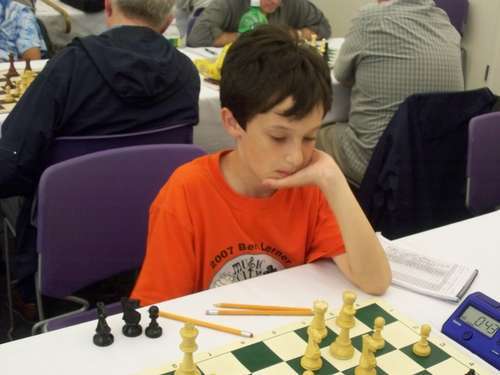 Class C prize winner Matthew Fishbein

and John Brady.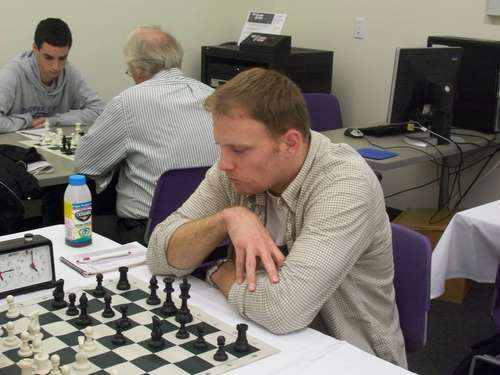 Curt Brock

Keji Xu

In Maine for the summer from Mississippi: Riley Bartlett

Chuck Cannone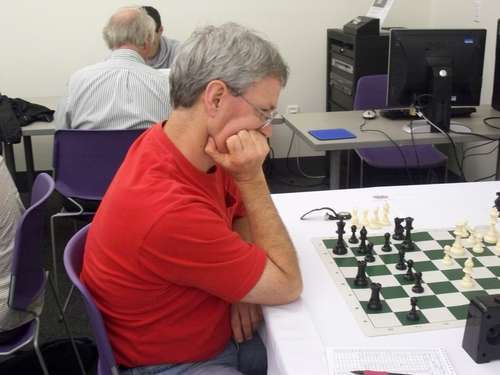 William Burtt

UMaine Farmington Junior Murray Bridges

Maine tournament veteran John Engle

All the way from New Zealand: Ralph Townsend

Portland Chess Club member Georghe Teodorescu

Palermo, Maine's own Ed Hatch

Maine Chess Association Secretary Lee Doucette

The 2009 ChessMaine.net Championship was Hardik Goradia's first USCF rated tournament.

Current Maine K-6 State Champion Matthew Reale-Hatem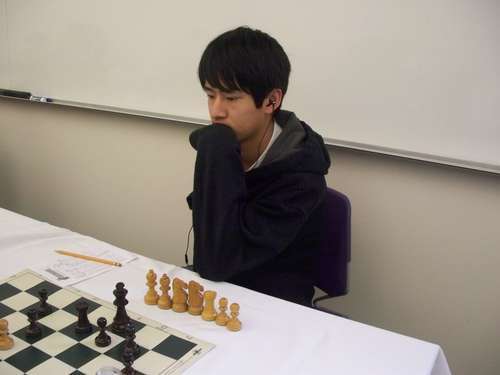 Jaiwei Zou

Kris Fecteau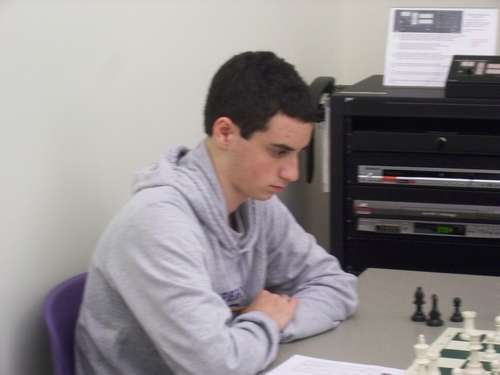 Under 1000 prizewinner Daniel Honeycutt

Anthony Freccero

Max Berube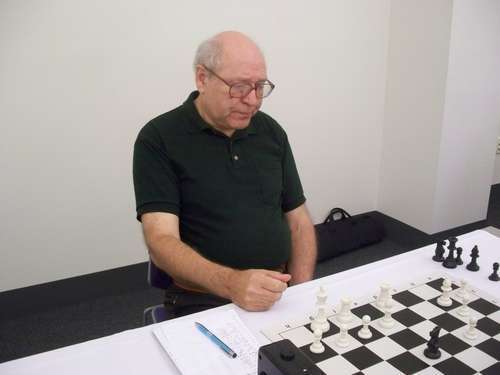 John Bapst High School Chess Coach Yuri Riabkov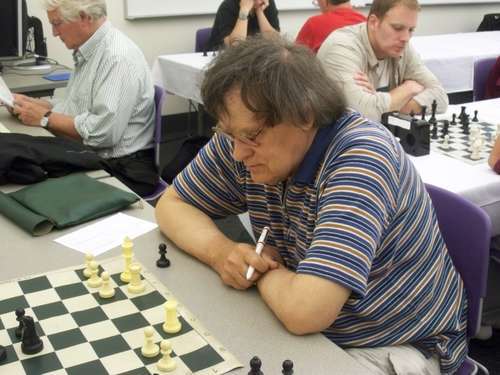 Steve Kaluzynski

Former K-3 Maine State Champion Wesley Parker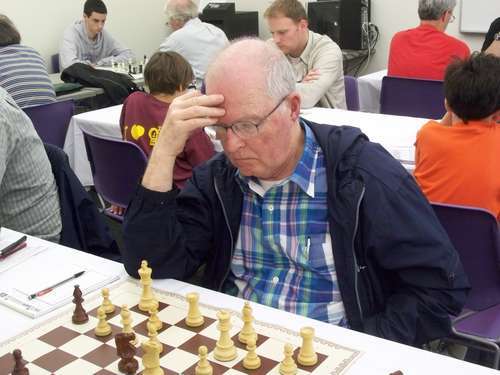 Fred Irons

Waterville Chess Club member Mark McPheters doing some open air analyzing.

Jim Dubois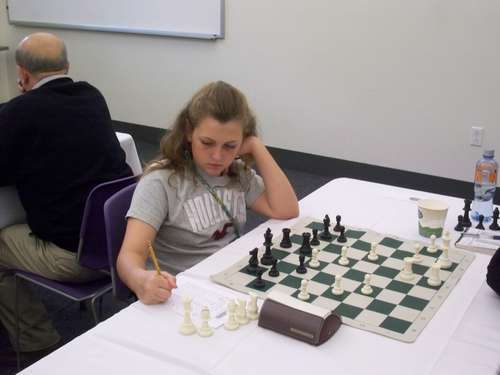 Brynna Bartlett

From France via New York City and now a Mainer: Charles Rotmil

David Rice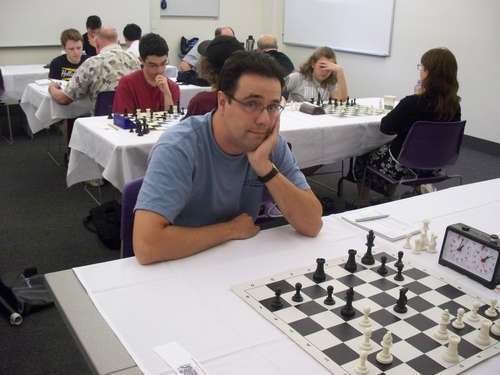 Brian Roderick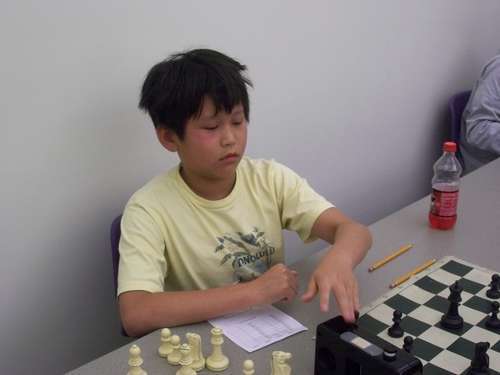 From Scarborough, Maine: John Xiang

Anne York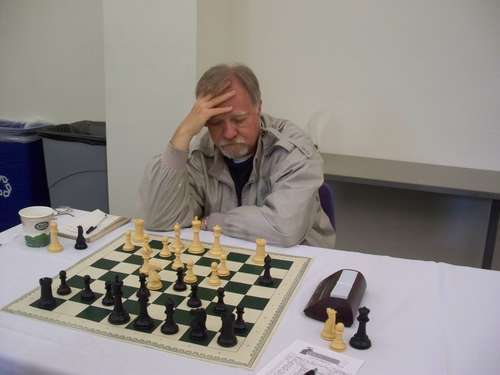 Rob Shore

Nimrod Drizlikh

The tournament was played in Colby's beautiful Diamond Building.

Courtesy of Ralph Townsend and Dan DeLuca a collection of Chess Life magazines dating back to 1958 were on display.

Despite (or because of) a week of rain the Day Lillies in front of Dana Hall were in full bloom.

We hope to see you all agin next year!
---