Maine Individual Scholastic Championship Tournament Report
03.28.09 New state champions were named in each category at the Maine Individual Scholastic Championship Tournament played on March 21, 2009 at the University of Maine, Orono. Congratulations to our State Champions: Gabe Borland (High School), Matthew Fishbein (Junior High School), Matthew Reale-Hatem (Elementary), Kinsey Bartlett and Max DeLuca Lowell (Primary).
The spring state chess championships has a long-standing reputation as the epicenter of Maine scholastic chess talent.
Thanks to Andy Bryan for contributing to this report.
The K-3 Championship saw Max DeLuca Lowell of the Airline School and Kinsey Bartlett of Deer Isle-Stonington draw in the final game to share the K-3 state championship title with 3.5 points. It was a back-and-forth game with Bartlett approaching the queening squares with two pawns while DeLuca Lowell had a bishop and a knight. When it appeared difficult to queen for Bartlett and DeLuca Lowell seeing it would be difficult checkmate with knight and bishop, a draw was agreed upon. DeLuca Lowell has collected 16.5 points in his last 17 tournament games. Congratulations to both Max and Kinsey!
The K-6 Championship section came down to a barn burner between Cape Elizabeth teammates Matthew Reale-Hatem and Wesley Parker. Reale-Hatem went up the exchange in the middle game but Parker defended valiantly. Reale-Hatem eventually returned the exchange for a one pawn plus. The game rarefied to a pawn endgame in which Reale-Hatem made a few critical decisions that pushed the game in this favor. During the game each player had offered a draw which would have resulted in a four way tie for first that would have included Anna Bryan and Humza Khan who each scored 3.5 pts. Reale-Hatem finished with a perfect score of 4.0 for the title. Great job, Matthew!
At the K-8 level, ratings held to form as Matthew Fishbein faced off with MathCounts champion Paul Rudnicki in the final found. Fishbein held a strong position and was able to wear down Rudnicki. Fishbein now has won at three levels (K-3, K-6, K-8) and is only a fifth grader. He may challenge the highschoolers next year. Congratulations, Matthew!
In the High School Reserve section, a three-way tie for first ensued between Joshua Shuman, Reed Wommack and Stephen Butland each scoring 3.0 points. Queen Ventas-Sanchez took fourth with 2.5 points.
The High School Championship section was won by Orono High School senior Gabe Borland who defeated Andrew Audibert of Bangor High School in the final round to complete a perfect 4.0 day. Borland benefited from a third round draw between favorites Lucas McCain and Aaron Spencer. McCain took the second place trophy with a final score of 3.5. As is the vagaries of tournament chess, McCain, the highest rated scholastic player in the state by around 250 points, is denied the opportunity to play in the Denker High School Tournament of Champions yet again. He has done a terrific job coming in the second place position three consecutive years. It's certain McCain will have more successes in the years ahead. Borland was seeded fourth and held his position as the top three were unable to keep pace. Congratulations, Gabe! Good luck at the Denker.
We wish those 30+ students who are heading to Nashville to represent the great state of Maine at Supernationals good luck. The Maine scholastic chess season is now over. Good luck high school seniors; may we see you soon over the board!
Junior High School, High School Reserve and High School Championship Crosstables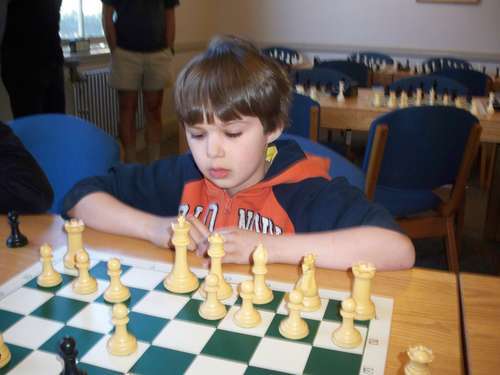 K-3 Co-champion Kinsey Bartlett of Deer Isle-Stonington Elementary School

K-3 Co-champion Max DeLuca Lowell of the Airline Community School in Aurora

Ritvik Kumaran tied for third in the K-3 section with...

Stillwater Montessori student Stuart MacKay.

One to watch: Deer Isle-Stonington's Soozin Cha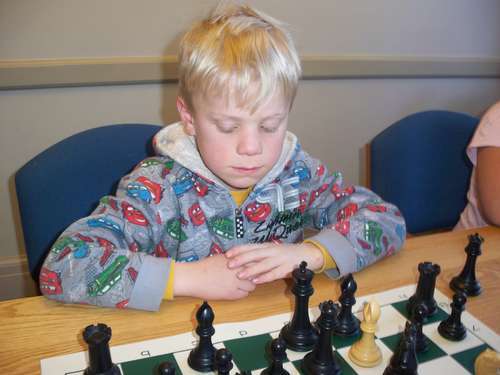 Eli Spahn of Palermo posted 2.0 points in the K-3 championship section.

Zale Rasco of Cape Elizabeth

Action in the K-3 section

Winners in the K-3 section (left to right): Max DeLuca Lowell (tied for 1st), Stuart MacKay (tied for 3rd), Kinsey Bartlett (tie for 1st) and Ritvik Kunaran (tied for 3rd)

Matthew Reale-Hatem took K-6 honors with a last-round win over teammate Wesley Parker.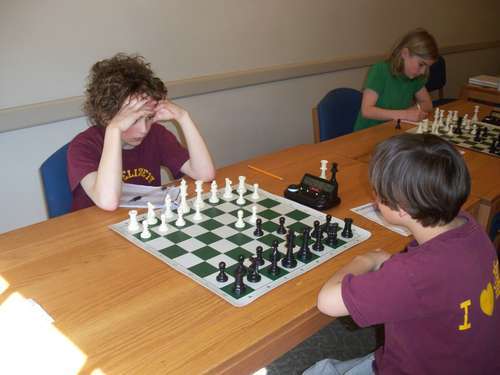 The game started as a Queen's Gambit Declined Semi-Slav.

After going up the exchange, Reale-Hatem was faced with a critical decision: return the rook for the well-placed black knight and keep a pawn to the good or try to hold and grind black down.

Reale-Hatem decided to return the exchange and used his extra pawn to queen, win the game and become elementary state champion. A tense very well-played game by both Reale-Hatem and Parker.

Former K-3 state champion Anna Bryan scored 3.5 points in the K-6 section.

The final-round game between Ezra Briggs and Anna Bryan.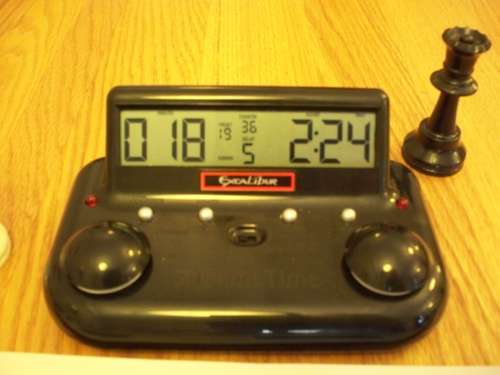 This was the final position of the clock in Bryan's last-round game with Ezra Briggs. Briggs had 18 minutes to Bryan's 2 minutes and 24 seconds when Bryan delivered checkmate.

Humza Khan tied for 3rd with 3.5 points

Keeping the distractions to a minimum: John Kenneway

John Xiang of Scarborough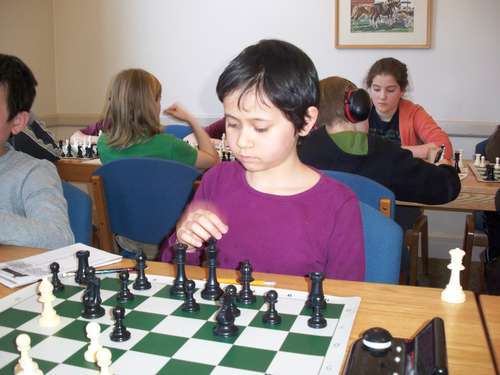 Deer Isle-Stonington's Bethany Humphrey

Ivan Zembrusky

Haley DeLuca Lowell plays 1...c5 and goes for a Sicilian Dragon in response to White's 1.e4.

Ezra Briggs facing a Queen's Gambit.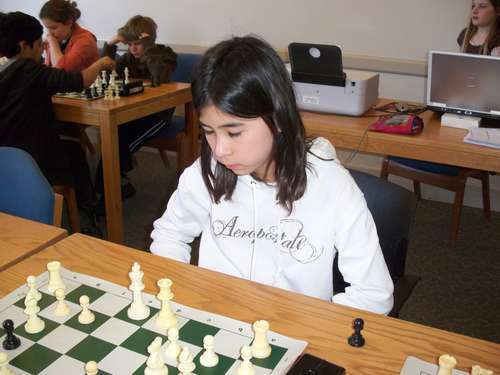 Aiden Coyne

Cape Elizabeth's Jack Demeter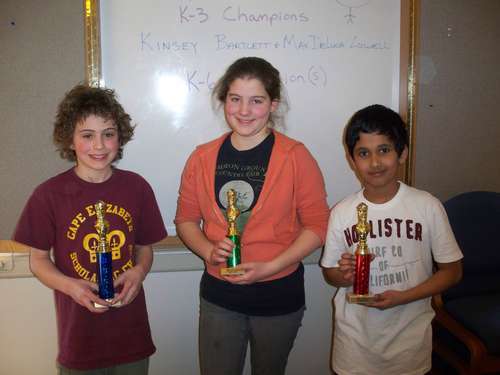 Winners in the K-6 section (left to right): Matthew Reale-Hatem (1st), Anna Bryan (tied for 2nd) and Humza Khan (tied for 2nd)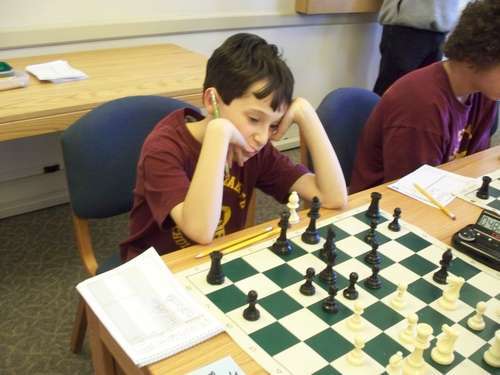 K-8 Champion: Matthew Fishbein

The critical last-round game between Paul Rudnicki (left) and Matthew Fishbein

Paul Rudnicki tied for 2nd place with three other K-8 players:

Robert Freccero

Brett Parker and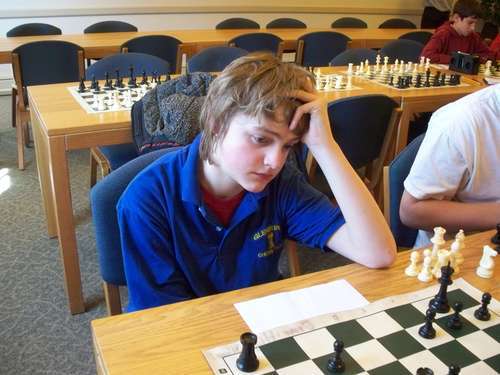 Zach Hamilton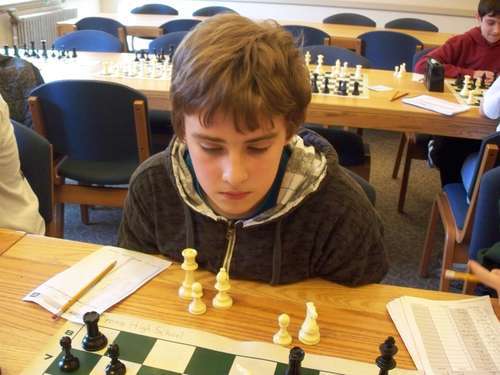 Andrew Turner takes a close look at his position

The third round game between Brett Parker and Paul Rudnicki drew some attention.

Colin Smith of Cape Elizabeth

Sam Grindle form the "chess garden" Deer Isle-Stonington.

George Spahn

Sam Touchette

Hayden Ciomei

Winners in the K-8 section (left to right): Zach Hamilton (tie for 2nd), Paul Rudnicki (tied for 2nd), Brett Parker (tied for 2nd), Matthew Fishbein (1st) and Robert Freccero (tied for 2nd)

Winners in the High School Reserve section all tieing for 1st place (left to right): Stephen Butland, Reed Wommack and Joshua Shulman

This game between Lucas McCain (facing camera) and Aaron Spencer which ended in a draw opened the door for Orono High School's Gabe Borland to come in with 4.0 points.

The high school championship came down to this game between Gabe Borland and Andrew Audibert. At this point both players had 3.0 points.

The final position in Audibert-Borland. White resigns and Borland becomes high school state champion.

Congratulations, Gabe Borland!

A relaxed Aaron Spencer surveys his position.

The analysis kitchen: Lucas McCain (left) takes a look at his third-round draw with Aaron Spencer, 2009 Maine Chess Player of the Year Barry Magda and...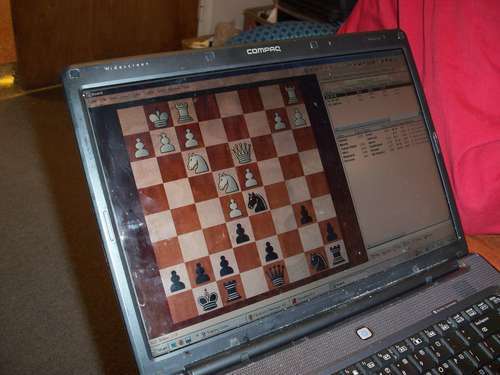 Fritz!

Andrew Audibert scored 3.0 points to tie for 3rd place with...

Henry Chai and...

John Bapst High School senior Zach Smith.

Tien Vu scored 2.0 points.

Maine Girls Champion Maggie Bryan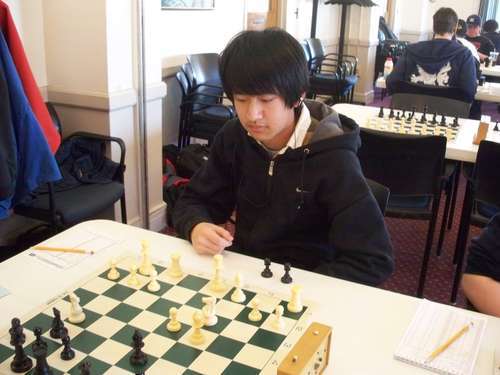 Orono High School's Jiawei Zou

Ken Ginn of Hampden Academy

Olympia Serban from Bath, Maine.

Kurt Eyerer will be taking the trip to Nashville to participate in the High School national Championships with his state championship team from John Bapst Memorial High School.

Winners in the high school championship section (left to right): Lucas McCain (2nd), Gabe Borland (1st) and Andrew Audibert (tied for 3rd). Henry Chai and Zach Smith who also tied for 3rd we unavailable for this photo.

Assistant tournament director in the K-3 and K-6 sections: Laddy DeLuca Lowell

All in fun: Anna Bryan shoots us a "raspberry."

Tournament Director for the junior high, high school reserve and high school championship sections Lee Doucette hard at work while Andy Bryan looks on.

Hoty Briggs give his little brother Ezra a few pointers.

Claudia Serban gets a between-round hug from dad Ted Serban.

K-3 co-champion Max DeLuca Lowell with Maine Chess Player of the Year Barry Magda

Into the sunset: High School Champion Gabe Borland heads out after making history at the 2009 Maine State Individual Scholastic championships.
---