Margaret Bryan Repeats as Girls State Champion
03.24.09 Margaret Bryan scored a perfect 4.0 points in as many rounds at the 2009 Maine Girls Chess Championship played at the University of Maine, Orono on March 14th to notch her second championship in four years. Anne Witick took the top spot in the Under 600 section with 3.5 points.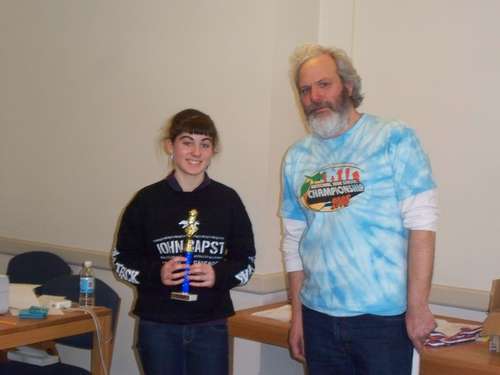 Margaret Bryan poses with tournament director and proud dad, Andy Byran.
Eighteen of the strongest female scholastic players from across the state turned out to compete in the fourth annual Maine Scholastic Chess Championship for Girls. Margaret Bryan, the clear favorite, took first by sweeping the field with a perfect score. By virtue of winning the Maine Championship for Girls, Bryan is eligible to participate in the Susan Polgar National Championship for Girls to take place July 26-31 in Lubbock, Texas. Olympia Serban of Bath and Jessica Chen of Orono tied for second each scoring 2.5 points. Miriam Nielson, Haley DeLuca Lowell, Bethany Humphrey and Julia Schaffer rounded out the top seven in the championship section.
In the Under 600 section Anne Witick, a student at Piscaiquis High School topped the crosstable with 3.5 points. Witick was followed by Megan Weeks and Claudia Serban (3.0 Points), Soozin Cha and Louise Nielsen (2.5 points), Cyndi Currier and Kristen Weeks (2.0 points), Lisa Tapley, Koko Wing and Shannon McCoy (1.5 points), and Arden Wing (1.0 points).
Girls Scholastic Championship Crosstable

Margaret Bryan (background right) plays Jessica Chen in the final round while Olympia Serban (left) battles Miriam Neilsen.

The same games from another angle.

Bethany Humphrey (left) vs. Olympia Serban in round 1.

Julia Schaffer (left) plays Haley DeLuca Lowell

Jessica Chen (left) and Olympia Serban play out the endgame in a game that was eventually drawn.

Action in the U600 section: Louise Nielsen (left) plays Kristen Weeks

The Girls Championship is the only all girls tournament on the calendar in Maine.

Soozin Cha (right) vs. Anne Witick in the final round of the U600 section. Both players had 2.5 points at this point. Witick went on to win this game to take first in the U600 section.

All players recieved participation medals.

Claudia Serban (equal 2nd in the Under 600 section) with Andy Bryan

Megan Weeks (equal 2nd in the Under 600 section)

First in the U600 section: Anne Witick

The top three finishers in the U600 section.

Tied for second in the championship section: Jessica Chen

Tied for second in the championship section: Olympia Serban

The Champ...again! Margaret Bryan

---