MLK 2009 Tournament Report
01.21.09 "Neither snow, nor rain, nor heat, nor gloom of night stays these courageous couriers from the swift completion of their appointed rounds." That postal service motto could just as well apply to the brave chess players who came out for tournament chess at the 10th Annual MLK Day Chess Tournament on January 19, 2009 despite a 20-inch snowfall in the Bangor area.
For those who made it to Old Town and the Stillwater Montessori School it was a fun day of chess.
MLK 2009 Chess Tournament Crosstable
This tournament was directed by Dan DeLuca and Laddy DeLuca Lowell and organized by Joe Alex.
Roger Peterson blanked his opposition in four straight games to take 1st place in the Open section. Tom Sandford, Aaron Spencer and Jonathan Dearing each scored 3.0 points to tie for second. Spencer received the top scoring K-12 player trophy.
In the K-12 section, newcomer Tien Vu from Blue Hill took 1st with 4.0 points. He was followed by Jaiwei Zou, and Isaac Godfried each scoring 3.0 points. Bjorn Peterson also of Blue Hill tied for fourth with Paul Rudnicki scoring 2.0 points. Godfried received the top scoring K-8 player trophy.
Helen Zhang was perfect in the K-8 section scoring 4.0 points and taking 1st. Helen was trailed by Zach Hamilton and Langdon Holly who scored 3.0 points and John Kenneway, Jessica Chen and Nathan Dee with 2.0 points. Kenneway received the top scoring 5th grade and under trophy.
In the non-rated K-6 section, Bridger Holly took first with 4.0 points. Joey Brozyna scored 3.0 and finished in 2nd place. Three players scored 2.0 points and tied for third: Keith Adams, Sean Adams and Drew Thibadeau. Sean Adams received the top scoring 3rd grade and under trophy.

Perfect in the Open section, Roger Peterson scored 4.0 points and took 1st place.

Tournament Organizer Joe Alex watches last-round action in the game Peterson-Spencer.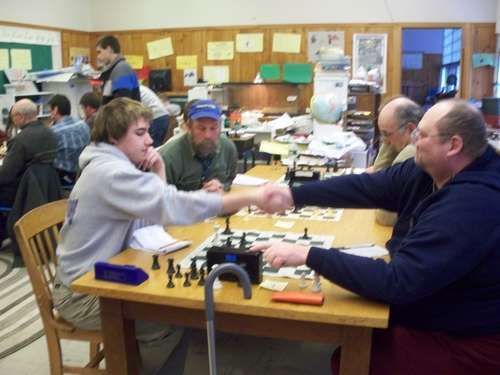 Spencer offers his hand after a well-fought game.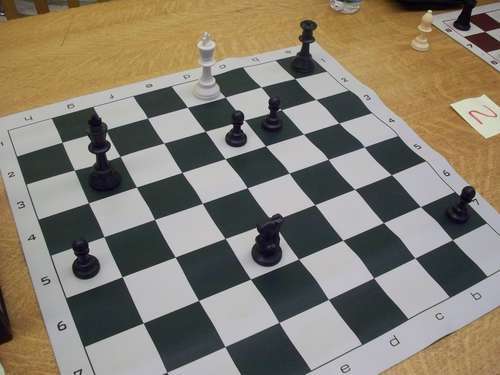 Here's the final position.

The battle for 2nd place in the Open (clockwise from lower left): John Deering, Tom Sandford, Barry Magda and Curt Brock.

Tom Sandford prevailed, tieing for second with...

Aaron Spencer.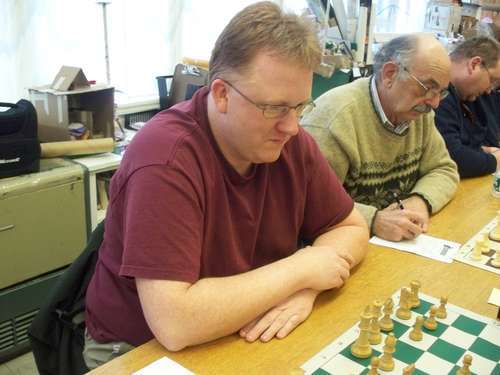 Bangor High School Chess Coach Jonathan Dearing scored 3.0 points and took home the U1600 prize.

Hampden Academy Chess Coach Ben Johnson put up 2.5 points.

A strong showing from Deer Isle-Stonington's Ian Pellitier: 2.5 points.

2008 Maine Chess Player of the Year Barry Magda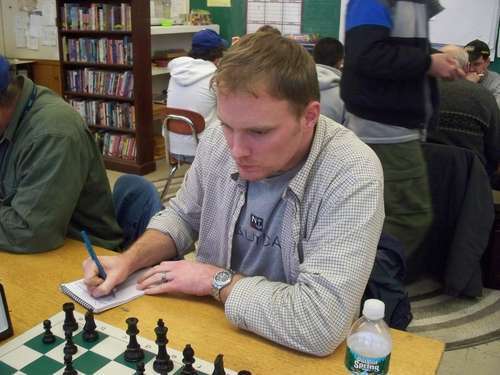 Curt Brock

Ryan Vienneau scored a nice victory over...

Bapst High School Chess Coach Yuri Riabkov.

Brian Roderick (866) scored an upset over...

Ed Hatch (1594)

Playing in his second USCF-rated tournament: Mathew Collier

Eric Segee rounded out the crosstable with...

the only female player in the Open section: twelve-year-old Haley DeLuca Lowell.

Winners in the K-12 section (from right to left) Tien Vu (1st), Jaiwei Zou (tied 2nd), Isaac Godfried (tied 2nd) with Tournament Director Dan DeLuca

K-8 section winners (right to left): Zach Hamilton (tied 2nd), John Kenneway (top K-5 player), Langdon Holly (tied 2nd), Helen Zhang (1st) with the TD.

K-6 section winners (right to left): Bridger Holly (1st), Joey Brozyna (2nd) and Keith Adams (3rd).

Action in the K-6 section.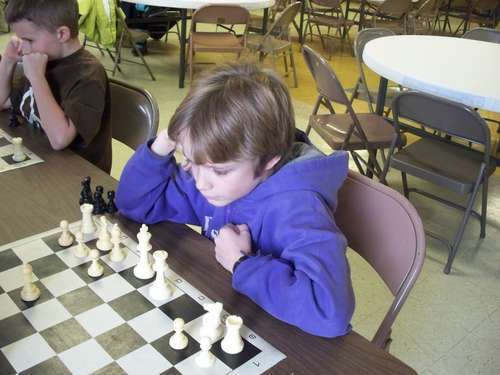 Winner of the K-6 section Bridger Holly at the board.

Santiago Tijerina having a grand old time.

Eamon Laskey

Sean Adams

Cara Rudnicki considers her position in her game vs Drew Thibadeau.

Assistant Tournament Director Laddy DeLuca Lowell gets up close and personal with Henry, the Blue-Tounged Skink.
Thanks to all who made this tournament a great success. Hope to see you all again next year!
---