Aurora Winter Solstice Carries on Despite Widespread Power Outages
12.14.08 A menacing ice storm churned through the northeast leaving thousands in Maine without power. That didn't stop thirty-eight brave chess players from venturing out to participate in the Fourth Annual Aurora Winter Solstice Chess Tournament played at the Airline Community School in Aurora, Maine on Saturday, December 14, 2008. Based on comments from the players, the scenery, the chess and the food was worth the trip.
Roger Morin adds another tournament win to his collection scoring three for three in the Open section.
Aurora Winter Solstice Crosstable
Special thanks to all players, coaches, volunteers and parents who made the tournament a great success.
The tournament was played in four sections: Open, Under 1400, Under 1000 and Under 600/Unrated with time controls at G/60 for the Open and U1000 sections and G/45 for the U1400 and U600/Unrated sections.
Former state champion Roger Morin (1983) took points from Fred Irons, Nathaniel Bryans (1535) and Akagi Kayashima (1450) to finish with a perfect 3.0 points and clear first. Bryans finished clear second with 2.0 points and Kayashima, Aaron Spencer (1626) and Margaret Bryan (1357) shared third with 1.5 points--the latter accomplishing her score by posting three straight draws without a loss.
Ethan DiNinnio, a 976-rated scholastic player from Cape Elizabeth, stunned the field in the U1400 section with four straight wins and a 1600 performance rating! DiNinnio sent packing a host of talented players including Wesley Parker (1200), Dan Fishbein (1034), Robert Freccero (1018) and Kris Fecteau (1176). Freccero took clear second with 3.0 points and Ryan Vienneau (1196) and Brett Parker (1013) shared third scoring 2.5 points.
The U1000 section was the smallest in number at four players. Ann York (595) took first with 2.5 points, her half point coming from a second round draw with third-placed Haley DeLuca Lowell (937). Anna Bryan (732) took second with 2.0 points and Jack Demeter (727) finished fourth.
John Xiang (493) played well to take first in the Under 600/Unrated section with 4.0 points. He was trailed by a three-way tie for second between first-time tournament player Joey McGrath (unr), Bethany Humphrey (581) and David Ngo (398).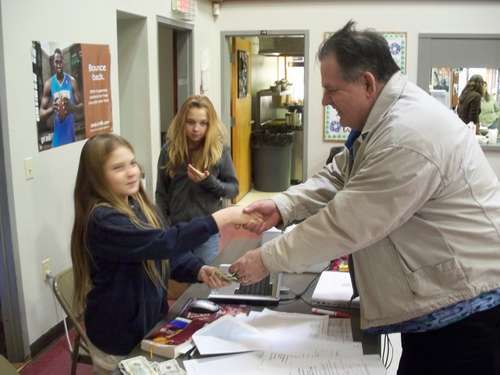 Roger Morin receives his $50 first prize from Assistant Tournament Director Laddy DeLuca Lowell.

Roger Morin and Nathaniel Bryan do a post mortem on their second round game.

Akagi Kayashima scored 1.5 and tied for third in the Open section with...

Aaron Spencer and...

Margaret Bryan.

Matthew Evan Fishbein at USCF 1580 is on the top 100 list of players in the U.S. for his age group.

Fred Irons gave the tournament winner a run for his money in their round one game.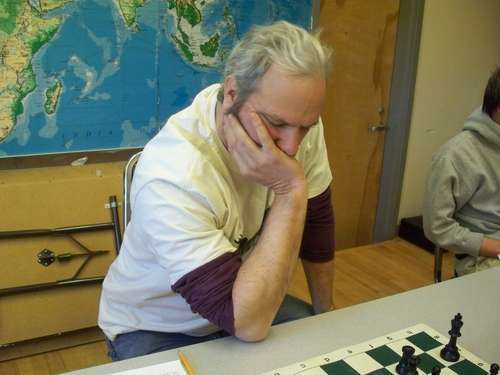 Andy Bryan a.k.a. Maggie and Anna's dad.

The U1400 winner: Ethan DiNinno

Robert Freccero finished the U1400 section in clear second with 3.0 points.

Orono's Ryan Vienneau (left) and Cape Elizabeth's Brett Parker duly notating their moves.

Wesley Parker at USCF 1200 is a force to be reckoned with.

Kris Fecteau

Matthew Reale-Hatem studies the board during his game with J. Paul Ciarrocchi

John Ellison takes a look at the standings.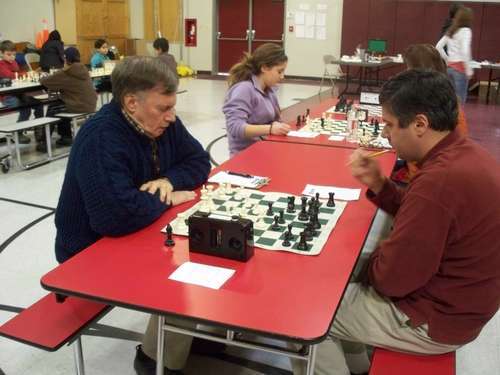 Mark Parker (right) plays J. Paul Ciarrocchi in the second round.

U1000 winner: Anne York

Another of the chess playing Bryans, Anna, took second place in the U1000 section.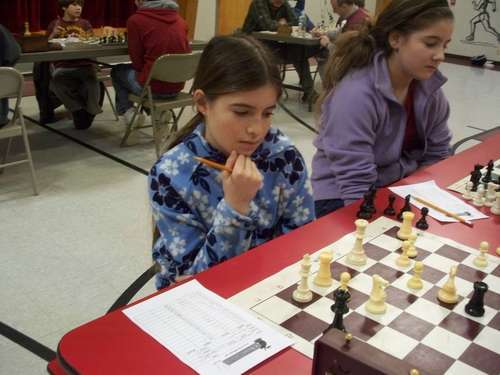 Haley DeLuca Lowell strikes a typical pose.

Jack Demeter of Cape Elizabeth

U600/Unrated section winner John Xiang (right) plays Joey McGrath in their last round encounter.

Bethany Humphrey came up from Deer Isle for the tournament.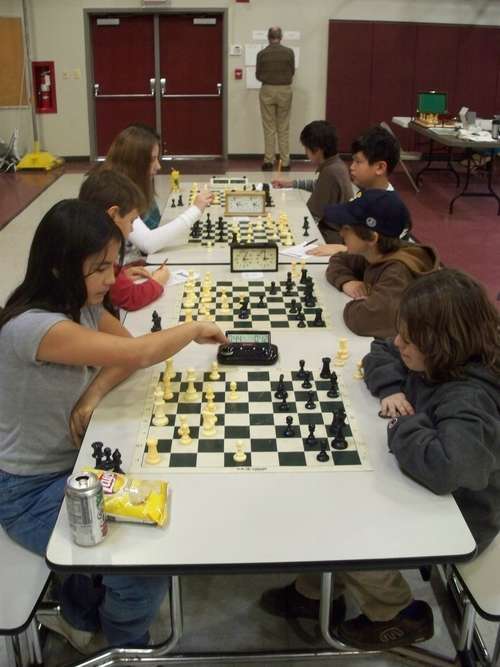 Danielle Wong-Achorn plays Max DeLuca Lowell in the U600/Unrated section.

Danielle contemplates her position.

Playing in his first USCF-rated tournament: Jacob Neal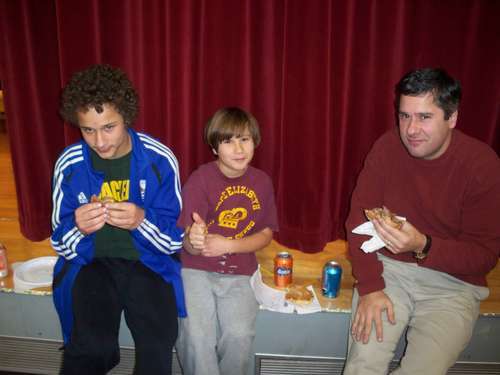 The family Parker (left to right): Brett, Wesley and Mark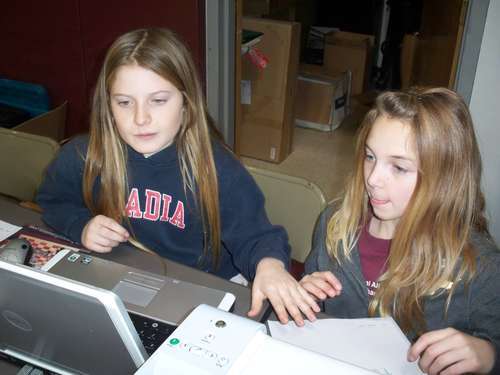 Assistant TD Laddy DeLuca Lowell (left) and TD in training Hannah Gray Fowler checking the results.

In the skittles room players had fun with an oversized set.

Ready for battle: Ryan Vienneau faces Wesly Parker

Blueberry muffins and...

scones as well as soups, breads and a variety of other homemade foods were available for players and spectators.

Thanks again to all players, coaches, parents and volunteers for making the Aurora Winter Solstice Chess Tournament a great success! See you next year!
---