Sixteenth Annual Deer Isle-Stonington Lacy Greenlaw Chess-A-Thon
11.08.08 Now a long-standing tradition in downeast Maine, The Deer Isle-Stonington Chess-A-Thon took place from 6:00 p.m. Friday, November 7 - 6:00 a.m. Saturday, November 8, 2008 at Deer Isle-Stonington Elementary School. This year's event was named in honor of Lacy Greenlaw, a former Mariner chessplayer who passed away at the age of 21 after a long struggle with cancer.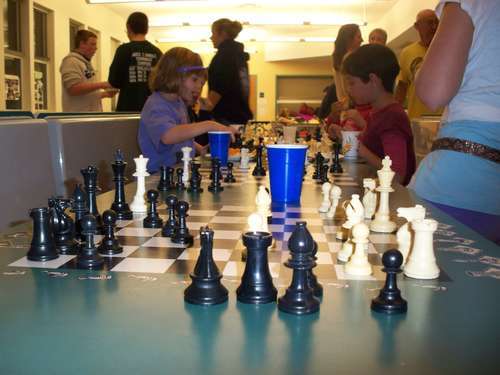 Food, fun and lots of chess at the Deer Isle-Stonington Lacy Greenlaw Chess-A-Thon
In this annual event, parents, coaches, teachers, community members and students get together for an awesome show of support to raise money for the Mariner's chess program and a possible trip to the national scholastic chess championship held April 3-5, 2009 in Nashville, Tennessee. This year's national event, known as the Supernationals, will combine the elementary, middle school and high school championships under one roof and will be the nation's largest scholastic chess event of the year.
The evening began at 6:00 p.m with an official ribbon cutting by Lacy's mom and then it was straight into the chess. Open chess was followed by a "Play the Masters" simul in which more experienced players took on a number of students at the same time.
Then it was on to "Human Chess". Mark Woida, playing the white pieces, took on Nick Ciomei as both players commanded their 16 student pieces around the 64-square battlefield. After an interesting and challenging (Besides the position of the pieces the players had to contend with constant motion that accompanies 32 students when asked to stand still for 1 hour!) struggle, Woida prevailed with a pretty checkmate with 11 minutes remaining on his clock.
Blitz chess ensued until midnight and then Bughouse (team chess with four players and two boards per game) until 2:00 a.m. From 2:30 - 4:00 a.m. players participated in a pairs tournament, had breakfast and called it a night at 6:00 a.m.
Thanks to Dick Powell, the DIS Chess Boosters, all the volunteers and especially the chessplayers for making this event a great success!

Warming up with some open chess play

Players have some fun to get the evening going.

The food was outstanding--and non-stop!

Just a snack to get the creative juices flowing

The front page of Island Ad-vantages recalls Deer Isle-Stonington's first state championship in 1993.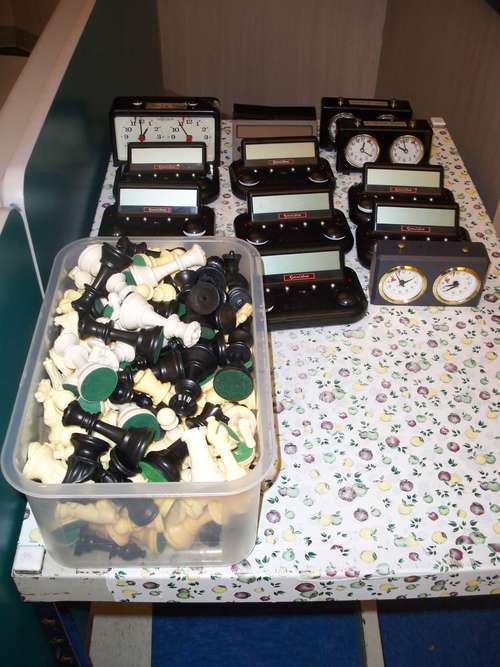 Armed with backup pieces and clocks, the Chess-A-Thon is ready for all comers.

All ages participated from elementary through high school and adult.

Cameron Wendell considers his position as he redies himself to play the role of the white King in the human match.

Ian Pellitier

Soozin Cha takes a break with a book and an ice pack after bump in the gym.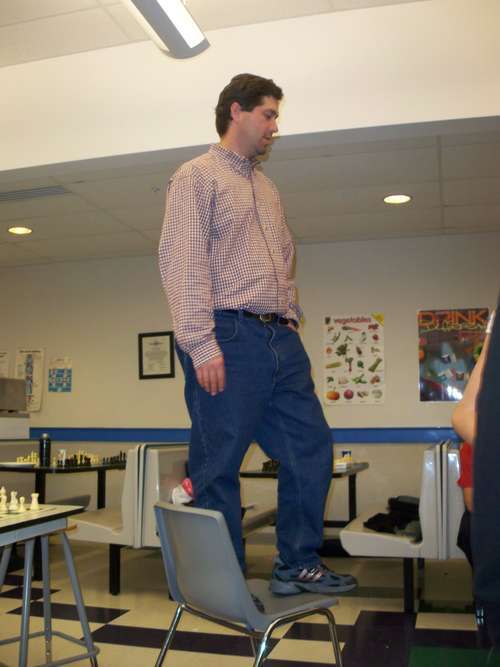 Playing the white pieces, Mark Woida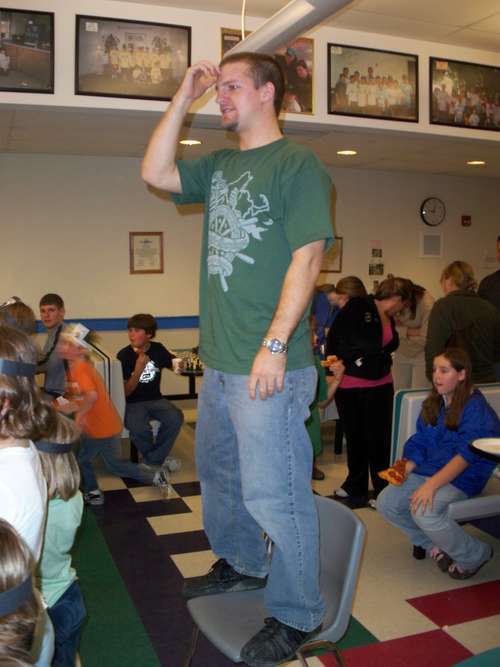 His opponent, Nick Ciomei

And we have a Reti Opening with White's Knight on f3 and a pawn on c4

Ouch! White's Knight forks Black's Rooks.

Official timekeeper Laddy DeLuca Lowell keeps a close eye on the moves.

After a few deft touches White wins and the players come to the middle of the board for a handshake.

Now, it's on to blitz!

Flying hands and smashing clocks

Andy Turner gets aggressive on the back rank.
Just a few of the beverages to help keep the eyes open until morning: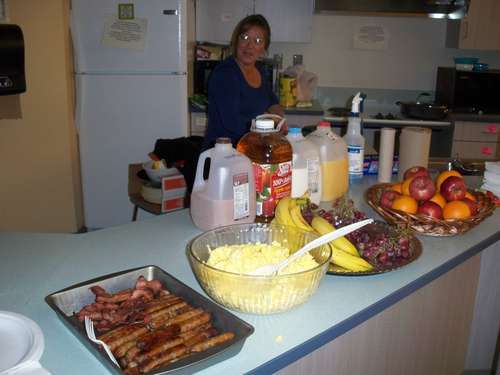 Breakfast!

Weary but happy! Just before heading home.

The mastermind: organizer Dick Powell
---