Reflections on the Susan Polgar National Invitational for Girls
08.20.08 Back from her recent performance at the Susan Polgar Natonal Invitational for Girls, Maine 2008 Girls Champion Sorel Edes of Orono took time out to share her thoughts of the tournament with us and how it felt to represent Maine at this national event.
This medal was awarded to all participants at the SPNI for Girls.

Sunday, July 27, 2008
Well, the first day has been completed and I am exhausted! After traveling for 12 hours on Saturday and not arriving in my room until 10:00 pm Texas time midnight by my watch I felt pooped. I then got up at 7:30 a.m. for breakfast and had a good meal with two other girls who were on my last flight (from Dallas to Lubbock). Fiona (from Maryland) and her mom, and Michelle (from Massachusetts) and her dad. Both of them were quite nice. After breakfast I went back to my room only to find I had locked myself out! Thank goodness it was only a hard lock, one where you have to turn the key extra hard! I unpacked and then slept until 11:30 a.m. After lunch Fiona and I went over to the building where we were going to play, the Frazier Alumni Pavilion. In front was a very large chess set, the pieces were up to my knees! Inside was nice and air-conditioned. We hung out there until 1:30 p.m. and then the opening ceremony began. First there was a flag demonstration by members of the Army, and then the Cactus Cuties sang the Star Spangled Banner. After that it was speech time, and we heard from just about everybody involved with SPNI and SPICE (Susan Polgar Institute for Chess Excellence). Finally it was time to give out the medals to the players, and along with those there were gift bags. These contained: A Susan Polgar rookie card; a Texas Tech (TTU) compass and key chain; a Lubbock visitor's guide; a DVD by Susan Polgar (Winning Chess the Easy Way); a SPICE key chain; a Lubbock restaurant and worship guide; a TTU frisbee; a map of Lubbock; a bookmark (I Chess); two TTU pencils; one TTU pen; a Lubbock pin; and a cup holder in the shape of a cowgirl's boot! Wow! When I went up, Susan asked if my name (Edes) was Hungarian. I told her I didn't know. She said she thought it was. Later information proved it was indeed Welsh (we think). Then it was time for a group picture near the outside chess set of course, and being tall, I was stuck in the back. Then I met Crystal (from Arkansas) and Katrina (from Kansas).
The first game began around 3:30 p.m. My opponent was Rebekah Liu (from Northern
California). She was good, with a rating of 1699, while mine is 1098. The game was pretty good, although I made a few mistakes. Oh well, live and learn. Then back to the dorm for dinner as it was already 6:00 p.m. I had dinner with Autumn (from Tennessee) and her mom, and I learned we shared similar interests: horses! Finally it was back to the room to collapse in the air conditioning, because I felt like I was melting! It is hotter here for one of their cooler days than it has ever been in Maine! Thank goodness for air conditioning! Then it was Journaling and to bed!
Monday, July 28, 2008
Today was a very good day, I not only got a roommate, but I drew my second game!
Sonya, from Illinois, has arrived and will be sharing a room with me. She hasn't been away from home much so she's homesick and plans on spending the night in a hotel room with her parents. At the beginning of the second round I was paired with Ananya Roy, who is rated 1683! This would be my second game against a player that is almost 1700! I accidentally sacked a pawn early on, and lost another later, so I wasn't expecting to win, or even draw, but somehow I managed to comeback in the end and force a draw. Man, that felt good. After dinner I headed back to the pavilion for the chess puzzle championship and ended up solving 9 out of 10 puzzles in 5 minutes. I don't know how many I solved correctly. Susan said we were the best puzzle solvers yet, the lowest score was only 5 done correctly and a lot of people scored above that. After the puzzle session Susan told us about her history and opened the floor to questions. I gather she lived in Budapest at the same time as Bobby Fischer and actually played him! After the lecture I met Susan and her mother from Virginia plus Emily and her grandma from Indiana. We all went to Baskin Robbins for ice cream, and then headed back to the dorms. Susan and I watched a movie and talked for a long time, and then I went to bed.

The dramatic all wood cathedral celing of the Frasier Alumni Pavilion, site of the the Susan Polgar National Invitation for Girls.
Tuesday, July 29, 2008
I won my game! I played my friend Autumn and ended up winning! (Now at 1.5 of 3
points.) To start in the morning, Crystal, Emily, Susan and I all played bughouse and then Katrina joined us and we went and watched Across the Universe. After lunch we went to the Frazier Pavilion and played our games. Afterwards Susan, Katrina, Emily, and I all went shopping. After that we headed back to the dorm, and then Susan and I went to the Blitz tournament where I won 2 of 5 games. When we went back to my room, Crystal came and got us to play Uno. We played cards with her and Tory until pretty late, then I went to bed.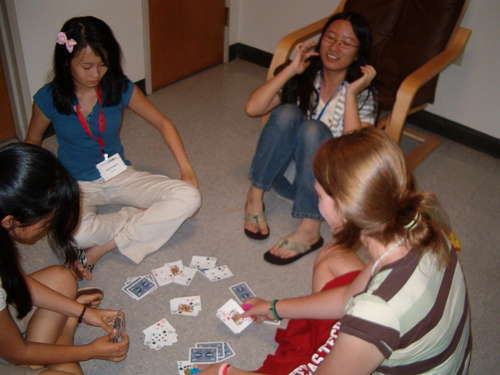 Cards in between rounds to lighten things up a bit.
Wednesday, July 30, 2008
I had a tired breakfast and then I napped until lunch. After lunch I played Elizabeth
Oliver and lost. (I was now 1.5 of 4 points.) The game was stupid, I sacked a Knight early on and the game got worse from there. It was okay though, the bughouse tournament was coming up. My partner was Kaitlyn Loos. We played two rounds against 5 teams, and won about half our of our rounds. Then there was a party in my room with Crystal, Susan, Tory, Shinan, Ashba, Angel, Courtney (for a little while), and a bunch of other people. We played Uno, BS, Spoons, Old Maid, Scat, and Hearts. It was a lot of fun and we stayed up pretty late once again.
Thursday, July 31, 2008
Well, it was another win, this time against Georgia Olivera! It was a good game
(bringing my score to 2.5 of 5 points), but I was in control for the whole game, even though she had a higher rating (1292). This morning I did a little shopping (ugh) and sightseeing. The store I got my stuff from was the equivalent of our Grasshopper Shop in downtown Bangor. After the match I went swimming with Rheanna English, Angel, and Crystal while Shinan and Susan went Rock climbing. Then we played dodgeball and volleyball. We finished the day with a party in Crystal's room playing cards and talking.
The game went as follows: 1.e4 d5; 2.exd5 Qxd5; 3.Nc3 Qa5; 4.Bc4 c6; 5.d3 Nf6; 6.Bd2 Qc7; 7.Ne4 Nxe4; 8.dxe4 e6; 9.Nf3 Bc5; 10.Bc3 O-O; 11.Be5 Qd7; 12.O-O b5; 13.Qxd7 Nxd7; 14. Bb3 Ba6; 15.Rfd1 Rfd8; 16.Bc7 Rdc8; 17.Rxd7 Bb6; 18.Bxb6 axb6; 19.Ne5 Rf8; 20.Nxc6 g6; 21.Nb4 Bc8; 22.Rd6 Rb8; 23.Rad1 Bb7; 24.Rxb6 Rfd8; 25.Rbd6 Rbc8; and White won on the 62nd move.
Friday, August 1, 2008
In the final round I lost to Mira Ensley-Field, but I should have won or drawn at least.
(This brings my total to 2.5 of 6 points for the tournament.) The closing ceremony was good, Miss Lubbock was there, along with people from the University. Crystal won Miss Congeniality. I got a board and had as many people sign it as I could, including Susan Polgar. Emily, Susan, and I went for pizza and then we partied until late. Then bed because I had to get up early the next day to begin the long trip home.

Sorel's keepsake autographed board.
A note from Sorel's coach Fred Irons:
Sorel has stated several times that this was a wonderful experience, something she will
always remember and treasure. It is definitely a worthwhile experience and she is grateful to everyone who helped make it a possibility. She was proud to represent the State of Maine.
Thanks so much to everyone.

She represented Maine well.
Related Links
Sorel Edes Wins Girls Scholastic Championship
Girl Champions Arrive at Texas Tech
---