SPNI Round 1 Results
07.28.08 The first round of the Susan Polgar National Invitational for Girls is complete. Here are round 1 results, round 2 pairings, the schedule of events and images from the tournament courtesy of polgargirls.blogspot.com.
Maine representative Sorel Edes with Grandmaster Susan Polgar

Champions all! Sorel is standing in the back row to the right of GM Polgar.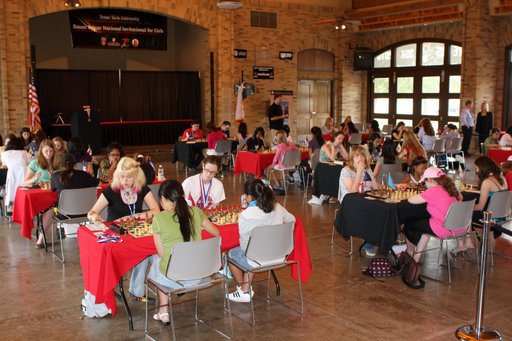 Round 1 underway in the Frazier Alumni Pavilion.
Round 1 Results
1 Courtney Jamison 2046 TX W31 1.0
2 Sylvia S Yang 1911 TX W32 1.0
3 Ashley Carter 1877 MI W33 1.0
4 Rita Mirchandani 1813 FL W34 1.0
5 Michelle Xue Chen 1762 MA W35 1.0
6 Eve Zhurbinskiy 1747 NJ W36 1.0
7 Fiona Lam 1727 MD W37 1.0
8 Rheanna English 1713 TX W38 1.0
9 Amelia Wheeless 1711 NC W39 1.0
10 Janice Chen 1700 UT W40 1.0
11 Angel Bohannon 1700 TX W41 1.0
12 Rebekah Liu 1699 CA W42 1.0
13 Shinan Jin 1686 PA W43 1.0
14 Sayaka Foley 1652 AZ W44 1.0
15 Taylor Bailey 1650 OR W45 1.0
16 Sonya Vohra 1621 IL W46 1.0
17 Jamie Olsen-Mills 1617 UT W47 1.0
18 Rebecca Lelko 1595 OH W48 1.0
19 Brianna Conley 1573 OH W49 1.0
20 Alexandra Wiener 1560 CT W50 1.0
21 Michelle Farell 1506 OK W51 1.0
22 Elizabeth Oliver 1322 NE W52 1.0
23 Melanie Newell 1198 MS W28 1.0
24 Morgan Mahowald 994 MN W29 1.0
25 Ashbea Oyadomari unr. HI W30 1.0
26 Linda Diaz 1726 NY D27 0.5
27 Joanna Gossell 1255 MO D26 0.5
28 Nisha Deolalikar 1726 CA L23 0.0
29 Ananya Roy 1683 GA L24 0.0
30 Leanne Hwa 1436 WA L25 0.0
31 Emily Tallo 1349 IN L1 0.0
32 Hannah Hellwig 1337 AL L2 0.0
33 WCM Claudia Munoz 1324 TX L3 0.0
34 Erica Barkell 1315 ID L4 0.0
35 Georgia Olvera 1300 TX L5 0.0
36 Sarah Garza 1294 TX L6 0.0
37 Mira Ensley-field 1258 WI L7 0.0
38 Rebecca Deland 1166 NM L8 0.0
39 Autumn Douthitt 1154 TN L9 0.0
40 Alexa Lasley 1141 CO L10 0.0
41 Dhrooti Vyas 1117 IA L11 0.0
42 Sorel Edes 1098 ME L12 0.0
43 Katrina Pritchard 1008 KS L13 0.0
44 Susan Lynn Brown 969 VA L14 0.0
45 Crystal Qian 924 AR L15 0.0
46 Catherine Oliver 900 NE L16 0.0
47 Ann Marie Fitch 893 DE L17 0.0
48 Annie Wang 879 CA L18 0.0
49 Alisha Chawla 819 CA L19 0.0
50 Kaitlynn Loos 734 SD L20 0.0
51 Hannah Whatley 669 SC L21 0.0
52 Faith Munoz unr. TX L22 0.0
Round 2 Pairings
1 Courtney Jamison (2046 : W : 1.0) - Shinan Jin (1686 : B : 1.0)
2 Taylor Bailey (1650 : W : 1.0) - Sylvia S Yang (1911 : B : 1.0)
3 Ashley Carter (1877 : W : 1.0) - Sayaka Foley (1652 : B : 1.0)
4 Rita Mirchandani (1813 : W : 1.0) - Sonya Vohra (1621 : B : 1.0)
5 Jamie Olsen-Mills (1617 : W : 1.0) - Michelle Xue Chen (1762 : B : 1.0)
6 Eve Zhurbinskiy (1747 : W : 1.0) - Rebecca Lelko (1595 : B : 1.0)
7 Brianna Conley (1573 : W : 1.0) - Fiona Lam (1727 : B : 1.0)
8 Rheanna English (1713 : W : 1.0) - Alexandra Wiener (1560 : B : 1.0)
9 Michelle Farell (1506 : W : 1.0) - Amelia Wheeless (1711 : B : 1.0)
10 Janice Chen (1700 : W : 1.0) - Elizabeth Oliver (1322 : W : 1.0)
11 Melanie Newell (1198 : W : 1.0) - Angel Bohannon (1700 : B : 1.0)
12 Rebekah Liu (1699 : W : 1.0) - Ashbea Oyadomari (0 : W : 1.0)
13 Linda Diaz (1726 : W : 0.5) - Morgan Mahowald (994 : B : 1.0)
14 Nisha Deolalikar (1726 : B : 0.0) - Joanna Gossell (1255 : B : 0.5)
15 Ananya Roy (1683 : W : 0.0) - Sorel Edes (1098 : B : 0.0)
16 Dhrooti Vyas (1117 : W : 0.0) - Leanne Hwa (1436 : B : 0.0)
17 Katrina Pritchard (1008 : W : 0.0) - Emily Tallo (1349 : B : 0.0)
18 Hannah Hellwig (1337 : W : 0.0) - Crystal Qian (924 : B : 0.0)
19 Susan Lynn Brown (969 : W : 0.0) - WCM Claudia Munoz (1324 : B : 0.0)
20 Catherine Oliver (900 : W : 0.0) - Erica Barkell (1315 : B : 0.0)
21 Georgia Olvera (1300 : W : 0.0) - Ann Marie Fitch (893 : B : 0.0)
22 Annie Wang (879 : W : 0.0) - Sarah Garza (1294 : B : 0.0)
23 Mira Ensley-field (1258 : W : 0.0) - Alisha Chawla (819 : B : 0.0)
24 Kaitlynn Loos (734 : W : 0.0) - Rebecca Deland (1166 : B : 0.0)
25 Autumn Douthitt (1154 : W : 0.0) - Hannah Whatley (669 : B : 0.0)
26 Faith Munoz (0 : B : 0.0) - Alexa Lasley (1141 : B : 0.0)
Schedule
July 27
1:30 p.m. - 2:30 p.m Opening Ceremony
3:00 p.m. - 6:30 p.m. Round 1 of SPNI
July 28
1:30 p.m. - 5:00 p.m. Round 2 of SPNI and round 1 of Parents/Friends Open
7:00 p.m. SPNI Chess Puzzle Solving Championship
7:30 p.m. Chess lecture by Susan
July 29
1:30 p.m. - 5:00 p.m. Round 3 of SPNI and round 2 of Parents/Friends Open
7:00 p.m. SPNI Blitz Championship
July 30
10:00 a.m. Basketball Game - Rec Center - Court 1
1:30 p.m. - 5:00 p.m. Round 4 of SPNI and round 3 of Parents/Friends Open
7:00 p.m. SPNI Bughouse Championship
July 31
1:30 p.m. - 5:00 p.m. Round 5 of SPNI and final round of Parents/Friends Open
August 1
10:00 a.m. - 1:30 p.m. Round 6 of SPNI
2:30 p.m. Closing Ceremony
---