WCCF June Swiss Tournament Report
06.22.08 Roger Morin scored a perfect 4.0 points in four rounds to win the WCCF June Swiss played in Trescott, Maine on June 14, 2008. Close behind were Hoty Briggs with 3.0 points and Mike McCabe with 2.5. Here's the illustrated report with USCF Crosstable and a selected game.
Tournament winner Roger Morin (right) plays Mike McCabe in round 2.
Thanks to Alba Briggs for contributing to this report.
USCF Crosstable

The brothers Briggs: Ezra (left) plays his older brother Hoty (a.k.a. Alba H. Briggs IV).

Nathaniel Simpson (right) bears down against Mike McCabe.

This time Nathaniel take a shot at Alba Briggs.

The man behind the Washington County Chess Federation and the monthly WCCF Swisses: Alba H. Briggs III.

Up a bishop and two pawns vs a lone pawn Ezra Briggs (right) fell into a stalemate with Mike McCabe in round 3.

Roger Morin

Hoty Briggs was up four pawns in his game with Morin but Morin's pieces proved to be better placed and better coordinated.
Roger Morin - Alba 'Hoty' Briggs 1-0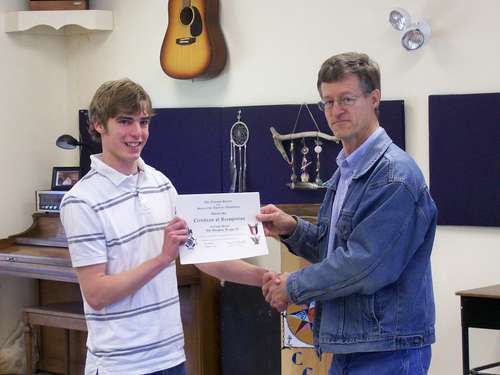 Mike McCabe (right), himself an Eagle Scout, presents a Certificate of Achievement to newly-minted Eagle Scout Hoty Briggs.
---