A Tale of Two Rogers at WCCF February Swiss
03.04.08 Roger Morin and Roger Peterson both had perfect scores after three rounds at the Washington County Chess Federation February Swiss played on February 16th in East Machias. They met each other in the last round and agreed to a draw to share first place. Ezra Briggs scored three points, his only loss being to Peterson, to take first in the K-8 scholastic section.
Roger Peterson (left) plays Roger Morin in the last round of the WCCF February Swiss. This game ended in a draw and the two players shared equal first.
Thanks to Alba Briggs for contributing to this report.

Displaying Gary Kasparov-like intensity, Ezra Briggs took third overall and first in the K-8 section.

Nathaniel Simpson considering his plan of action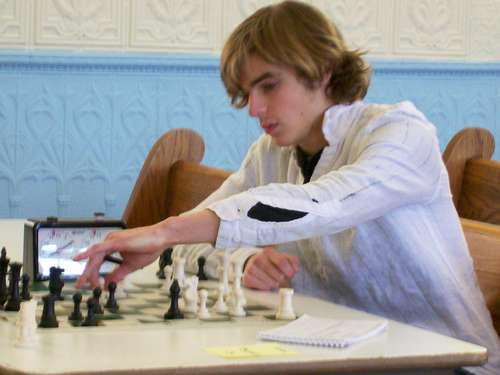 A. H. Hoty Briggs had a difficult tournament winning one from four rounds.

"Hangster" Jans picked up 80 USCF points with his win over...

Logan Thompson.

Nick Beal went two for two with wins over Jans and Simpson.

It's great to see kids thinking: (clockwise from left) Logan Thompson, Nick Beal, "Hangster" Jans and Ezra Briggs.

No shortage of coffee for the game John Morton (left) vs. Roger Morin.

Ezra Briggs (front left) plays Roger Peterson while the Morton - Morin game ensues in the background.

Winners in the K-8 section: Ezra Briggs (left) and Theodore "Hangster" Jans.
---