PVC Cunningham Tournament
02.03.08 One thing is certain. It will be an interesting high school teams state championship this year. Orono High School, after leading the PVC League all season, lost to John Bapst in the end-of-the-year Cunningham Tournament played on February 2nd at Bapst Memorial High School in Bangor and the other two PVC teams, Bangor High School and Hampden Academy, weren't far behind.
Germaine Kickert plays Fritz Eyerer in the last round of the Cunningham Tournament. Kickert went on to win this game to share an undefeated and untied score of 4-0 with Bapst player Zach Smith.
Thanks to all the PVC coaches, parents, boosters and players for making this year's PVC season a great one.
The PVC league and the state championships use a team format in which players on the same boards from each team play each other (board 1 plays board 1, board 2 plays board 2 etc.). The Cunningham Tournament however, used an individual format in which players we paired according to Swiss System rules and then the individual scores of the six players from each team were summed to give the final team scores. The use of a different match format in this tournament clearly benefitted the Bapst team.
The two players with perfect 4-0 scores in this tournament were Gernmaine Kickert of Orono and Zach Smith of Bapst but Bapst had three players in the top five while Orono had only Kickert. This factor allowed Bapst to pull away from Orono in the final tally: Bapst 15, Orono 12.5, Bangor 10.5, Hampden 10.0.
Stay tuned for the High School Teams State Championship to be played at the University of Maine, Orono on March 8, 2008.
Here is the tournament results page in Microsoft Excel. If you don't have Excel you can download a free version of Excel Viewer here.

On fire: Zach Smith scored a perfect 4-0 for Bapst.

Kickert wins her second round game vs. Jacob Cravens of Hampden Academy amidst a group of onlookers.

Scott Dennis seems to receive some divine intervention during his third round game with Gabe Borland. It helped; Dennis went on to win this game and finish the tournament with 2.5 points.

Orono's Emmett Harrity watches as Hampden's Kaitlyn Haase makes a move during their third round game.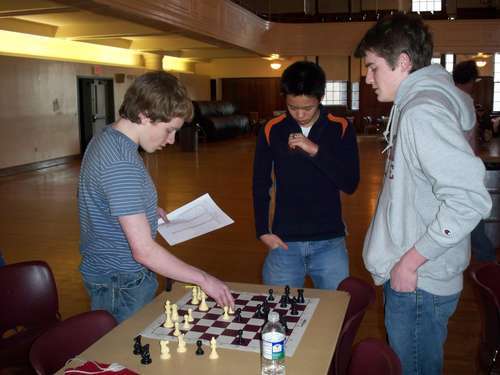 Kurt Eyerer (left) leads the discussion as Henry Chai (center) and older brother Fritz Eyerer look on.

Hampden's Tao Mason

Jamie Ver Le

The clock was a factor in the game McKenney - Mason. Nick McKenney, playing the white pieces, had a material advantage going into the late endgame. Mason then missed an opportunity to promote a pawn but held out while his opponent ran out of time.

Dan Honeycutt

Top scorers (left to right): Germaine Kickert (Orono), Zach Smith (Bapst), Fritz Eyerer (Bapst), Aaron Spencer (Bapst), Andrew Audibert (Bangor) and Ryan Vienneau (Orono)

Germaine Kickert with the first place trophy.

Zach Smith tied for first and received the second place trophy after tiebreaks were calculated.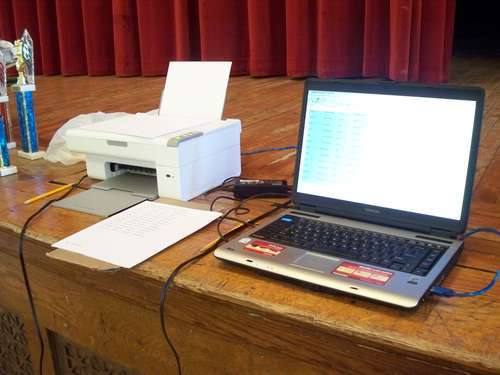 Bangor High School Coach Jon Dearing directed the tournament.
See you all on March 8th at the University of Maine, Orono.
---