PVC Match 6: Orono keeps rollin'; Bangor beats Bapst
01.11.08 In the sixth match of the PVC league, Orono High School beat Hampden Academy 9.5 - 2.5 and Bangor High School edged out Bapst 7 - 5. Orono leads the standings with 12 points followed by Bangor High School with seven and John Bapst with five. Hampden Academy is still scoreless.
Rogan Winch put up 1.5 points for Hampden Academy, scoring one of the two wins for the Broncos.
Thanks to Ben Johnson for contributing to this report.
You'll find Team Standings on sheet 1, Match Results on sheet 2 and Individual Standings on sheet 3 on the results page in Microsoft Excel. If you don't have Excel you can download a free version of Excel Viewer here.
Game of the Week
Margaret Bryan (John Bapst) - Keji Xu (Bangor) 0 - 1
Replay

The other win for Hampden Academy was contributed by Kailyn Haase.

Leading the Orono squad on board one: Germaine Kickert

Blanking Hampden's Zach Malloy 2 - 0: Nikolai Renedo

Upset in round one by Hampden's Haase: Ryan Vienneau

Nick McKenney

Always solid: Avery Cole

Zach Malloy

Grant Aylward had his hands full playing board one for Hampden.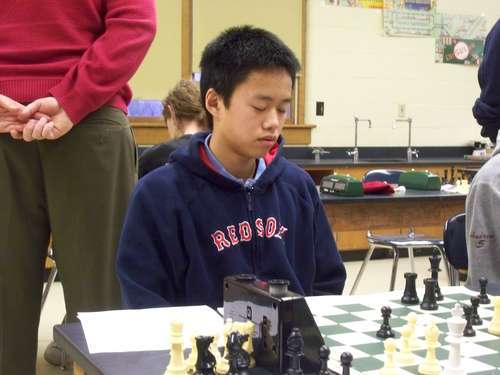 Reaching a deep meditative state: Bangor's top board Henry Chai

Andrew Audibert pulled off an upset in round one over Bapst powerhouse Fritz Eyerer.

This week's Game of the Week was played by Keji Xu and

Margaret Bryan.

Scott Dennis

Mitchell Jameson

Jamie Ver Le playing a new-fangled defense which involves moving the a, b, f and h pawns.

Board one for Bapst: Aaron Spencer

The hand is quicker than the eye: Fritz Eyerer

Zach Smith scored 1.5 out of 2.

Jesse Lancaster

Dan Honeycutt

Young man, young man, there's no need to feel down. Young man, young man, get yourself off the ground.
The 2007 - 2008 Penobscot Valley Conference High School Chess League Schedule
Each player will play two games, one with each color. Board one for the home team will play the white pieces with colors alternating through board numbers. Time control is Game in 45 and all games will begin at 3:00 p.m.
Monday, October 29th @ Hampden Academy
Monday, November 5th @ John Bapst Memorial High School
Monday, November 19th @ Orono High School
Monday, November 26th @ Bangor High School
Monday, December 3rd @ Hampden Academy
Monday, December 17th @ John Bapst Memorial High School
Monday, January 7th @ Orono High School
Monday, January 14th @ Bangor High School
Monday, January 28th @ Hampden Academy
Saturday, February 2nd PVC Tournament @ John Bapst Memorial High School
Saturday, February, 9th Snow Date for PVC Tournament @ John Bapst Memorial High School
John Bapst Memorial High School
---