Fishbein wins Aurora Winter Solstice
12.01.07 Matthew Fishbein, the nine-year-old wunderkind from Cape Elizabeth, won the Open section of the Third Annual Aurora Winter Solstice with 2.5 points in 3 rounds. The tournament, which attracted forty-six players, was played at the Airline Community School in Aurora, Maine on December 1, 2007.
Matthew Fishbein's USCF rating jumped from 1355 to 1430 as a result of his performance in the Aurora Winter Solstice tournament. We estimate that this new rating will place him at number forty on the top one hundred list of USCF rated nine-year-olds in the nation.
USCF Crosstable of this event

Murray Bridges (left) and Ben Johnson begin their last round game with a Petroff. Bridges and Johnson tied for second in the Open section with...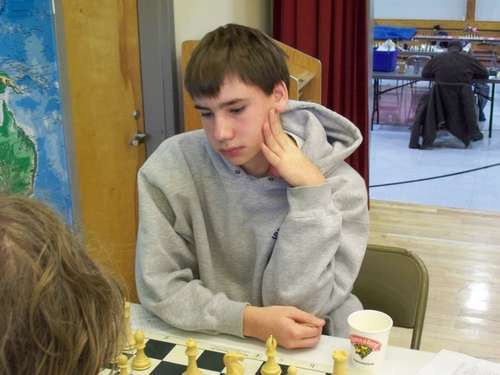 Aaron Spencer.

Aaron received this wooden set and a roll-up board as the highest scoring K-12 player in the Open section.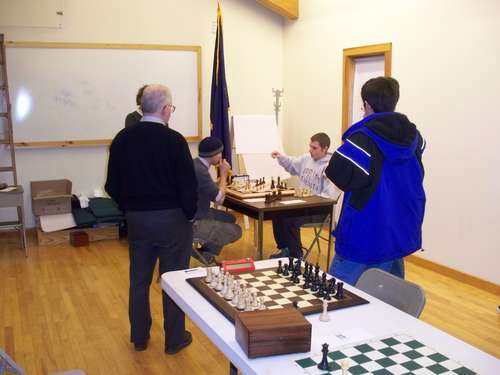 As the Johnson - Bridges game continued it started to draw a crowd.

Then it went into the endgame with Black up a pawn in a rook ending.

Finally, the players agreed to a draw with Black still a pawn up but with just about sixty seconds remaining on his clock.

Bill Gallagher plays on board one during his first round game with Matthew Fishbein. The board: a Signature Contemporary with raised playing surface and Curly Maple and Bloodwood squares, and the pieces: Boxwood and Sandalwood Imperial Collector Series with 4.4 inch kings, are from the House of Staunton.

Action in the Open section (clockwise from foreground left): Ben Johnson, Murray Bridges, Zach Smith, Aaron Spencer, Margaret Bryan and Fred Irons.

The final position in the game Irons - Bryan (1-0).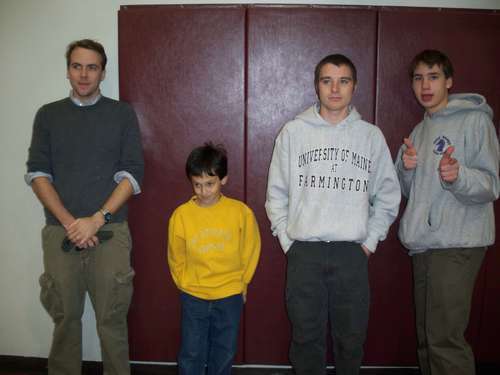 Winners in the Open section in tiebreak order (left to right): Ben Johnson (third), Matthew Fishbein (first), Murray Bridges (second) and Aaron Spencer (top K-12 player in the Open)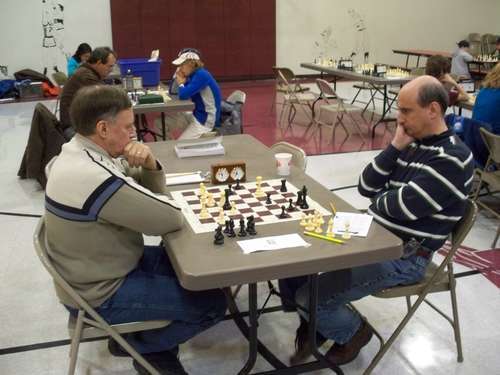 J. Paul Ciarrocchi (left) plays Dan Fishbein in round one of the U1400 section. A three-way tie for first ensued between Ciarrocchi, Fishbein and Orono High School student Nikolai Renedo each of whom scored 2 points.

First place winners in the Under sections received a triple weighted Ultimate Staunton set and roll-up board.

Second place winners in the Under sections took home a double weighted Club Special set and roll-up board.

And third place winners received Al Woolum's Chess Tactics for Students.

This last round game between Cape Elizabeth teammates Brett Parker (left) and Matthew Reale-Hatem was a tense encounter.

With this handshake Brett Parker (left) takes first in the U1000 section.

Winners in the U1000 section (left to right): Wes Parker (second), Matthew Reale-Hatem (third), and Brett Parker (first)

The largest section in the tournament was the U600 section which attracted eighteen players.

Danni Wong-Achorn plays Andrew Jones in the second round of the U600 section.

Players in the U600 section with their awards

Winners in the U600 section (left to right): Jack Demeter (first), Vincent DeMarco (third), and Danni Wong-Achorn (second)

Kaitlyn Haase

Isaiah Massey

Alex Brown

Max DeLuca Lowell (left) and Isaac Robinson talk chess.

Leo Wing bones up on his chess strategy with GM Lev Alburt's book Chess Strategy for the Tournament Player.

True to its billing, the snack bar delighted players and guests with homemade treasures such as scones, breads and lentil vegetable soup to name a few.

Assistant tournament director Andy Bryan does the grunt work while the chief TD Dan DeLuca snaps the pictures.
Thanks to all who made this tournament a great success. Hope to see you at next year's Aurora Winter Solstice!
---