Penobscot Valley Conference High School Chess League
10.30.07 The Penobscot Valley Conference High School Chess League's 2007 - 2008 season is underway. The four high schools that participate in the league are: Bangor High School, Hampden Academy, John Bapst Memorial High School and Orono High School. We bring you a pictoral report from the season's kick-off match at Hampden Academy on Monday, October 29, 2007, the PVC Game of the Week and the scheudule of PVC matches to come.
Against a late fall backdrop, The Hampden Academy Bronco welcomes players to the 2007 - 2008 PVC High School Chess League kick-off match.
Thanks to Ben Johnson for contributing to this report.
The PVC League started the 2007 - 2008 season with a new format--each of this year's matches will be attended by all four schools. In previous years, matches were contested between two schools at a time. This new format makes for a larger event with increased opportunities for sharing of ideas and making new friends.
The big winner of the match was Orono High School, led by their powerhouse on board one, Germaine Kickert. Orono scored a crushing 13-1 victory over Hampden Academy. Hampden's only bright spot was Andrew Deighan's win over Avery Cole. Bangor High School and John Bapst played to a nip-and-tuck 6-6 tie.
You'll find Team Standings on sheet 1, Match Results on sheet 2 and Individual Standings on sheet 3 on the Individual and Team Results page in Microsoft Excel. If you don't have Excel you can download a free version of Excel Viewer here.
Each week, coaches will select one game from the match as the Game of the Week. This week's game was an interesting battle between the top boards from John Bapst and Bangor. Bapst's Fritz Eyerer took it to Bangor's Henry Chai and scored the full point.
PVC 2007 -2008 Match 1 Game of the Week

Orono High School's top board: Germaine Kickert

Kickert's opponent, playing top board for Hampden Academy: Kaitlyn Haase

Current K-8 State Champion, Maggie Bryan plays the black pieces for John Bapst vs. Andrew Audibert of Bangor while Fritz Eyerer looks on. This game ended 0-1 for Bryan but Audibert equalized in game two, himself winning with the black pieces.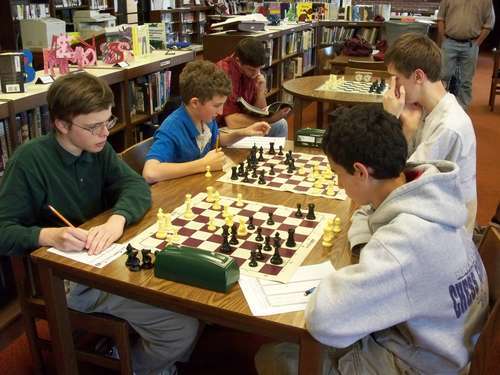 Orono's John Robinson (foreground left) plays Dan Honeycutt of John Bapst while Honeycutt's teammate Jesse Lancaster (background left) takes on Matthew Musgrave of Bangor.

No quarter asked or given: Bapst's Gillian Anderson scored two in a row vs. Tyler Dama of Bangor.

What better way to spend some downtime than a few games of Blitz Bughouse? Clockwise from left: Dan Honeycutt, Gabe Borland, Cullen Edes and Avery Cole do just that.

John Bapst coach Bob Solinger (right) confers with Orono coach Fred Irons.

A day after the Boston Red Sox won the World Series, Ryan Vienneau proudly displays his Red Sox Nation colors.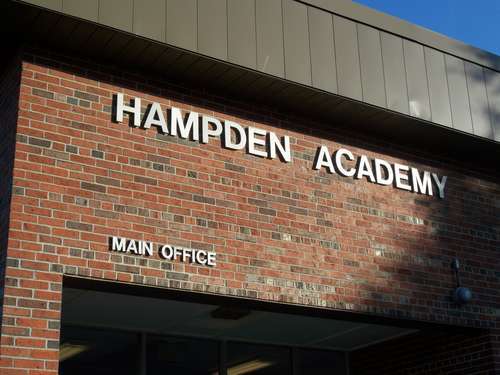 Thanks to Hampden Academy for hosting this event. The PVC League Match 2 will continue on November 5th at John Bapst Memorial High School.
The 2007 - 2008 Penobscot Valley Conference High School Chess League Schedule
Each player will play two games, one with each color. Board one for the home team will play the white pieces with colors alternating through board numbers. Time control is Game in 45 and all games will begin at 3:00 p.m.
Monday, October 29th @ Hampden Academy
Monday, November 5th @ John Bapst Memorial High School
Monday, November 19th @ Orono High School
Monday, November 26th @ Bangor High School
Monday, December 3rd @ Hampden Academy
Monday, December 17th @ John Bapst Memorial High School
Monday, January 7th @ Orono High School
Monday, January 14th @ Bangor High School
Monday, January 28th @ Hampden Academy
Saturday, February 2nd PVC Tournament @ John Bapst Memorial High School
Saturday, February, 9th Snow Date for PVC Tournament @ John Bapst Memorial High School
John Bapst Memorial High School
---