Mexico City Round 5: Anand leads with 3.5
09.19.07 Lots of fighting chess in this round. Three of the four games were decisive and all the winners had the white pieces: Anand over Svidler, Grischuk over Morozevich and Gelfand over Aronian, Leko and Kramnik drew. This puts the world's highest rated player and top seed Viswanathan Anand in the lead with 3.5 points.

The 2007 World Chess Championship will be played from September 12 - October 1, 2007 at the Sheraton Centro Histˆ"rico Hotel in Mexico City, Mexico. Eight of the world's strongest players will face each other in a double round robin tournament to determine the new World Champion. All games begin at 3:00 p.m. EST
Official site of the 2007 World Chess Championship
Watch LIVE chess games from the World Championship here.
Round 5: Tuesday, Sept. 18th 2007, 15:00h EST
Viswanathan Anand 1-0 Peter Svidler
Alexander Grischuk 1-0 Alexander Morozevich
Peter Leko 1/2-1/2 Vladimir Kramnik
Boris Gelfand 1-0 Levon Aronian
Round 5 Games
Standings after Fifth Round


The leader with 3.5 points: Vishy Anand of India.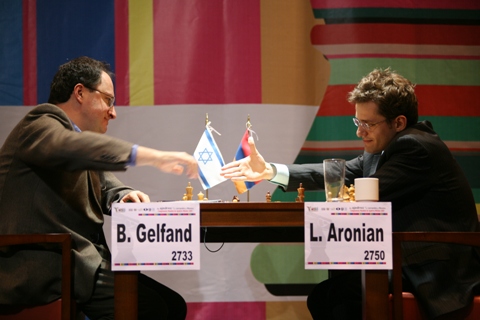 Boris Gelfand pulls off a victory vs. the Armenian upstart Levon Aronian.

Alexander Grischuk handed Alexander Morozevich a loss in round five.



Peter Leko showing his characteristic grim determination in his round five game vs. the current world champion Vladimir Kramnik. This game ended in a draw.
Full Schedule and Results (first half)
Round 1: Thursday, Sept. 13th 2007, 15:00h EST
Vladimir Kramnik 1/2-1/2 Peter Svidler
Alexander Morozevich 1/2-1/2 Levon Aronian
Viswanathan Anand 1/2-1/2 Boris Gelfand
Alexander Grischuk 1/2-1/2 Peter Leko
Round 1 Games
Round 2: Friday, Sept. 14th 2007, 15:00h EST
Peter Svidler 1/2-1/2 Peter Leko
Boris Gelfand 1/2-1/2 Alexander Grischuk
Levon Aronian 0-1 Viswanathan Anand
Vladimir Kramnik 1-0 Alexander Morozevich
Round 2 Games

Round 3: Saturday, Sept. 15th 2007, 15:00h EST
Alexander Morozevich 1-0 Peter Svidler
Viswanathan Anand 1/2-1/2 Vladimir Kramnik
Alexander Grischuk 1/2-1/2 Levon Aronian
Peter Leko 1/2-1/2 Boris Gelfand
Round 3 Games
Round 4: Sunday, Sept. 16th 2007, 15:00h EST
Peter Svidler 1/2-1/2 Boris Gelfand
Levon Aronian 1-0 Peter Leko
Vladimir Kramnik 1/2-1/2 Alexander Grischuk
Alexander Morozevich 1/2-1/2 Viswanathan Anand
Round 4 Games

Free day: Monday, Sept. 17th 2007
Round 5: Tuesday, Sept. 18th 2007, 15:00h EST
Viswanathan Anand 1-0 Peter Svidler
Alexander Grischuk 1-0 Alexander Morozevich
Peter Leko 1/2-1/2 Vladimir Kramnik
Boris Gelfand 1-0 Levon Aronian
Round 5 Games

Round 6: Wednesday, Sept. 19th 2007, 15:00h EST
Peter Svidler--Levon Aronian
Vladimir Kramnik--Boris Gelfand
Alexander Morozevich--Peter Leko
Viswanathan Anand--Alexander Grischuk
Round 7: Thursday, Sept. 20th 2007, 15:00h EST
Alexander Grischuk--Peter Svidler
Peter Leko--Viswanathan Anand
Boris Gelfand--Alexander Morozevich
Levon Aronian--Vladimir Kramnik
Images courtesy www.chessmexico.com
---