Mexico City Round 13: Kramnik has lost the title
09.28.07 Kramnik and Gelfand played to a draw and with that Kramnik has lost the title of world champion. Leko playing the white pieces beat Morozevich. Grischuk - Anand turned out to be the game of the day, it was a long and interesting struggle that, at points, Anand was in jeopardy of losing. He fought gallantly and maintained the draw. With only one round to go there is one configuration in which Anand would tie for the title and not win it outright. Anand would need to lose to Leko and Gelfand would have to beat Morozevich. This scenario highly unlikely as Anand - Leko will undoubtedly be a quick draw.
The 2007 World Chess Championship will be played from September 12 - October 1, 2007 at the Sheraton Centro Histˆ"rico Hotel in Mexico City, Mexico. Eight of the world's strongest players will face each other in a double round robin tournament to determine the new World Champion. All games begin at 3:00 p.m. EST
Official site of the 2007 World Chess Championship
Watch LIVE chess games from the World Championship here.
Round 13: Friday, Sept. 28th, 2007, 15:00h EST
Levon Aronian 1/2-1/2 Peter Svidler
Boris Gelfand 1/2-1/2 Vladimir Kramnik
Peter Leko 1-0 Alexander Morozevich
Alexander Grischuk 1/2-1/2Viswanathan Anand
Standings after Thirteenth Round

Vladimir Kramnik is out of the running for first place in this world championship tournament.

Anand held Grischuk to a draw in this round thirteen game to all but assure himself the title of world champion.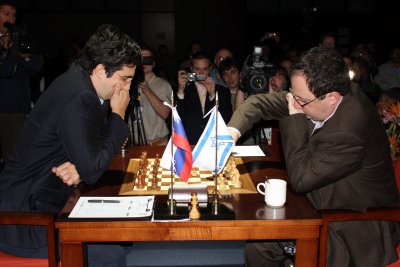 Boris Gelfand just will not let up. In this game he took the title away from Kramnik by playing to a draw.

The only decisive game of the round. Leko notched one vs. Morozevich.

A difficult tournament for both of these gentlemen: Lev Aronian and Peter Svidler.
Full Schedule and Results (second half)
Round 8: Friday, Sept. 21st 2007, 14:00h
Peter Svidler 1/2-1/2 Vladimir Kramnik
Levon Aronian 1/2-1/2 Alexander Morozevich
Boris Gelfand 1/2-1/2 Viswanathan Anand
Peter Leko 1-0 Alexander Grischuk
Round 8 Games
Free day: Saturday, Sept. 22nd 2007

Round 9: Sunday, Sept. 23rd 2007, 15:00h EST
Peter Leko 1/2-1/2 Peter Svidler
Alexander Grischuk 1-0 Boris Gelfand
Viswanathan Anand 1/2-1/2 Levon Aronian
Alexander Morozevich 1-0 Vladimir Kramnik
Round 9 Games
Round 10: Monday, Sept. 24th 2007, 15:00h EST
Peter Svidler 1/2-1/2 Alexander Morozevich
Vladimir Kramnik 1/2-1/2 Viswanathan Anand
Levon Aronian 1-0 Alexander Grischuk
Boris Gelfand 1/2-1/2 Peter Leko
Round 10 Games
Round 11: Tuesday, Sept. 25th 2007, 15:00h EST
Boris Gelfand--Peter Svidler
Peter Leko--Levon Aronian
Alexander Grischuk--Vladimir Kramnik
Viswanathan Anand--Alexander Morozevich
Round 11 Games
Free day: Wednesday, Sept. 26th 2007

Round 12: Thursday, Sept 27th 2007, 15:00h EST
Peter Svidler 1/2-1/2 Viswanathan Anand
Alexander Morozevich 1-0 Alexander Grischuk
Vladimir Kramnik1-0 Peter Leko
Levon Aronian 0-1 Boris Gelfand
Round 12 Games
Round 13: Friday, Sept. 28th 2007, 15:00h EST
Levon Aronian 1/2-1/2 Peter Svidler
Boris Gelfand 1/2-1/2 Vladimir Kramnik
Peter Leko 1-0 Alexander Morozevich
Alexander Grischuk 1/2-1/2 Viswanathan Anand
Round 13 Games

Round 14: Saturday, Sept. 29th 2007, 15:00h EST
Peter Svidler--Alexander Grischuk
Viswanathan Anand--Peter Leko
Alexander Morozevich--Boris Gelfand
Vladimir Kramnik--Levon Aronian
Sunday, Sept. 30th 2007
Possible tiebreaks, closing ceremony
All 2007 World Championship Games

Images courtesy of www.susanpolgar.com
---