Roger Peterson steps up at WCCF June Swiss
06.22.07 It was four up and four down for Roger Peterson at the Washington County Chess Federation June Swiss played in Trescott on June 16, 2007. Following Peterson's perfect four point performance were Lily Briggs in second with three points and a group of six players all scoring two points to tie for third overall. In the K-8 section Ezra Briggs took first, Logan Thompson second and Theodore Jans third.
Tournament winner Roger Peterson (left) battles Lily Briggs in the third round of the Washington County Chess Federation June Swiss.
Thanks to Alba Briggs for contributing to this report.

Thomas Harvey took home the third place prize on tie-breaks in the open section with two points.

K-8 section winners (left to right): Ezra Briggs, Logan Thompson and Theodore Jans

Nathaniel Simpson (997) scored stunning upsets over Mike McCabe (1687) and Thomas Harvey (1528).

Richard Look (right) plays Mike McCabe in the last round.

The winner of the first WCCF event back in September 2006, Mike McCabe.

Thomas Harvey (left) post mortems with Roger Peterson while Hoty and Lily Briggs look on.

Ezra Briggs (left) vs Theodore Jans in round 4.

K-8 section second place finisher Logan Thompson

Theodore Jans playing in his first USCF-rated tournament.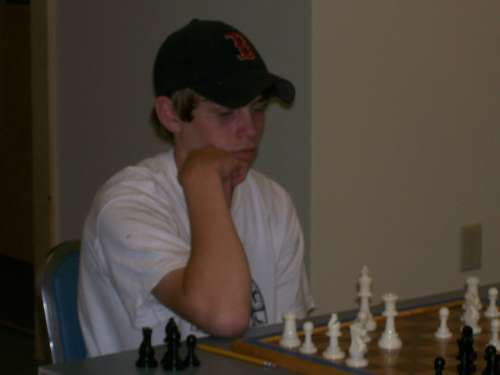 Nicholas Beal

WCCF mastermind and tournament director Alba Briggs
---