National High School Championship Day 2 Report
04.15.07 Orono Middle School gave a sparkling performance today in the Under 1200 section. Led by Jouwei Zou, who scored three in a row in Rounds 3, 4, and 5, the team rolled on to collect 9 out of a possible 12 points for the day. Zou's stellar performance was supported by each of his teammates kicking in 2 points on the day. For John Bapst, Fritz Eyerer and Murray Bridges lead their team with 3.5 points after 5 rounds.
Gillian Anderson plays her Round 5 game amidst a sea of empty chairs and tables. This marathon session ended in a draw giving Anderson 2.5 out of 5.
Official site of the 2007 National High School Championship
Main Event Rounds
Round 1 Friday 1:00 p.m.
Round 2 Friday 7:00 p.m.
Round 3 Saturday 9:00 a.m.
Round 4 Saturday 2:00 p.m.
Round 5 Saturday 7:00 p.m.
Round 6 Sunday 9:00 a.m.
Round 7 Sunday 2:00 p.m.
Time control is Game in 120 minutes.
The tournament will be contested in five sections:
K-12 Championship
K-12 Under 1500
K-12 Under 1200
K-12 Under 900
K-12 Unrated
Trophies will be awarded for at least the top 25 players and teams in each section. Also class prizes will be awarded to the top three in each of the following classes in the Championship section: 1799-1600, 1599-1400 and U1400.
John Bapst scores after Round 5:
Under 1500
Fritz Eyerer 3.5
Murray Bridges 3.5
Aaron Spencer 1.5
Frank Kessler 0.0
Under 1200
Zack LaPierre 2.0
Kurt Eyerer 2.5
Under 900
Zach Smith 3.0
Dan Honeycutt 3.0
Gillian Anderson 2.5
Ken Ginn 2.0
Max DeLuca Lowell 1.5
Unrated
Omar Khan 1.5
Orono Middle School scores after Round 5:
Under 1200
Jouwei Zou 3.5
Nicolai Renedo 3.5
Avery Cole 3.0
Nick Peterson 2.0

Jouwei Zou

Nikolai Renedo

Nick Peterson

Avery Cole

Orono Middle School Coach Ryan Tripp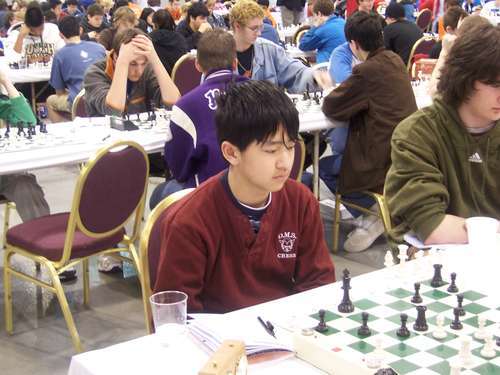 Starting the streak: Jouwei Zou in game 3

Nick Peterson drew this game in Round 3.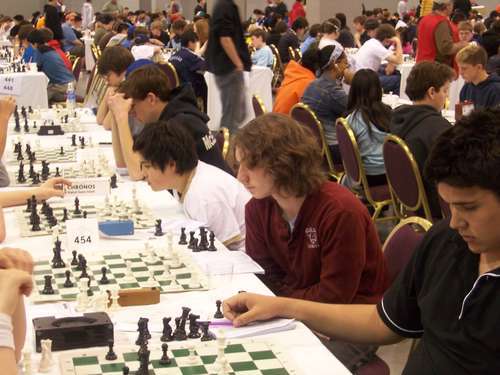 Avery Cole on his way to a win in Round 3.

Nikolai Renedo

Fritz Eyerer now co-leads his team with...

Murray Bridges.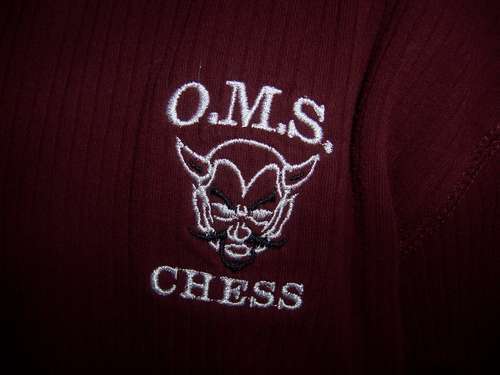 Orono Middle School's team shirt
Two rounds to go!
---