National High School Championship Day 1 Report
04.14.07 Murray Bridges is the high scorer for Bapst after two rounds with 1.5 points, followed by seven players who split the round scoring one point apiece. Here is the illustrated tournament report for Rounds 1 and 2. We are remiss for not recognizing the Orono Middle School Chess Team in yesterday's report, as they are at the tournament as well, represented by Avery Cole, Nick Peterson, Nikolai Renedo, and Jouwei Zou. Images of the Orono team and a more detailed update on their results will appear in the Day 2 report.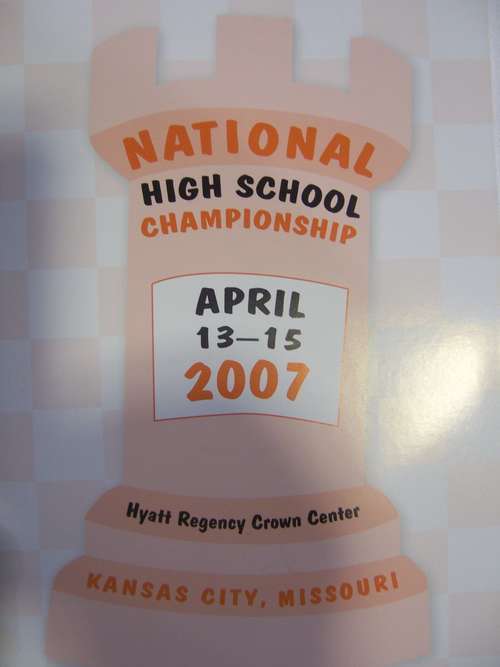 Day 1 of the National High School Championship is in the books.
Official site of the 2007 National High School Championship
Main Event Rounds
Round 1 Friday 1:00 p.m.
Round 2 Friday 7:00 p.m.
Round 3 Saturday 9:00 a.m.
Round 4 Saturday 2:00 p.m.
Round 5 Saturday 7:00 p.m.
Round 6 Sunday 9:00 a.m.
Round 7 Sunday 2:00 p.m.
Time control is Game in 120 minutes.
The tournament will be contested in five sections and Bapst will be playing in four of them:
K-12 Championship
K-12 Under 1500
K-12 Under 1200
K-12 Under 900
K-12 Unrated
Trophies will be awarded for at least the top 25 players and teams in each section. Also class prizes will be awarded to the top three in each of the following classes in the Championship section: 1799-1600, 1599-1400 and U1400.
The John Bapst U1500 team holds a tenuous grip on twenty-third place with 3 points after two rounds. Murray Bridges in typical fashion drew his first game and played a fine game in Round 2 to bring home the full point. Aaron Spencer playing on Board 2 had a harrowing trip in from Boston, finally arriving today after numerous flight cancellations and delays. Aaron made it to the board in Round 1 after about thirty minutes had elapsed on his clock. (Tournament Directors direct players to start their opponent's clocks whether they are at the board or not. After one hour has elapsed without one of the players showing up the game is ruled forfieted.) He kept his cool and managed a draw but no doubt exhaused after the ordeal dropped his second round game after an early error. Fritz Eyerer is one and one and Frank Kessler is looking forward to greener pastures as he remains scoreless.
In the U1200 section Zack LaPierre is back in form winning his second game after a disappointing loss in Round 1. Kurt Eyerer also went one and one, winning his first then dropping his second.
In the U900 section Gillian Anderson, Ken Ginn, Daniel Honeycutt and Zach Smith each have 1 point for a very respectable 4 points out of a possible eight.
Also in the U900 section Max DeLuca Lowell playing as an individual has managed one draw in two games.
Omar Kahn is playing in the unrated section and is yet to post a win.
After Round 1 Orono Middle School scored 1 point with draws from Nickolai Renedo and Jiawei Zou. Avery Cole, who is coming off an illness, and Nick Peterson were scorless after one round.

The empty playing hall just before the start of Round 1.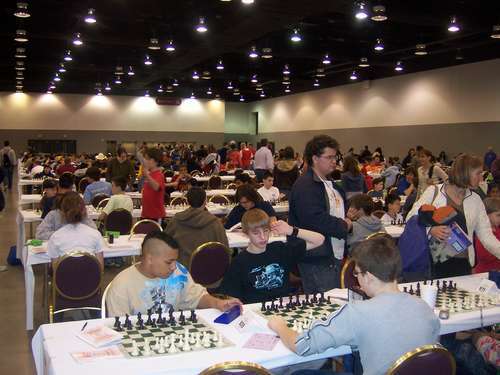 The same angle moments later as Round 1 gets underway.

If it's good enough for Emanuel Lasker, it's good enough for us! A game of Go as preparation for the grueling seven rounds of national-level chess to come.

Ledgendary coach and step dad of the second highest rated player in the United States, Hikaru Nakamura: Sunil Weeramantry

International Master and top seed in the Championship section, Salvijus Bercys (right) plays Lowiza Livschitz on Board 1 in Round 2.

International Master Alex Lenderman (left) plays Andy May on Board 2 in Round 2.

Oscar Santana, (right) one of the players described in Michael Weinreb's new book, The Kings of New York: A Year Among the Geeks, Oddballs, and Genuises Who Make Up America's Top High School Chess Team, plays a friendly game with fellow Chess-in-the-Schools staff member Shawn Smith.



More Chess-in-the-Schools blitzing: Ian West (right) plays a few 3-minute games with Eric Hutchins. The Chess-in-the-Schools program hosted ChessMaine in New York City recently (To see the report of this visit click here.) and the two are planning a tournament and cultural exchange in Maine this summer. More details will be posted on the ChessMaine events page.

Gilian Anderson ready for Round 2

Avery Cole of Orono Middle School (center in yellow) in full concentration mode.

Daniel Honeycutt chalks up a win in Round 2.

One of the youngest competitors in the tournament: seven-year-old Max DeLuca Lowell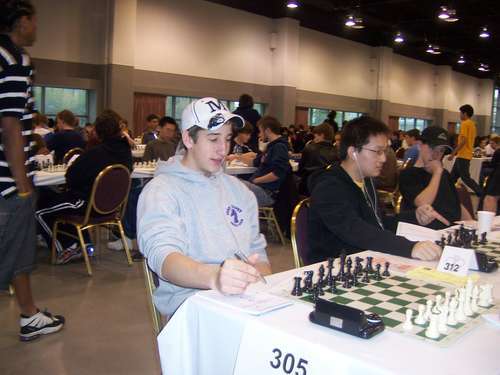 Frank Kessler prepares to do battle.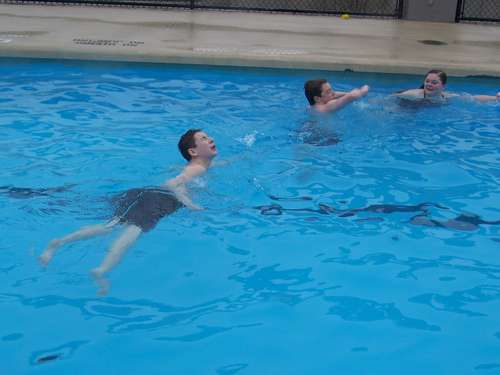 You've heard of the old camp game Marco Polo, well this is the chess version: Giuoco...Piano.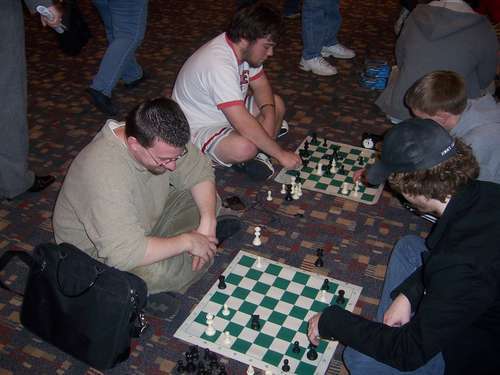 Chess is everywhere! The floor makes as good a spot as any for a few skittles games.
Much more to come from Kansas City, Missouri!
---