ChessMaine meets Chess-in-the-Schools in New York City
12.19.06 "Use all your pieces, castle, take your time and good luck!" Those were a coach's last words of encouragement to his student at the Brooklyn Chess Tournament held at Intermediate School 318 in Brooklyn, New York on Saturday, December 16, 2006. The tournament is part of a series of weekly scholastic tournaments hosted by Chess-in-the-Schools, a not-for-profit educational organization dedicated to stimulating and enhancing learning skills by teaching chess to kindergarten through eighth grade children in New York's inner-city public schools, in after-school programs, tournament competitions, and College Bound programs for high school students. We visited with some of the organization's outstanding staff and students and brought back to Maine a host of fresh ideas and plans for collaboration.
The Chess-in-the-Schools logo appears on chess boards provided to schools at no cost.
Chess-in-the-Schools (CIS) uses a sixteen-week program to teach chess as part of the curriculum in elementary and intermediate schools in New York City that are eligible for Title 1 funding. Students receive a full period of chess instruction per week provided by highly qualified chess teachers who are trained, mentored and employed by CIS. During the 2005-2006 academic year the In-School program served over 30,000 children in 120 schools.
In addition to the In-School program, CIS offers After School, Team, Tournament and Summer programs as well as College Bound and Bridge Academy (a link between intermediate school and high school) programs.
In meetings with CIS staff we discussed the possibility of Maine teachers and chess instructors participating in an intensive traning program with the primary goal of increasing the number of students benefitting form quality chess instruction in Maine schools. This model has been used with great success in the Miami-Dade (Florida) County public schools.
Many more initiatives, ideas and possibilities were discussed. As we work through this exciting process we will keep you informed.
Our deepest appreciation goes to the staff and students of Chess-in-the-Schools who welcomed us with open arms and smiling faces.

Chess-in-the-Schools President Marley Kaplan

CIS Vice President for Programs Alexander Beltre (right) with John Bapst Memorial High School (Bangor, Maine) Chess Coach Bob Solinger

CIS Instructor Lily Faerman teaching students at PS 315 in Brooklyn

CIS Professional Development Manager Ronald Boocock pores over lessons plans after observing a chess class

CIS College Bound Program Director (and daughter of Bob Solinger) Juliana Solinger

One of the many striking posters that adorn the CIS offices in downtown Manhatten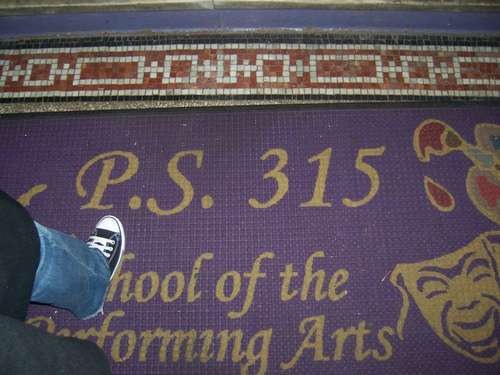 A student enters PS 315 in Brooklyn

The exterior of IS 318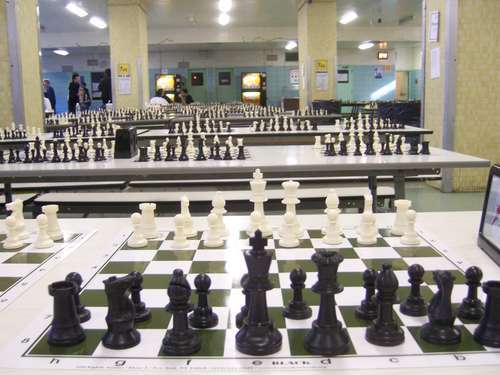 Ready for the tournament and...

...let the games begin!

And of course, the skittles room.
Visit the Chess-in-the-Schools website here: www.chessintheschools.org
---