Aurora Winter Solstice
12.03.06 Forty players from Cape Elizabeth to Lubec and Deer Isle to Bangor decended upon the Airline Community School in Aurora, Maine for the 2nd Annual Aurora Winter Solstice Tournament held on Saturday, December 2, 2006. Winners in each section were: Ghezai Menelik of Bangor (Open), Gabe Borland of Orono (K-12), Peter Campbell of Cape Elizabeth (K-8), Ezra Briggs of Lubec (K-5) and Isaac Robinson of Bangor (K-3). The logo from Cape Elizabeth's team t-shirt summed up the enthusiasm of the day. USCF Crosstable of this event
The tournament was directed and organized by Dan DeLuca and Andy Bryan. In addition to great chess, the Aurora Winter Solstice featured great food including lentil soup, clam chowder, homemade breads, scones and pastries and a cornucopia of other culinary delights. Thanks to all the volunteers, chaperones and players who made this tournament a great success.
Kids (and grown-ups) love chess!

Tom Sandford (left) battles Ghezai Menelik during their last round game. Menelik went on to win this game to take first in the Open section with three points.

Winner of the K-12 section Gabe Borland (foreground right) plays John Soong while Lily Briggs plays her brother Alba Houghton (Hoty) Briggs and Zach Smith (background left) takes on Max Berube in fourth round action.

Round 1 underway: Peter Campbell plays Samantha Butt in the K-8 section.

K-12 winners (left to right): Hoty Briggs (third), Lily Briggs (second) and Gabe Borland (first).

K-8 section players (left to right): Shannon Daly (second), Corey Robbins (tenth), Peter Campbell (first), Brett Parker (fifth), Samantha Butt (sixth), Haley DeLuca Lowell (third), Danielle Wong-Achorn (twelfth), Mary Briggs (seventh), Joey Ahearn (ninth) and Robert Freccero (fourth).

K-5 section players (left to right): Adrianna Keefe (K-5 eighth), Anna Bryan (K-5 third), Jack Demeter (K-5 second), Laddy DeLuca Lowell (K-3 second), Andrew Jones (K-5 sixth), Ezra Briggs (K-5 first), Isaac Robinson (K-3 first)and Max DeLuca Lowell (K-3 third).

Second round games in the Open section (foreground to background, left to right): Tom Sandford, Mark Maynard, J. Paul Ciarrocchi, Fred Irons, Aaron Spencer and Andy Bryan.

Isaac Robinson

Max DeLuca Lowell

Max Berube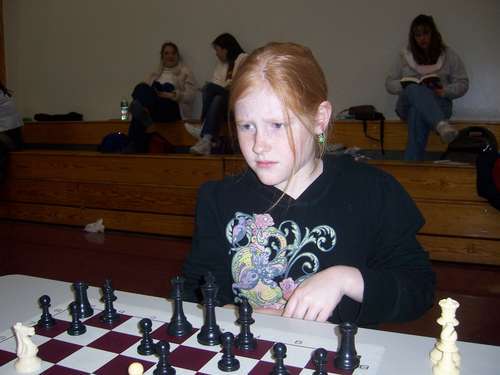 Adrianna Keefe

The last round game in the K-5 section between Ezra Briggs and Laddy DeLuca Lowell was an epic struggle. The game was dead even until early in the endgame when Ezra activated his rook and went two pawns up. Then making a crital decesion late in the game, he sacrificed one of his remaining two pawns in order to march his king to the a-file. Laddy defended gallantly but the white pawn on a6, white rook on b6 and white king on b5 were able to close out black's king on d5 (see diagram below):

With beautiful percision, Ezra playing the white pieces, forced the trade of rooks and queened on b8. This game earned him the K-5 first place trophy and Laddy the K-3 second place trophy. It's amazing that this quality of play is coming from fourth (Ezra) and third (Laddy) graders! Our future looks bright!
---