Portland Chess Club Friday Night Fall Swiss
09.01.06 The Portland Chess Club is hosting a three round swiss on three Friday nights in September, October and November. For more information, click on the Events page or see the details below.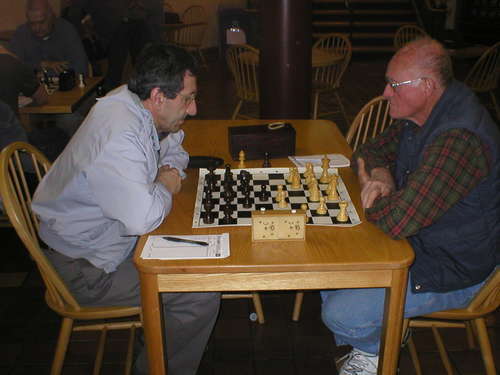 Ruben Babayan playing the Black pieces vs. Robert Jenkins at a recent tournament
Portland Chess Club Friday Night Fall Swiss
3 rounds USCF rated Swiss style Dates: Sep, Oct, Nov, 2006
Game 1 on Friday 9/22 || Game 2 by Friday, 10/13 || Game 3 by Friday, 11/10
Entry fee: $5.00 Time control: G/75 Prizes: 1st = $25 2nd = $10 (based on 8 entries)
Game nights to be arranged by mutual agreement of opponents. Pairings will be done when all games in a round are completed, which may speed up event completion. Eight places are open, after that entries will only be accepted in pairs to avoid forced byes. USCF membership required.
Entries to Lee Doucette @ the club Friday night, or email to lfdoucet@maine.rr.com by 9/22/06 to reserve a space.
---