2006 Maine Scholastic Championship for Girls
Margaret Bryan Crowned State Girl'Äôs Scholastic Chess Champion
Thanks to Ron Lewis for contributing to this report.
04.02.06 Cigar smoking old men in a parlor? Not a chance. These Girls Rock! The 2006 Maine Scholastic Championship for Girls is in the history books. Twenty-seven players competed and Margaret Bryan of Airline Community School swept the field with a perfect 4-0. Close on her heels were Lily Briggs of Maranatha Homeschool Fellowship with 3.5 and a pack of six players with 3.0. We bring you the full illustrated report with crosstables.
Excitement reigned high as 27 young chess players gathered to compete for the title of the State Scholastic Girl'Äôs Chess Champion. This first-ever event also determined the player eligible to represent the State of Maine at the Susan Polgar National Invitational Championships for Girls to be held in Chicago in August. This was the last of a series of State Scholastic competitions held at the University of Maine Memorial Union in Orono by the Maine Association of Chess Coaches.
The tournament was won by Margaret Bryan, sixth-grader from the Airline Community School in Aurora with a perfect 4-0 score. Second overall was Lily Briggs of Maranatha Homeschool Fellowship, tied for third overall and receiving the 3rd place trophy on tie-breaks was Goldie Garcia, Deer-Isle Stonington, with a 3-1 score.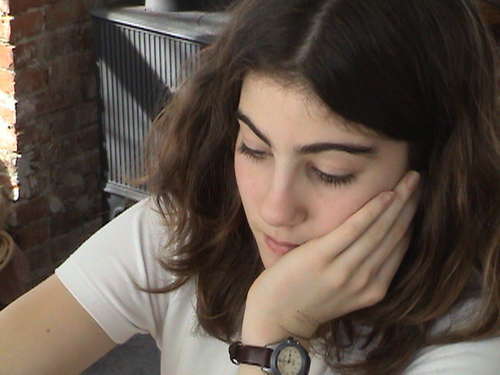 Margaret Bryan, Maine Scholastic Girls Champion

Lily Briggs, Maine Scholastic Girls Runner-Up
Goldie and Margaret, first and second seeded players, appropriately met in the final round with 3-0 scores. Goldie ventured a king pawn opening, and Margaret quickly answered with a center-counter defense, an opening she had used successfully in the second round. In the next few moves, Margaret was quickly able to win a rook, swap off several pieces and transition into a won end game as Goldie was unable to capitalize on a passed a-pawn.

Goldie Garcia, Tied For 3rd Overall And Received Trophy On Tie-Breaks

Lily Briggs (left) and Sorel Edes
Trophies as class prizes were also provided for other competitors. In the K-2 class, Katia Dermott of Tody Pond School was the winner with a 1.5 score. Also from the Airline Community School, Haley DeLuca Lowell scored 3-1 to capture the Grade 3-5 trophy. In the Grade 6-8 class, Shannon Daly (Cape Elizabeth) scored 3-1 to take home the top trophy. In the high school class, Martha Wittick of Piscataquis Community High School also scored 3-1 and received a trophy.

Katia Dermott, Top Grade K-2

Haley DeLuca Lowell, Top Grade 3-5, Tied For Third Overall

Shannon Daly, Top Grade 6-8, Tied For Third Overall

Martha Witick, Top Grade 9-12, Tied For Third Overall
Tournament Leader and Director was Dan DeLuca. Assisting were Andy Bryan, Tom Sandford, Fred Irons, Kathy Richards and Ron Lewis. The University of Maine Women'Äôs Studies sponsored the event and the University of Maine provided the playing facilities.

Megan Southard, Tied For Third Overall

Miriam Nielsen, Tied For Third Overall

Cyndi Currier

Holly Brewer

Abigail Grindle

Janelle Ciomei

Mary Briggs

Lydia Mackay

Kristen Weeks

Megan Weeks

Rachel Kahn

Louise Nielsen

Madeline Allen-Rahill

Cailyn Crosby

Alexandria Toby

Anne Witick

Jessica Benson

Bridget Littlefield

Julia Shaffer
---