Bhutan Travelogue
12.23.17 When the possibility of travelling to the remote Buddhist Kingdom of Bhutan presented itself, we jumped at the opportunity. What resulted was an epic three-nation journey that included (among many other wonders) playing chess in the foothills of the Himalayas, paying homage at the final resting place of Mahatma Gandhi, and visiting the oldest, continually running chess club in the world.
One of the most iconic and most photographed monasteries in Bhutan, Taktsang (meaning Tiger's Nest) sits proudly atop a cliff in Paro.
On November 12, 2017 we boarded a flight out of Boston's Logan Airport bound for Zurich, Switzerland, Delhi, India and Paro, Bhutan. It was an epic, fascinating, beautiful, two-and-a-half week journey.
Bhutan has a unique high quality/low quantity visitor policy. Travelers are required to secure the services of a government-approved travel agent and pay between $250-$300 per day (depending on the season) for the privilege of visiting this remote Kingdom. For the daily fee, tourists receive lodging, meals, payment of all fees, and a dedicated vehicle with a driver and guide for the duration of their visit. The lodging was top-notch and the food was spectacular. In addition, the driver and guide were incredibly knowledgeable about all things Bhutan and we became fast friends.

Bhutan is located in the Eastern Himalayas and is bordered by Tibet to the north and India to the east, south and west.
My daughter, a student at Wheaton College in Norton, Massachusetts, had been in the country since July as she was doing a semester-long study abroad program in education and anthropology at Royal Thimphu College in the capital city of Thimphu.

The country's only private higher education institution: Royal Thimphu College
Upon arrival at Paro International Airport, we were greeted with gifts of prayer scarves and "Welcome to Bhutan!" from our guides.

A typical shop in Paro, Bhutan.

A monk contemplates Tiger's Nest Monastery.
The drive from Paro to Thimphu takes about one hour through some rugged, beautiful mountain terrain. One interesting and enlightening factoid about Bhutan that gives one a sense of the mindset and culture of the people is that the capital city of Thimphu is the only nation's capital city in the world that does not have a single traffic light! But that's not all--there is not a traffic light or signal to be found in the entire country. There was, for a brief time a few years back, a traffic signal installed in the center of downtown Thimphu. This was met with an overwhelming public outcry deriding this move towards progress as too impersonal. Officials had no choice but to remove the light and reinstate the white-gloved traffic cop in his traffic gazeebo at the city's center.

The crossroads of downtown Thimphu features a friendly traffic control officer.

As a student of Buddhism myself, it was fascinating to spend an overnight in one of the temples of the Divine Madman aka Drukpa Kunley.

My view from one of Drukpa Kunley's caves in which I spent the early morning hours in meditation.

Students at a vocational arts school in Thimphu learn the traditional techniques of painting, sculpture, and wood carving.

Buddhist sutras, written on these preserved scrolls, are displayed in Bhutan's National museum.

The gate of one of the countless monasteries in Bhutan.

Around the perimeter of each temple, monastery, and dzong (the administrative and monastic center of a town or city) are prayer wheels that devotees will spin as part of their daily devotional practice of Buddhism.

Giant-sized prayer wheels get their own building.

We ventured up a mountain trail to the Tango Institute of Buddhist Studies.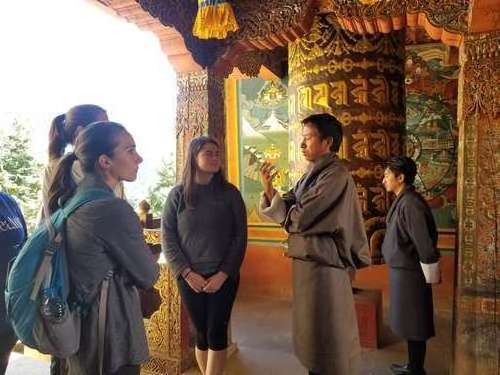 And were given a college-style lecture on the history, culture, and finer points of this ancient monastery by our guide Karma Tshering.

A lone monk makes his way down the mountain as he leaves Tango Monastery.

Mountain monasteries are commonplace in Bhutan but their frequency does not make them any less spiritually moving.

Each temple, monastery, and dzong has its own main relics and Buddhist iconography.

Between treks and visits to cultural sites we had many opportunities to try local cuisine. A traditional Bhutanese lunch consists of rice, steamed vegetables, dumplings, datshi (a hot pepper and cheese dish often mixed with mushrooms or potatoes), and spicy sauce.

You can find Coca-Cola in some restaurants as well.

Many of the monks at some monasteries are quite young. What I learned was that the monastery functions as a preparatory school (much like a boarding school in the States) for children who will then decide after graduation whether or not to enter monastic life as a profession or to enter society as lay practitioners.

Ali Yaser Shoayb (left), a student at Royal Thimphu College from Afghanistan, is the organizer of the RTC Chess Club. Here he receives a gift of tournament chess equipment on behalf of RTC chess players from the people of Maine delivered by the author.

Two RTC chess club members having fun during a game at the Club's weekly meeting.

Haley DeLuca Lowell, three-time Maine state scholastic champion, gives her fellow RTC students some pointers.

Jigme Tenzin Jamtsho ponders a composed problem. How does white, who has the move, win this one?

The Club meets on Saturdays around the noon hour at "The Mess." We were treated to some Bhutanese college food which was quite delicious.

We discovered this chess table in Thimphu's Clock Tower Square. After some investigation we learned it was created by a local artisan as part of an art fair that took place at the square a few years earlier.

We ran into this woman on the street in downtown Thimphu and couldn't resist asking her about her board and set. She explained her son was a student of the game and played at his middle school.

Without a doubt, the hippest place to play chess in Thimphu is the Ambient Café on Nordzim Lam.

A popular haunt for RTC students, westerners, and Bhutanese locals alike, the Ambient serves up some fine Joe, sandwiches, pizza, and pastries.

The son of the cafe's owners, Jigme Penjor, is a chess player himself and an astute student of American culture. After finding out I grew up in Boston he asked me, in perfect English, questions about the Celtics, Red Sox and Boston Garden!

Jigme with his Boston Celtics t-shirt!

I played an interesting game with one of the cafe's baristas. It was a theoretical draw as I had just a rook pawn and the wrong-colored bishop but as my good luck would have it my opponent erred at the critical moment and moved his king to the center rather than heading for the safety of a draw on a8 and b8.

It doesn't get much better than this--coffee and chess in a café in Thimphu, Bhutan!

Our guide Karma demonstrating how to sound a traditional Bhutanese singing bowl.

Bhutan requires a national dress for its citizens while conducting official business or, for example, when visiting a school, museum, or government building. My driver, guide, and I pose in our ghos. Women are required to wear a kira.

Stray dogs are ubiquitous in Bhutan. They usually find a temple, monastery, or meat shop to hang out at and cash in on some grub.

The Bhutanese Government supports the Youth Development Fund a community service organization for children.

The YDF reminded my of a YMCA in the States. They offer basketball and badminton courts, weight rooms, classes on whole health and yoga...

...as well as chess instruction!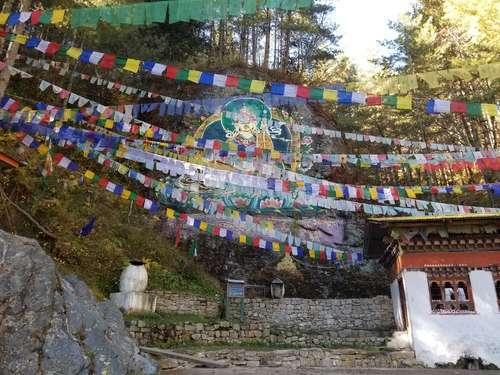 From Thimphu we travelled east to Punakha.

The road to Punakha was beautiful and in some areas quite harrowing.

Punakha Dzong was the seat of government until the 1950's when Bhutan's capital moved to Thimphu.

Rice is one of Bhutan's main crops.

Another beautiful mountaintop monastery

The wood-stove heated dining room of the Dewachen Guest House in Phobjikha was the perfect setting for a few games on my pocket set.

As often happens when chess is played in public spaces, a kibitzer or two wanders over.

And he can't help himself but to offer a few suggestions!

Back in Paro, we visited the Wangsel School for the Deaf.

Wangsel students explained to me (using a mixture of Bhutanese Sign Language and American Sign Language) that the school did have many children who studied and played chess.

Dr. Suksiri Danthanauavich, a linguist from Thailand, has been hired by the school and is in the process of codifying the grammar and structure of Bhutanese Sign Language.

On one of our last nights in Bhutan we celebrated with another incredible spread of traditional Bhutanese food!

On the way from Paro, Bhutan to Delhi, India we got a glorious look at Mount Everest right out the window of the airplane.

Delhi is a city that has everything including 18.6 million people!

In the short time we had in Delhi we bee-lined it to the final resting place of Mohandas K. Gandhi at Rajghat.

Gandhi remains a revered spiritual leader in India and all over the world.

The Mahatma's final resting place with eternal flame.

India has a rich chess culture and many shops that we visited in Delhi displayed beautiful sets.

Our last stop took us to Zurich, Switerland home of the world's oldest continually operational chess club.

Besides its chess club, Zurich must be best known for its chocolate.

We were floored by the beauty of the artistry of chocolate.

Including these chocolate chess boards.

A short walk from Laderach Chocolatier led us to 8 Olivengasse and the Zurich Chess Club.

Where we met the Club's president Dr. Christian Issler.

Dr. Issler, who has been president of the Club for nearly twenty years, entertained and regaled us with stories of chess, chess champions, and the history of the Club.

To celebrate the Club's 200th anniversary, Richard Forster wrote the incredibly thorough book, The Zurich Chess Club, 1809-2009. Dr. Issler graciously offered us our very own copy of the book, published in hardcover, with library binding.

Excited to show us some of the historic boards used in tournaments and matches over the years, Dr. Issler escorted us to the basement of the club.

Note the inscription on this board that indicates it was made in 1934 and refurbished in 1964.

In addition to historic boards and sets the Club also has some classic clocks.

A photo of the great Bobby Fischer during his game with Edgar Walther at the Jubilee Tournament in Zurich on May 19, 1959. Although Walther was clearly winning, he let the point slip and ended up drawing the future world champion. This game appears in Fischer's My 60 Memorable Games.

The young Fischer's original signature appears on the photo.

The official logo of the oldest chess club in the world!

We were honored and humbled to witness a living part of chess history at the Zurich Chess Club. Thank you Dr. Issler for your kind hospitality!

All (good) things must pass. --George Harrison
Until next time!
---